It sounds like something out of a fantasy novel. Step inside a golden shipping container in the United States and stand face-to-face with a stranger around the world. Only, it's all real.
"Portals," as they're called, are not figments of your imagination, but rather very real art projects, realized by Amar C. Bakshi and a team of interdisciplinary artists called Shared_Studios. From the outside the vessels appear like normal, albeit very metallic, shipping containers. However, their interiors come equipped with immersive audiovisual technology, placing anyone who enters face-to-face with a stranger in another portal, as if you're in the same room. (The artists liken the experience to the vibes of "Being John Malkovich.")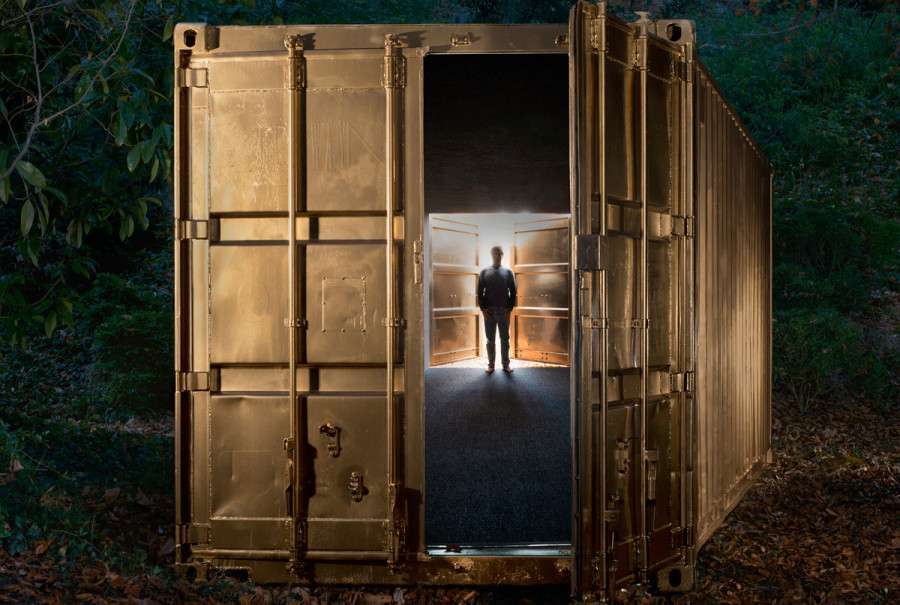 The first portal connected citizens of New York City with strangers in Tehran, hoping to bridge a history of animosity with the simple power of togetherness. After just a few weeks, thousands in each country had participated in the project, speaking and collaborating with others they likely never would have encountered. During the 20-minute sessions, artists collaborated on paintings and musical compositions, an Iranian American dancer performed live for his family in Tehran for the first time, filmmaker Morgan Spurlock gave tips to an aspiring film student, sixth grades students compared stories and experiences in their home countries.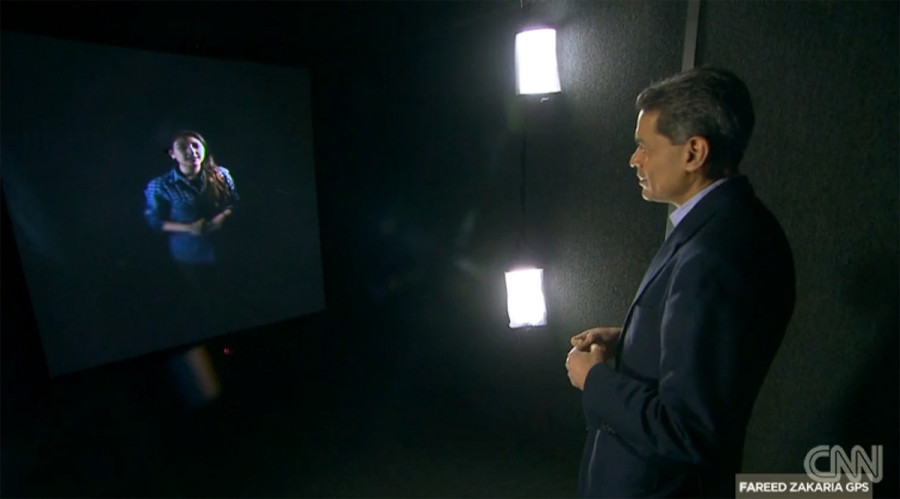 Fareed Zakaria talking to a student in Tehran through the Portal in December
Now the Portals team is hoping to recreate the boundary-breaking experience with two different locales and populations -- namely, Washington D.C. and Havana, Cuba. The project, which is currently gaining a following on Kickstarter, hopes to raise $60,000 by March 24 to make the dream real. They're already over half way there.
The rewards for donating range from Portal postcards to the opportunity to reserve dance classes, karaoke sessions or the activity of your choice in a future Portal. However, the true reward, of course, is contributing to an ever more inclusive and understanding global citizenship. As Shared_Studio explains on their Kickstarter:
"People aren't talking to each other. Hatred based on religious intolerance, xenophobia, sexuality-based bigotry and so much more rage on. If we do not meaningfully engage with people from different walks of life, our capacity for empathy weakens and divisions of class, race, and identity deepen.


While new technologies allow us to connect across boundaries as never before, we too often use them to insulate ourselves in our own communities. Think about Liking, Tweeting, or Instagramming. These rarely encourage us to engage directly with individuals far outside our existing group affiliations. They basically ensconce us in our own tribes."
Calling all HuffPost superfans!
Sign up for membership to become a founding member and help shape HuffPost's next chapter
BEFORE YOU GO
PHOTO GALLERY
10 Architectural Landmarks You Have To Visit Before You Die