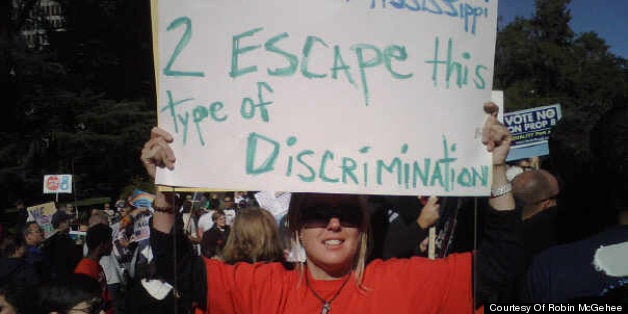 This year has brought waves of good news for gays and lesbians living in the United States, especially in California, where same-sex weddings resumed in June, following a landmark Supreme Court ruling.
But a small city in the Central Valley area of California is bucking that trend.
This week, the city council of Porterville voted to rescind a proclamation made last month by the mayor declaring June 2013, LGBT Pride Month. Three council members argued that the lesbian, gay, bisexual and transgender community should not get "special consideration," and voted to replace the gay pride proclamation with a resolution declaring June 2013 "a month of community charity and goodwill to all in Porterville."
Robin McGehee, an activist with the gay rights group GetEqual, spent the night in jail after she was arrested along with several gay advocates while protesting the vote. They were charged with disturbing the peace.
There are still many places where it's scary and lonely to be openly gay, she said in an interview. "You'd think in 2013 that surely these towns don't still exist, but they do."
When McGehee moved from Jackson, Miss., to the Central Valley area in 1996, she thought that she had finally found a "safe haven" where she could come out of the closet to a welcoming community. It didn't take her long to realize that the conservative area was a far cry from West Hollywood.
When California's gay marriage ban, Proposition 8, was introduced in 2008, McGehee found herself amid a sea of "Yes on 8" signs. "I tried to run from Mississippi, trying to escape the hate and bigotry and discrimination, and now in 2008, my feet are planted in the same soil I tried to run from," she said.
In 2008, Porterville's was the only city council in the state to pass a resolution in favor of Proposition 8.
McGehee lives in Fresno, the biggest city in the Central Valley, and she says she has seen signs of growing acceptance of the LGBT community there. But in Porterville, an hour and 20 minutes from home and a short drive from the local college where McGehee teaches, the first local glimmer of progress was the pride month proclamation.
The council meeting was packed Tuesday night as Mayor Virginia Gurrola and the members of the city council debated the proclamation. Dozens of community members on both sides of the debate stepped forward to argue about gay rights and religious freedom, respectively, and the mayor and council members exchanged barbs.
"Why does the LBGT community get special consideration? Why can't it apply to everyone?" Councilman Brian Ward asked the crowd.
The three council members who voted to rescind the proclamation and replace it with the more general "goodwill" resolution did not respond to requests for comment from The Huffington Post.
The mayor, who at one point in a video of the council meeting appears to be in tears, said she didn't think that the proclamation was controversial when a community member first submitted it for her approval. President Barack Obama and the governor of California both had already declared June LGBT Pride Month.
"I looked at the proclamation, and thought that it was good, that we should welcome groups into our community, especially if they feel a need for that recognition," Gurrola said in an interview with The Huffington Post. "I still stand behind it."
Gurrola said the city passed many other proclamations in support of groups, such as veterans or victims of domestic violence, and that she supported this particular proclamation in part because of her decades working as an educator at Porterville College, where she saw how important feeling accepted was to young people.
On Tuesday, after the vote, Gurrola said that a young person came up to her and told her that he felt bad about what happened. "I told him, 'be proud of who you are are and don't let those words hurt you, they're just words,'" she recalled. "In general, I always try to tell young people around here, 'you know what, we're here for you. I've got your back.'"
Gurrola paused. "I'm afraid this time I didn't have their backs."
When asked if there could be a second LGBT pride proclamation in the future, Gurrola said she didn't know. But the group that opposed the proclamation "is only a small group," she said.
"When I look at the whole community, when I look at the emails or people who have come forward and supported me and say 'it's about time', I have to believe that the community as a whole has a large middle ground," she said. "They're not going to say anything and that's okay, but we can go on and we can move beyond this."
Support HuffPost
Every Voice Matters
Before You Go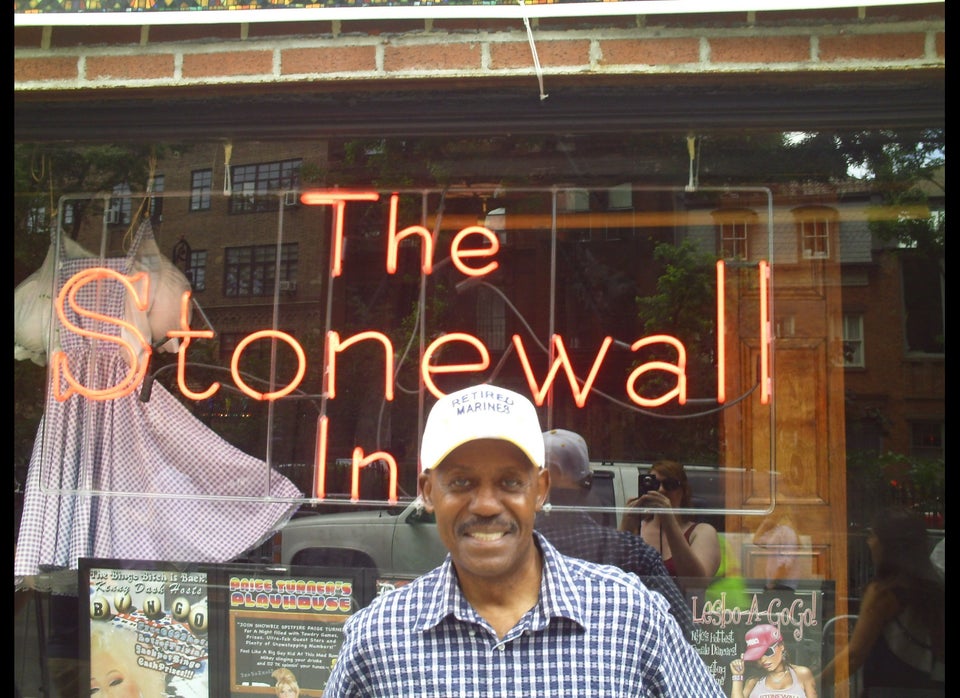 Gay Pride Around The World
Popular in the Community