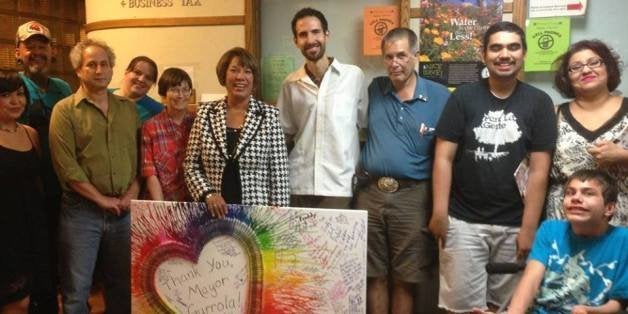 Brock Neeley, an openly gay resident of Porterville, Calif., has gone to nearly every city council meeting since September 2008, when Porterville became the only California city to pass a resolution supporting Proposition 8, the state gay marriage ban.
Last week, the city of 54,000 in California's Central Valley once again distinguished itself as an opponent of gay rights. The city council voted to remove the mayor, who during the summer issued a proclamation that Neeley had drafted declaring June 2013 LGBT Pride Month. The city council rescinded the proclamation in July, voting 3-2 to replace it with a resolution declaring June "a month of community charity and goodwill to all in Porterville."
Neeley said he was disappointed with Mayor Virginia Gurrola's ouster, but not all that surprised. "I figured that five years, maybe things had healed enough that we could do this without any real controversy," he told The Huffington Post. "Obviously I was wrong."
‪Gay rights supporters vowed to change the makeup of city council in next year's local election.‬
"We need to have people there whose strings aren't being pulled by churches," Neeley said. Residents said they will begin campaigning for new candidates next summer, as soon as the contenders officially announce campaigns.
At the city council meeting last week, the members in favor of removing the mayor didn't explain their reasons.
But in an interview with The Huffington Post, the new mayor, Cameron J. Hamilton -- a former city council member who voted to rescind the gay pride proclamation and to remove Gurrola from her job -- said the LGBT Pride Month measure was a factor. "I think it started with the proclamation," Hamilton said. "I'm sure that it stirred the souls of a couple of the councilmen."
Still, Hamilton said he has nothing against gay people. "A proclamation of gay pride, in my humble opinion, marginalizes a gay person to one thing -- that being their sexual preference -- and they are so much more than that," he said. He added that his sister is lesbian, "and I refuse to marginalize her based on her sexual preference."
Hamilton said his vote against the proclamation was not based on religion. But he admitted his religious beliefs have influenced his actions as an elected official. Hamilton served of mayor as Porterville from 2006 to 2009, when he oversaw city council's resolution in support of Proposition 8. "I do still stand on that," Hamilton said. "That one to me is my own foundational religious beliefs. But the gay pride proclamation has nothing to do with that."
Melissa McMurrey, the head of Gay Porterville, a local advocacy group, said many of the town's gay people have emailed her, threatening to move elsewhere. "I got a lot of emails from people I used to go to high school with, saying, 'I'm so glad I don't live there anymore,'" McMurrey said.
McMurrey, however, is resolved to stay in Porterville and help elect new city council members in 2014.
McMurrey pointed to an interview Hamilton gave in 2009, in which the new mayor said in a YouTube video about Proposition 8 that his stance against gay marriage was tied to an "extreme public health issue."
"If you look at the statistics among the gay community, everything goes up -- cancer to the rectum -- it's not even pleasant to talk about," Hamilton said then.
"It's been years since 2008, but the mayor sitting in the seat now is the same leader who publicly declared how we're a higher risk for public health," McMurrey said.
Gurrola, for her part, said she does not regret introducing the LGBT Pride Month proclamation. "I would do it again," she said in a phone interview a few days after her ouster. "There was a lot of emotions that arose from this, but the end result is that people are talking about the LGBT community in the city of Porterville, and they are getting a better understanding of it."
Gurrola was removed as Porterville mayor once before, in the 1990s, and said she can no longer remember why.
"I've always brushed myself off and stood up and continued on, and I will continue to do that now," she said. "You can't see this as a failure."
REAL LIFE. REAL NEWS. REAL VOICES.
Help us tell more of the stories that matter from voices that too often remain unheard.
BEFORE YOU GO
PHOTO GALLERY
Anti-Gay Protesters Getting Owned