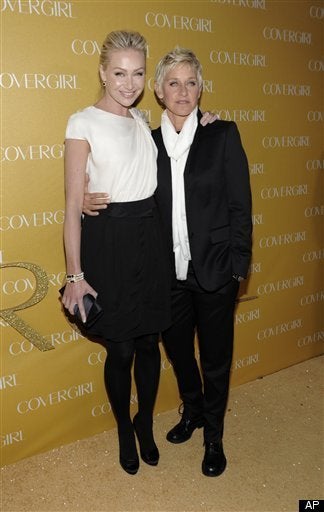 Before Portia de Rossi was happily married to Ellen DeGeneres, she was married to a man -- Mel Metcalfe. And then, he was married to her brother's wife.
De Rossi opens up about the family drama in her new memoir, 'Unbearable Lightness: A Story of Loss and Gain.' Having both lost their marriages -- de Rossi was married to Metcalfe between 1996 and 1999 -- de Rossi details what went down (via RadarOnline), and how she and her brother dealt.
"When my husband left me, my brother moved in to my place... My husband ran off with his wife, so we kept each other company and we liked to go out for margaritas and Mexican food to commiserate," she writes in the book.
"He had married his longtime girlfriend, Renee, just before leaving Australia and the two newlyweds moved into an apartment in the same Melrose Place-style complex that was home to me and Mel."
In hindsight, she says she should have known what was going down.
"The fact that Renee would wear skimpy, lacy underwear clearly visible underneath her oversized, gaping overalls should have indicated to my brother and me that a personal partnership was also forming, but when Mel left me and Renee suddenly sabotaged her marriage to my brother to be with Mel, Brother and I were left idiotically scratching our heads in disbelief."
All the while, de Rossi was battling the emerging feeling that she was a lesbian -- something she eventually came to accept after her 1999 divorce. Of course, it worked out for her, as half of the most famous lesbian couple in the world.
Popular in the Community