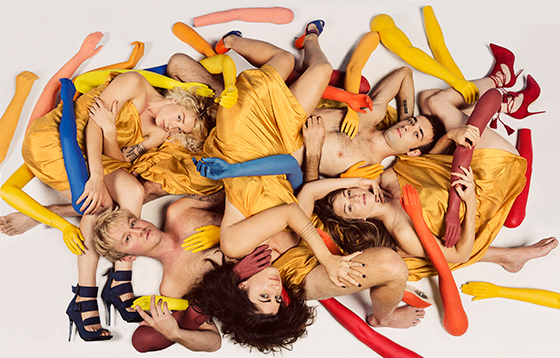 Being in a band isn't just about making and performing music, it's downright a relationship with everyone involved, it's like a family. Sometimes, even if the collaborative results of the music come out wonderful, personalities can get in the way and put a strain on the band. Radiation City had their own internal struggles they needed to work out during the recording of their new album Synesthetica, but what came out of it is a band that is optimistic moving forward.
Synesthetica is a beautiful melodic pop album without becoming over formulated, a product of the minds of its members. Recently, I was able to chat with Radiation City's Lizzy Ellison for a future episode of my Fresh Is The Word podcast during the start of their tour with Deep Sea Diver, and we talk about how the band was able to get past all the inner struggles that album broke a part the band.
How did this new album come to be because there was some uncertainty on whether the band was going to call it quits or not?
I think it was that the whole record kind of took a really long time in terms of what songs we were going to use, who we were going to work with, and finally in recording it having to go back and rework it and that process took a really long time. It was almost years of deliberation and confusion and frustration, so there was just a lot of questioning. Why is this taking so long? Are we doing the right thing? And in the process lost a member and had some issues within the band with each other that we've since mended and got back on track. I think that's probably typical, or should be, you're basically in a relationship with however many people are in the band and it can't be perfect all the time. It was really getting through that stuff and figuring out why it happened and trying not to repeat it.
How were you able to mend those fences between each other in the band?
Just putting your ego aside and realizing that the end of the day that you're friends and you should be treating each other like that, rather than the arc of the music determining what happens or the process. I think that's hard because as we get older we want this to be our career that is successful and sustainable and it hasn't been that for a long time. I think in addition to the record taking a really long time, it was just a matter of are we even just doing the right thing in our own personal lives and to be able to get passed that and realize yes we are. A lot of us are more humble with one another and not everything is perfect, but we are doing our best to see this thing out and continue to make art together because are working relationships are really incredible.
Once you were able to get passed all that, how did it improve things creatively within the group?
Well, we're in the process of understanding that now because we've been recording new material for another record that I'm not sure when it will come out, but really just to be recording together. The record/writing process has always been one of the best parts because that's when our brains get to combine and sort of augment and beautify the other persons' ideas into a way we couldn't do on our own individually. So we're for the first time since the last record working on rebuilding that connection with each other and it's been really nice.
What sort of sound was the band trying to get out of this new record?
In the past, we have had ballad sort of cinematic music and I think with this record, we wanted to be how pop we could get without it feeling unnatural. Each song, we're focusing on the nuance of hooks but also not like be too simple about it but how do we work in our method of composition with a pop mentality. I think that ended up working out really well.
Radiation City plays the Marble Bar (1501 Holden St.) in Detroit on Monday, March 7th with Deep Sea Diver and White Bee. Visit now available at brownpapertickets.com. Radiation City's new album "Synesthetica" is now available. For more information on Radiation City, visit radiationcity.net.
REAL LIFE. REAL NEWS. REAL VOICES.
Help us tell more of the stories that matter from voices that too often remain unheard.