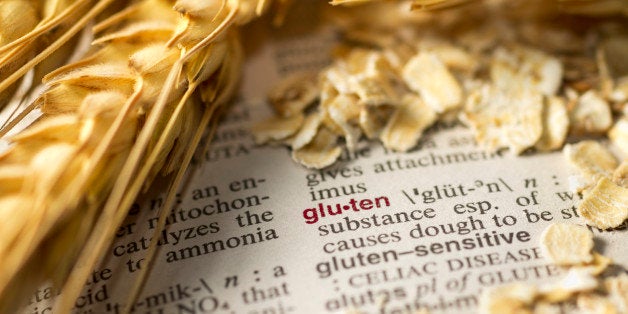 As a person living with celiac disease, I have a lot of interesting (and sometimes) scary experiences dining out. This is why Portland is now the city of my dreams.
The server at Ground Breaker Brewing in Southeast Portland approached me with a dinner menu, and I instinctively launched into my "I-have-celiac-disease" routine. She listened and promptly responded, with a smile, that they do not use gluten anywhere in their facility and that I could have anything on the menu. I was giddy. This never happens.
Next she said, without prompting, "you don't have to be afraid here." I was instantly relieved. She got it.
Eating out for someone with celiac disease is stressful. When food is what makes you sick trusting a stranger to take your condition seriously and make sure you are safe is frightening. Eating dinner out is like rolling dice; you just never know whether or not you will be sick tomorrow.
In most restaurant kitchens, wheat abounds, and for someone with celiac disease, special care must be taken to prevent cross contamination and ensure that the meal is truly gluten-free. This means that not only do I have limited choices of food when I go to restaurants - I have a limited choice of restaurants. For example, in the town where I live I am able to eat safely at only 5 restaurants. When traveling the list of safe dining options can be even shorter.
I travel frequently and on a rare occasion I happen upon a 100% gluten free restaurant or bakery like Posana in Asheville, NC or Coffee and a Specialty Bakery in Seattle, WA. These, of course, are the exception and not the rule - unless you happen to be in Portland.
In Portland I felt like I had been set free, at least in the culinary sense. I ate at multiple restaurants that were 100% gluten-free and others that were experienced in serving patrons with celiac disease. It is such a pleasant experience to eat without fear, to get a break from the constant anxiety of wondering whether the meal I am eating will be the source of sickness tomorrow.
While in Portland I had safe and delicious experiences at these gluten-free or gluten-free friendly restaurants:
Ground Breaker Brewing - A cozy spot with super friendly staff and a 100% gluten-free kitchen and brewery. I had gnocchi with a venison ragout, fish tacos, and their interpretation of Appalachian stack cake.
Brooklyn House Restaurant - A house has been converted to a gluten-free restaurant with lovely little nooks and crannies perfect for a date or small celebration. I had sweet potatoes and the white fish over Brussels sprouts, mushrooms, and carrots.
Deschutes Brewery - A super popular brewery with award winning beers, including a gluten-free beer. But more importantly (to me), they have a dedicated fryer. So, I had fries, with garlic and rosemary, for the first time in forever. Thank you, Deschutes!
Prasad - A gluten-free and vegan spot located inside the Yoga Pearl yoga studio. They serve full meals and juices. I enjoyed a refreshing green juice and the chili farmhouse scramble with tempeh, greens, and brown rice.
Petunia's Pies and Pastries - A gluten-free and vegan bakery serving breakfast, sweets, and drinks. I had coconut yogurt with fruit, a blueberry coconut pound cake, and a maple, pumpkin, carrot, and zucchini cupcake with maple icing. (They also offer biscuits and gravy and while I was tempted to try, I declined because I would rather remember biscuits and gravy the way my Mommy makes them - with lots of gluten.)
Verde Cocina - A Latin restaurant housing a gluten-free kitchen and featuring house-made chips and tortillas from certified gluten-free corn masa. I had dinner and lunch here, including a chili relleno and chilaquiles. Both were wonderful, but know these aren't the cheesy, greasy version of Latin dishes you might expect. Both entrees were light on the cheese and heavy on the vegetables.
Andina - This was the event dinner of my trip. Andina does not have a gluten-free kitchen but it does have a robust gluten-free menu and well-trained staff. It is known as one of the first restaurants in Portland to accommodate patrons requesting gluten-free meals. There are tapas offerings and full entrees. I enjoyed spicy tuna with potatoes and crab salad and marinated asparagus tapas followed by paella and espresso panna cotta.
Portland is a relaxing and low-stress destination for people with celiac disease and food allergies. I hope that what is happening in the food world in Portland quickly spreads. But if not, I will continue to be an extremely happy well-fed food tourist in Portland.
Related