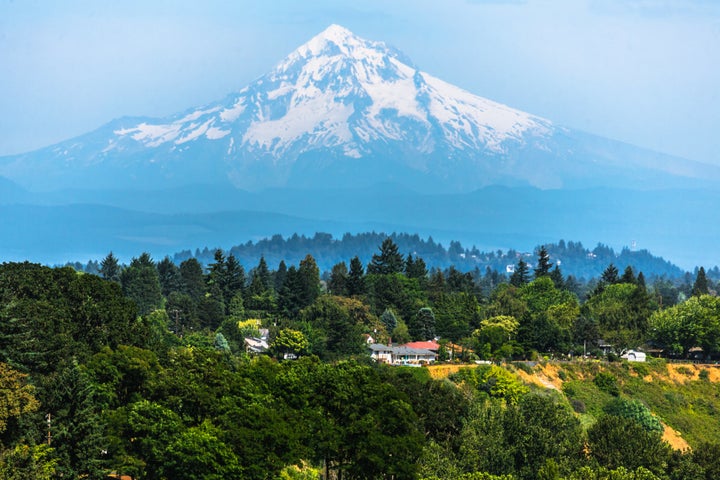 Over Fourth of July weekend I was lucky enough to take a quick trip to Portland, Oregon. I never really spent time in the Pacific Northwest, aside from a wedding in Vancouver last summer, so I went in with an open mind.

Of course, I was told the typical tales of how every resident wants to secretly be a farmer. While I didn't speak to enough people to confirm that rumor, what I do know is that the way of life there is made for healthy and happy living (my goal in life if you haven't noticed).

Aside from the creepy man who followed me for blocks insisting I put my hand in his brown paper bag... overall Portland is what a holistic health coach's dreams are made of.

Here's why:
Sure, you can have donuts for multiple meals (which I may or may not have done), but the fresh ingredients and flavors make eating a salad a religious experience. "In Portland, we're surrounded by small farms that are capable of producing customized ingredients for chefs who only know how to cook seasonally," Marcus Hibdon, Travel Portland's senior media relations and PR manager told me. Joshua McFadden, executive chef and partner at Ava Gene's added, "The access to real food is amazing. The raw products here are some of the best in the world."

There are so many healthy options, like vegan ramen for example, that it's not hard to stick to eating whole foods and lots of greens. It makes all of the indulgences (Salt & Straw ice cream anyone?) available that much less resisting, but also that much more satisfying when you can, well, indulge in them.

2. It's easy to be active.
It seems like everyone in the city would prefer to use two wheels instead of four making it easy to join in on the bike culture. This constantly active mindset is one that I always try to instill in my clients. Just move every day. Then there's great outdoors to be explored nearby and it seems like that's what everyone is doing every weekend. Mount Hood and Multnomah Falls are within and hour of downtown and the drive there is just as stunning. Who needs late night bar hopping on a Saturday when you can go natural wonder hopping?

3. Creativity is encouraged.

Unfortunately, so many of us fall into the trap of working 9 to 5's and feeling like a cog in the machine. By the time you get home, you're exhausted and have no energy to pursue outside interests if you have any. In Portland, the whole community encourages you to turn your side passion into a full time business if you want. There are literally entire stores dedicated to promoting local craftsman and many restaurants are owned by locals.

Having a place that inspires you to open your mind to possibilities and tap into that inner childhood dream is ok in my book. It's one of the things I feel we as a society are missing the most. Want to create hand-stitched leather saddlebagfor bikes? Go for it!

4. People genuinely care.
Ever get asked by a stranger how your day is going? Well, in Portland they mean it. And there will follow-ups. Yes, there is the stereotype of how everyone is super nice, but it's true. The cab driver was so excited it was our first trip to the city, the woman at hotel check in took the time to point out her favorite bars on a map and every store I walked into took time to compliment me (without pushing a sale).

As a New Yorker it took me a little while to settle into this friendliness, but after a couple of days it was nice to feel like I could let my guard down and relax. I heard so many interesting stories from different people and felt genuinely considered everywhere I went. Living in a place like this can certainly make it easier to live a happier life. It's contagious right?