The suspect in a mass shooting that left a woman dead and several others injured in Portland, Oregon, often railed against anti-racism protesters and the homeless, according to his roommate, OregonLive reported.
The Portland Police Bureau identified Ben Smith, 43, as the shooter on Tuesday. On Sunday night, Smith got into a confrontation with anti-racism protesters who were showing their support for Amir Locke, a Black gun owner killed by Minneapolis police earlier this month.
Smith fired at protesters, and an armed protester fired back, Portland police said. One person was killed and five others were injured, including Smith, who is hospitalized in serious condition.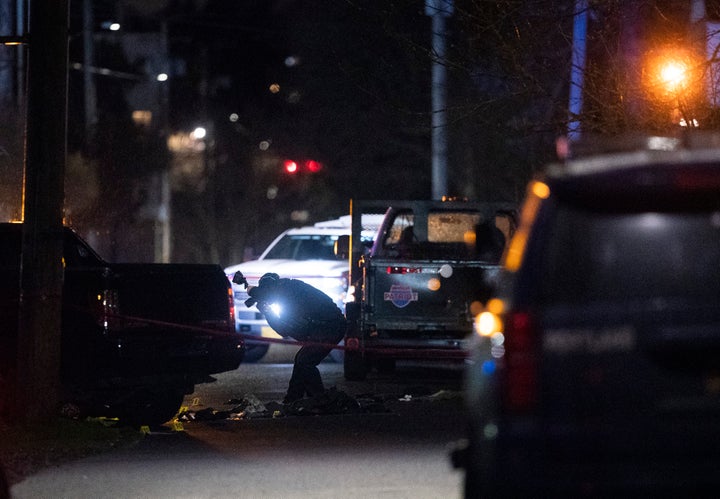 While police have been slow to release details of the shooting, Smith's neighbors told OregonLive that he had become increasingly angry and often railed against Black Lives Matter protesters, COVID-19 mask mandates and the homeless.
OregonLive quoted Smith's roommate, Kristine Christenson, saying the following:
"He has been getting more and more radicalized as the years went by," Christenson said. "He went from 'FU police' to 'Blue Lives Matter' in the last year."

Christenson described Smith as "a very 'fly off the handle' kind of guy who made me uncomfortable."

"He's been upset at so much," Christenson said, "I would be like, 'Just chill!'"

Christenson and others in the apartment complex said Smith collects and repairs guns and hasn't been shy about telling others about his guns or showing them off.
Smith owned at least four guns, OregonLive reported. The publication said a 60-year-old woman who had volunteered with a traffic crew for the protest was the person who was killed. Four other protesters were shot, and one of them was paralyzed, according to the report.
The Portland Police Bureau said in a statement that it was not yet identifying the victim who died because authorities haven't spoken to her family yet.
Related
Popular in the Community