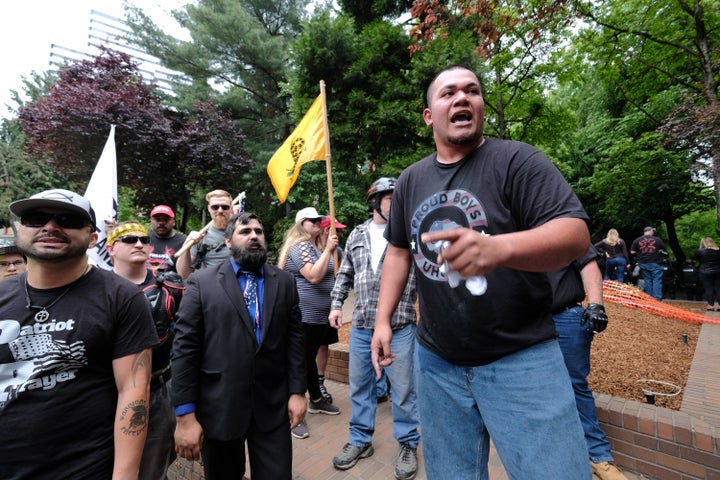 Armed, proto-fascist gangs are set to rally in Portland, Oregon, this weekend, stirring fears that the city could witness the kind of political violence not seen since the deadly white supremacist "Unite the Right" event in Charlottesville, Virginia, nearly a year ago.
Members of the two violent far-right groups, Patriot Prayer and the Proud Boys — both of which have deep ties to white supremacist organizations — plan to rally in Tom McCall Waterfront Park at noon Saturday. The so-called "Gibson for Senate Freedom March" is being organized by Patriot Prayer leader Joey Gibson, who is running for Senate as a Republican from Washington state.
The upcoming event is the latest in a series of rallies Gibson has held along the West Coast since early 2017 in support of President Donald Trump, under the banner of "free speech" and "patriotism." In several cases the rallies have become a pretext for Patriot Prayer members, and more recently Proud Boy members, to commit organized assaults on anti-fascist protesters.
The last rally, on June 30, was declared a riot by the city of Portland after Patriot Prayer and Proud Boy members, many in body armor and carrying weapons, repeatedly charged at anti-fascist protesters. A viral video showed one Proud Boy member knocking a masked anti-fascist unconscious. Other videos showed Proud Boys and Patriot Prayer members isolating and circling counterprotesters, beating them.
At least six people were sent to the hospital after the day's chaos, one with a brain hemorrhage. Nine people were arrested.
The violence at the June 30 rally appears to have excited and galvanized the far right. Now experts and anti-fascist organizers are concerned that Saturday's rally could be even more violent.
Earlier this week, Gibson announced he was moving the location of the rally to Tom McCall Waterfront Park, where local ordinances will allow demonstrators to legally carry firearms.
"Oregon is an open carry state and unlike previous events, these groups are not expecting to be disarmed by law enforcement," said Heidi Beirich, director of the Intelligence Project at the Southern Poverty Law Center, a legal advocacy group that monitors extremist activity.
"After being emboldened by the June 30 rally in Portland that turned violent, other far-right activists have stated that they intend to be in Portland this weekend," Beirich said.
Riana Goren, an analyst with the Anti-Defamation League's Center on Extremism, told HuffPost the "potential for violence is very real."
"Both Patriot Prayer and Proud Boys are infamous for their deliberate provocations of left-leaning West Coast communities, including Portland," Goren said.
"For weeks, members of both groups have been talking about the event online and commenting on how much they are looking forward to 'defending freedom' and confronting 'communist' counter-protesters," she went on. "They've even produced a promotional video showing the name of Patriot Prayer's founder, Joey Gibson, emblazoned on a missile falling toward a target ― an animated 'antifa' sign."
Organizers of a counterprotest are hoping hundreds if not thousands of people turn up to chase Gibson and his supporters out of town.
"One of the things folks keep saying is 'If you just ignored them, they'd probably go away,'" Effie Baum, a spokesperson for Popular Mobilization, a coalition of activists formed to mobilize a counterprotest on Saturday, told HuffPost. "There are many examples across history that explicitly tell us this is not true. The community at large in Portland has tried ignoring them... Despite that, Joey Gibson and Patriot Prayer have not gone away."
"If nobody is there to oppose them, then there is nobody to prevent them from targeting the marginalized members of our community," Baum said. "We need to show up en masse and chase these violent and dangerous groups back out just like we did in the 1980s and 1990s."
Baum also pointed to the success of a counter-demonstration in Boston last year, when tens of thousands protesters turned up to drown out an alt-right rally.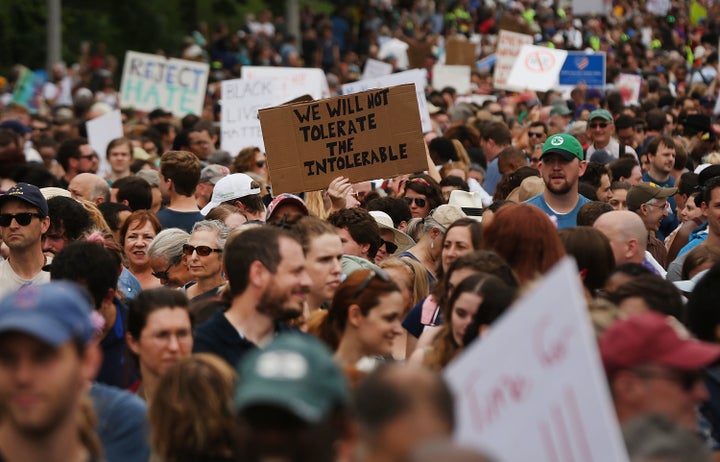 The Pacific Northwest, and Portland in particular, has long been a magnet for white supremacists, fascists and other far-right extremists — a fact that came into focus in May 2017, when a white supremacist named Jeremy Joseph Christian allegedly stabbed three men on a Portland MAX train, killing two of them. The three men had intervened when Christian started to harass and threaten two black teenage girls, one of whom was Muslim and wearing a headscarf.
Christian had attended a Patriot Prayer rally organized by Gibson just one month before the killings.
Although Gibson has often tried to distance himself from white supremacists and neo-Nazis, he's also openly defended or allied himself with white nationalist groups like Identity Evropa and the Traditionalist Workers Party. White supremacists have also routinely turned up at Patriot Prayer events.
Gibson has also developed a close relationship with the Proud Boys, a self-described "western chauvinist" fraternal organization that the SPLC has designated a hate group, largely due to its misogynistic and anti-Muslim views. Many Proud Boys are explicit white nationalists, with some participating in last year's Unite the Right rally in Charlottesville.
Recently, Proud Boys have gained a foothold in the Northwest, and the group's members have been implicated in multiple assaults in the Portland area.
"Far-right paramilitary organizations like the Proud Boys and Patriot Prayer continue to escalate violent assaults and confrontations in Portland, Oregon," said Lindsay Schubiner of the Western States Center, a Portland nonprofit aimed at racial, social and economic justice.
"They are committed to undermining democratic institutions and they have intentionally focused their energy on Portland this Saturday because they believe city leadership has become complacent and ineffective at maintaining order," Schubiner said. "It's not a fight between Proud Boys and 'antifa' but an assault on Portland."
As reported by The Oregonian, Portland police have sometimes chosen to use a hands-off approach at Patriot Prayer events, as they did at the June 30 rally, allowing brawls with anti-fascists.
In a press release Friday, the Portland police department said it will have a "significant" presence at the protest, and will be searching people for weapons at the entrance to the park. According to The Guardian's Jason Wilson, police clarified that people with permits to carry firearms in the state of Oregon will be allowed to do so in the park.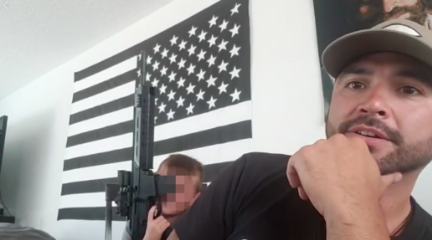 Charlottesville activists released a statement Friday denouncing the "rogues gallery of white nationalists, fascists and Nazis" expected to gather in Portland this weekend.
"Charlottesville understands all too well what it means to have fascist agitators bring choreographed terror into our community," the statement read in part. "We remember bracing ourselves last year against the threat of white supremacist attacks cloaked as free speech."
"We send solidarity and love to Portland, particularly to communities most targeted by the Islamophobic, transphobic, anti-immigrant, genocidal agenda of Saturday's fascist event," it continued. "We call on communities across America to address the deep history of white supremacy, recently amplified by the Trump administration, that generates this latest wave of fascist terror."
Gibson, meanwhile, has continued to escalate tensions ahead of Saturday's rally. He and his supporters have twice visited Portland's "Occupy ICE" encampment outside a federal immigration detention center, harassing those protesting the Trump administration's policy of forcibly separating immigrant children from their parents and placing them in government camps.
Gibson has also appeared on InfoWars, the notorious far-right conspiracy website, telling host Alex Jones that Patriot Prayer and Proud Boy members will disguise themselves as anti-fascist demonstrators at Saturday's rally, donning masks to infiltrate their ranks. He later suggested in a Facebook video that this would be part of a ploy to attack the anti-fascists.
In another Facebook video, Gibson reiterated that his supporters should be armed on Saturday.
"Everyone should be carrying around guns at all times," he said.
Andy Campbell contributed reporting.
Popular in the Community