Portland, Oregon, has long been known for its vibrant food scene — but like the city's population in general, this scene has been pretty racially homogenous. In other words: super white. Over the past few years, however, Portland has finally been becoming a destination for chefs and restaurateurs of color to experiment and, most importantly, reshape the scene to be more flavor- and culture-inclusive.
The city's collaborative spirit, creativity and resourcefulness is most evident in its pop-up culture, a movement that's truly elevated the culinary scene, perhaps even redefining what fine dining looks and tastes like.
Take Dame Collective as an example. It's composed of a long-standing establishment (Dame Restaurant) and its sister restaurant, Lil' Dame, which is a collaborative space with communal seating and three rotating pop-ups, including chefs Lauro Romero and Alfonso Torres' Clandestino and chef Luna Contreras' Chelo.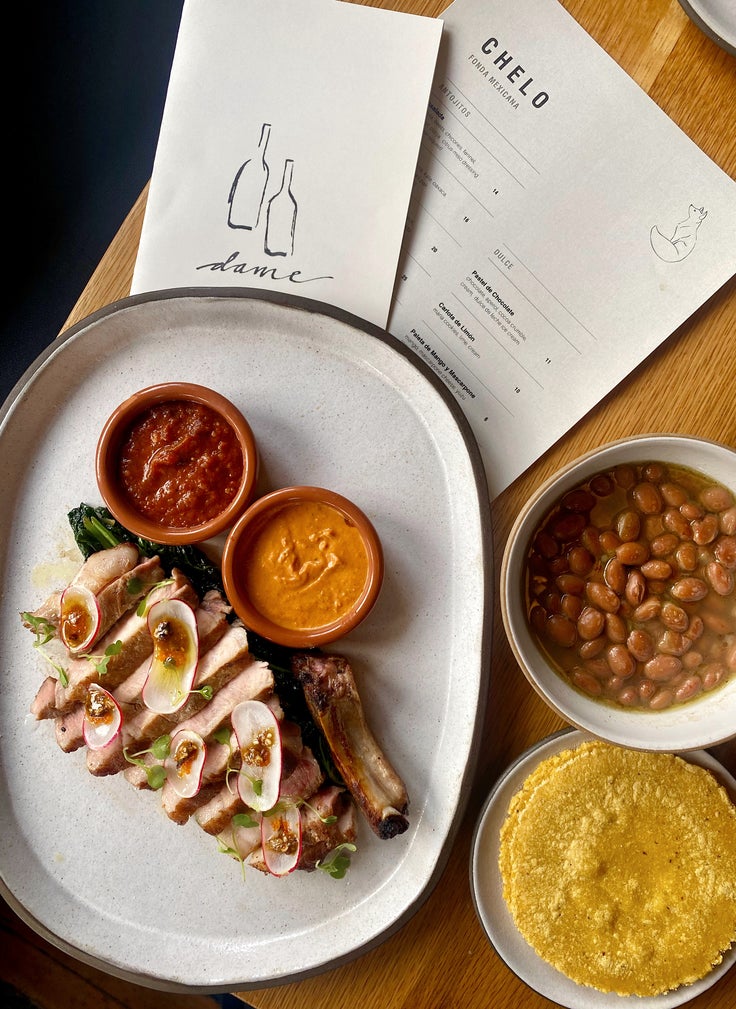 Over the past three years, Portland's hospitality industry has seen more pop-ups emerge as restaurants and food carts closed, according to Eater Portland. While this change has left some chefs out of work, it created a shift in power that inspired multifaceted and beneficial partnerships between restaurants. So much so that chefs such as Contreras and Romero left their restaurants to pursue their pop-ups full time.
The Latinx-owned and led Clandestino offers a seasonal menu in an open-format kitchen, preparing fresh tortillas by hand, as well as scallop crudo and pork cochinita. At Chelo, a Mexican fonda inspired by Contreras' grandmother delivers nostalgic, yet innovative, takes from her childhood like pato en mole, tlayuda and gorditas.
"Pop-ups have allowed me to grow and given me the flexibility to collaborate and create, without the constraints of a brick and mortar," says Contreras, who recently participated on Netflix's "Snack vs. Chef." "This new wave feels as if we're letting go of the old guard of chefs, making way for a more sustainable way to keep our restaurants alive."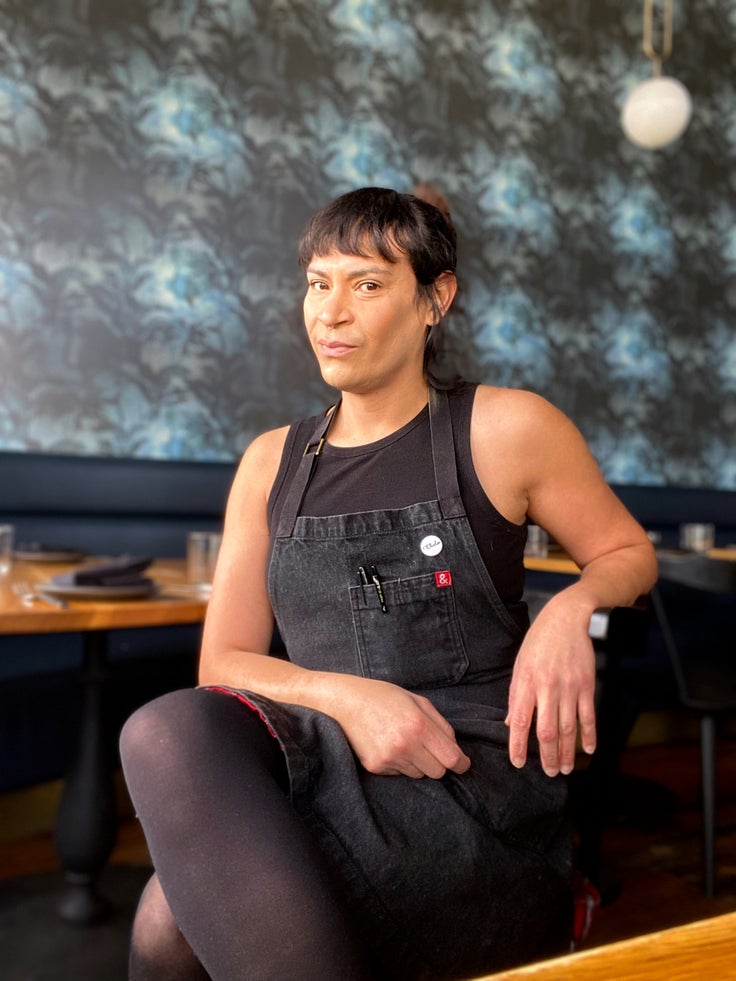 Contreras is arguably one of the most visible faces in the Portland pop-up scene, largely because of her consistent collaboration with other food industry friends, such as chef Ketsuda "Nan" Chaison from Mestizo. She's also active at farmers markets, selling her own hot sauces and hosting her own pop-ups. Contreras makes a case for why the shift resonates with Black and brown chefs especially; it provides alternatives to the usual route for underrepresented communities.
"It's not like [our people] have tons of money where we can come up with a restaurant out of the blue, like I sometimes see others do. And you're like, 'Oh man, I feel like I've worked so hard!'" Contreras says. For pop-up chefs, work has become more about thriving than surviving. For starters, paying a portion of rent for the space, rather than signing an expensive and sometimes exploitative lease, saves a lot of money.
The added support and resources are what makes the model at Dame Collective and elsewhere even more appealing. For Contreras, who is transgender, the Dame Collective setup has been "a breath of fresh air" after leaving her previous restaurant for what she calls a "lack of respect and support," as a brown woman experiencing gender dysphoria.
Because the restaurant industry can be brutal and thankless, that support is crucial, especially as more queer chefs and people of color make Portland their culinary playground. And opting to launch a pop-up can be a catalyst to building community on a more reasonable budget.
Winemaker Bertony Faustin, owner of Abbey Creek's hip-hop-themed tasting room in downtown Portland, agrees. "Pop-ups are invaluable. They're the easiest way to test the market without any real risk," says Faustin, who is Oregon's first Black vineyard owner in over 50 years. "It's a win-win."
The visiting chef or brand doesn't take away from the host, he notes. "It actually makes us shine brighter. That's how we grow as a society and change the world, by actually connecting and helping one another."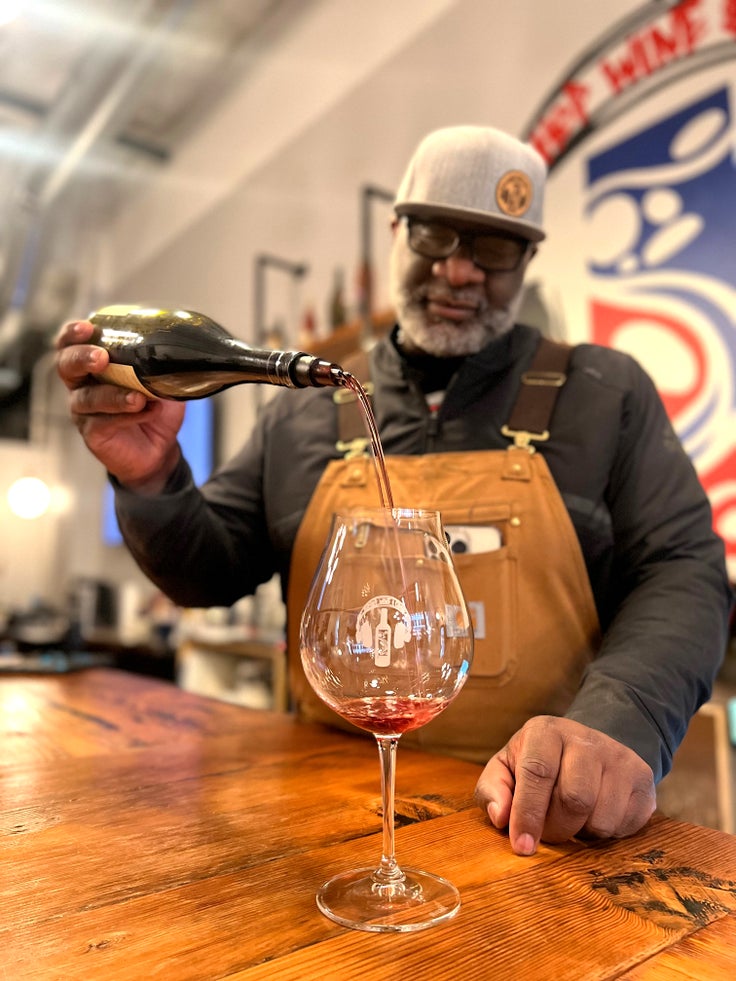 Prior to opening his location, Faustin took his wines to the Society Hotel in Chinatown where he promised "love, magic and moments" with every glass. His current space in downtown Portland is anything but your typical tasting room; it centers Black music culture with an intentionally curated playlist and vino named after icons such as Beyoncé and Missy Elliott.
"People of color talk about growing up as tokens, but someone needs to see you," Faustin says. "I won't be anyone else's token but I'll be mine every day. I could have gone to urban areas, but where can I create more change? In this place where you don't expect me to be." Showing up and staying, of course, is a powerful act of resistance. And pop-ups are key to facilitating that.
Pop-ups have also proved to serve as a space for fostering and educating the next generation of chefs. Restaurants such as Magna Kusina and the aforementioned Mestizo started as pop-ups and are now hosting other up-and-coming chefs, providing an opportunity to pay it forward with mentorships.
"I would rather be an educator than a chef that holds her recipe," Chaison of Mestizo says. "If somebody can use [my space] and make a living out of this, I would love to help. When I started, I didn't have mentors, I was struggling. Now, I'm at a point where my restaurant is more established and I can think of helping others."
Her restaurant specializes in Latin American classics such as tostones, seafood ajillo and pozolito with a Thai flair. But beyond delicious gluten-free comfort food, the space is known for its role in the community. Together, Contreras and Chaison have launched multiple fundraisers, some with 13 other chefs in the room, blending their culinary knowledge with social responsibility for the causes they care about as immigrants and women of color: trans and queer rights, Asian American and Pacific Islander rights, and immigrant rights, among others.
The two became friends after Contreras shared a tamale dough recipe that would be adapted into Chaison's ethereal empanadas. The collab is one simple yet powerful example of how chefs in Portland are uplifting each other in a mostly white industry.
That's the beauty of Portland. The local culture stands on a foundation of embracing creators and innovators — people who aren't afraid to try something new if it means bettering the world. And though there's always been a never-ending plethora of dining choices, a new wave of culinary experts have found a way to make us all feel welcome there.