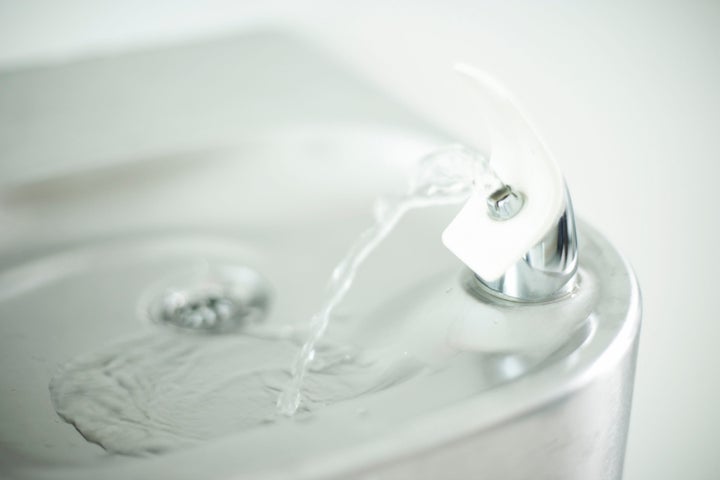 Students in Portland Public Schools, the largest school district in Oregon, haven't taken a drink from a water fountain in almost two weeks.
That's because all the district's fountains have been shut off since May 27, after PPS announced that high levels of lead had been detected in the drinking water at two of its school buildings -- Creston, a K-8 school, and Rose City Park, which houses a magnet program for gifted students.
Bottled water is now being used throughout the school district for all drinking and food preparation purposes. That will be the case until Thursday, which marks the end of the school year.
In a May 27 email, PPS Superintendent Carole Smith apologized to families and staff, acknowledging that the district had failed to notify them as soon as tests detected elevated levels of lead in the water in March. Smith also acknowledged that the district had not shut off the water in the faucets or fountains where high lead levels were detected.
Since then, frustrated parents have been demanding to know who knew what, when they knew it and why no one took action sooner. The questions have grown more pointed as new reports suggest the district may have already been aware of the issue months or even years ago, and that the problem was or is far more widespread than two schools.
The Willamette Week, a Portland alt-weekly, reported on May 31 that when PPS last tested the water at 90 of the district's schools between 2010 and 2012, officials detected lead exceeding the Environmental Protection Agency's 15 parts per billion "action level" at 47 of them. The district claims to have no knowledge of that testing, nor of any lead remediation efforts that may have taken place as a result.
In light of the growing scandal, more than 1,500 people have signed a Change.org petition calling for Smith's firing or resignation. Two of the district's top officials -- chief operating officer Tony Magliano and chief health and safety manager Andy Fridley -- have already been placed on paid leave. An external personnel review will also attempt to determine why there were delays in shutting off the lead-tainted water and notifying parents and staff.
Meanwhile, PPS plans to conduct district-wide testing for lead over the summer. And Monday evening, the district hosted the first of two free lead screenings, allowing people to find out whether they'd been exposed to the toxin.
"This has been an educational process," PPS spokeswoman Christine Miles told The Huffington Post. "Our superintendent is calling for a third-party investigation into what happened here, how we got here and how we make sure we never come to this place again."
According to the Multnomah County Health Department, 225 children and adults were screened for lead exposure Monday at Rose City Park School, and two children recorded elevated lead levels that will require additional blood work to confirm. A second public screening was slated for Tuesday at Creston.
"We just want our kids to be healthy and safe," Miles said, "and the best way to know that is to go through a screening and get the most information you can to educate yourself on this."
Marc Edwards, a Virginia Tech civil engineering professor who helped expose the water contamination crisis in Flint, Michigan, says there's no real mystery as to why Portland schools are now having this problem.
As The Oregonian reported earlier this year, recent testing has identified Portland as home to the highest lead levels of any large U.S. city.
Edwards believes that Portland has earned that distinction because its main water source, the Bull Run Watershed, is highly corrosive. Despite this, Edwards says, the Portland Water Bureau has used a minimal amount of chemicals to treat the water and address the corrosion, because local residents are skeptical of the presence of any chemical additives. The city's residents, for example, rejected the addition of fluoride to the city's water supply in a 2013 vote.
"Portland has been leading the world in evading implementation of corrosion control," Edwards told HuffPost. "It's one of the most outrageous things I've ever heard of."
In an emailed statement, PWB public information officer Jaymee Cuti said the utility has been working to reduce the corrosiveness of its water since 1997, leading to a 70 percent reduction of lead in the water at high-risk homes. Cuti said PWB is also in the midst of a corrosion control study to better identify any changes that could be made to improve the water.
""Parents need to be aware that you can't assume your school's water is safe.""
Still, the lack of regulatory framework for the issue is alarming.
PPS, like the vast majority of school systems, gets its drinking water directly from community water utilities like the PWB. Only about 10 percent of U.S. schools are required by federal law to test for lead in their water, according to a USA Today analysis. These schools can still test for lead, of course, but it's completely voluntary.
If there's good news to be found in Portland's water scandal, it's that parents and school districts alike are becoming more aware of the issue of lead poisoning. A New York Times report from March found that the number of districts requesting lead tests is surging in various areas. The crisis in Michigan has had a lot to do with that.
"The silver lining of Flint is that people are starting to take this problem more seriously," Edwards said. "They're starting to test when they should have been doing it all along, and the EPA is finally doing its job."
Progress may also be happening legislatively -- at the state level, at least. On Tuesday, a coalition of New York lawmakers and public health officials introduced a bill that would require all the state's public schools to test for lead in their drinking water. In New Jersey, two months after high lead levels forced dozens of Newark schools to shut off their water, Gov. Chris Christie (R) ordered mandatory lead testing in schools.
Still, there's a long way to go and the stakes are high. According to the Centers for Disease Control and Prevention, no level of lead exposure is safe. Children are most at risk for the harmful effects of lead, which include brain and nervous system damage and hearing and speech issues. Exposure to lead is also believed to increase the risk of learning and behavior problems like ADHD, reduced IQ and juvenile delinquency.
Given the serious and widespread nature of the issue, Edwards emphasized that it's up to parents to take local action to make sure their children aren't being exposed.
"Parents need to be aware that you can't assume your school's water is safe," Edwards said. "You have to push the issue and make sure it's tested."
Joseph Erbentraut covers promising innovations and challenges in the areas of food and water. In addition, Erbentraut explores the evolving ways Americans are identifying and defining themselves. Follow Erbentraut on Twitter at @robojojo. Tips? Email joseph.erbentraut@huffingtonpost.com.