A 21-year-old man who was stabbed by a white supremacist in Portland, Oregon, on Friday says the two young black women he helped protect are the real victims of the vicious attack, not him.
In an emotional six-minute video posted to Facebook on Wednesday, Micah Fletcher called out the city's "white savior complex" and what he believes is a glaring disparity in the praise and support he has received in comparison to the young women, one of whom is Muslim and was wearing a hijab.
Fletcher, who was one of three white men who came to the girls' defense on Friday, acknowledged the pain and trauma the young women must be experiencing since the attack, which led to the deaths of two other men who tried to intervene: Ricky Best, 53, and Taliesin Namkai-Meche, 23.
"There is a problem," he said in the video. "We are forgetting what is in my opinion the most important part of this entire series of events ... We need to remember that this is about those little girls."
"We in Portland have this weird tendency to continue patterns that we've done forever and one of them is the same old, just to put it bluntly, white savior complex," he added. "I think it's immensely, immensely morally wrong and irresponsible how much money we have gotten as opposed to how much support, money, love, kindness that has been given to that little girl."
"My daughter was so happy but very emotional," Magnum's mother, Dyjuana Hudson, wrote in a Facebook post. "Micah is one of the best genuine hearted people you will ever meet."
In his video, Fletcher, who is a student at Portland State University and said he is a "firm supporter of youth," asked people to sympathize by reflecting on the trauma and misfortune the girls experienced that day.
"I want you to imagine that for a second, being a little girl. This man is screaming at you. His face is a pile of knives. His body is a gun. Everything about him is cocked, loaded and ready to kill you," he said. "These people need to be reminded that this is about them. That they are the real victims here as well."
"Remember that they got hurt, too," he added, "and when it comes down to it, when a kid's hurt like that, we as a society, as a world have a moral obligation to do something about it and to help."
Support HuffPost
Every Voice Matters
Before You Go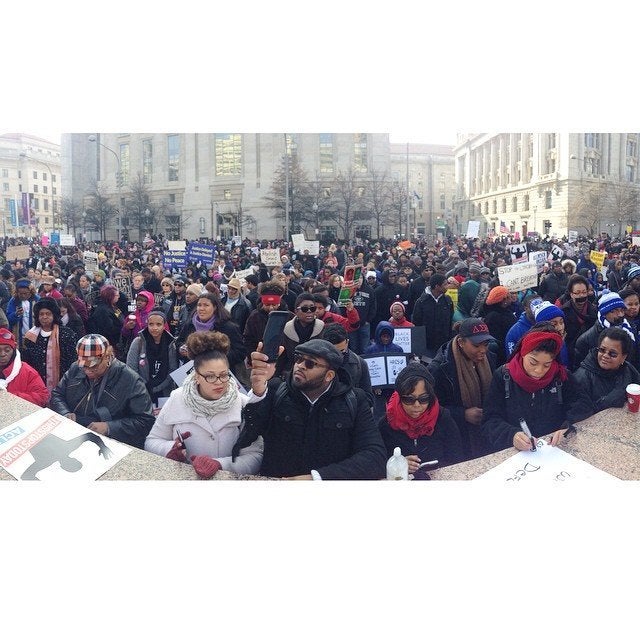 Powerful Black Lives Matter March In Washington
Popular in the Community