Most 28-9 NBA teams don't need validation; their record speaks for itself. But the upstart Portland Trailblazers are not most NBA teams. How many in NBA circles actually believe that this team -- which had only 33 wins all of last season -- could beat Indiana or Miami in a prolonged playoff series? Or navigate through the pitfalls of the Western Conference?
Head coach Terry Stotts -- who coached under offensive guru George Karl in Seattle and designed the "flow" offense that helped Dallas win a title in 2011 -- has created the league's most efficient offense. Portland ranks second in the league in field goal attempts beyond 15 feet, with five premier 3-point shooters, all of whom are shooting at least 36 percent. No other team in the league can say that. Portland also boasts wins over the Pacers, Clippers, Spurs and two over the Thunder. No other team in the league can say that, either.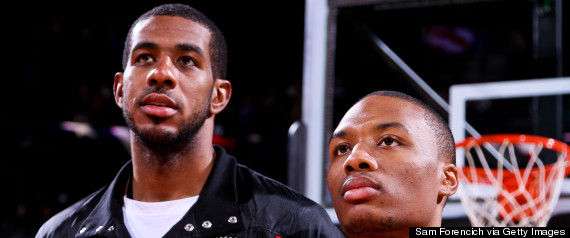 In the course of their sensational start, the Blazers have seen an uptick in play from big man LaMarcus Aldridge, a remarkably versatile talent who, at 28 years old, seems to have embraced his role as team leader. What immediately jumps out is the career-best 11 rebounds per game, but there is more to the puzzle. In previous seasons, Aldridge has had a tendency to drift away from the paint and take a lot of his shots from the 15- to 19-foot range, according to Hoopdata.com. When facing up from that range, or playing the pick-and-pop game with point guard Damian Lillard, Aldridge's shooting accuracy would often draw the opposing big away from the hoop. But whether Aldridge chose to shoot or pass, at that range he was in no position to rebound.
This season, with free agent acquisition Robin Lopez at center, "LA" is able to play the four, where he has been far more effective. Lopez, with his ability to rebound and defend, has quietly emerged as an integral part of the Blazers.
But it's Lillard who is the catalyst. Wise beyond his years, last year's Rookie of the Year is the rare lead guard who really understands tempo: when to push the ball and when not to, the importance of delivering his passes in the shooter's pocket, how to change speed in the two-man game to throw off a hedging big man. Like Aldridge, Lillard makes an effort to shoot jumpers, particularly from distance, where he trails only Golden State's Stephen Curry and Klay Thompson in 3-point attempts per game.
Wesley Matthews and Nicolas Batum -- both ace defenders and capable shooting threats -- round out a Portland unit that is athletic, quick and unselfish. The team should also be buoyed by the return of rookie C.J. McCollum, a gifted combo guard who has yet to play this season because of a broken bone in his foot.
With his team's help, Aldridge has become a true go-to scorer who's apt in pick-and-roll from anywhere on the floor. And any of the four core players is capable of creating his own offense, while Batum and Matthews are interchangeable on the perimeter at either end of the floor. This has given Stotts the flexibility to go small or big, depending on the opponent and situation.
These little things add up to give the Blazers one of the most devastating offensive attacks in the NBA.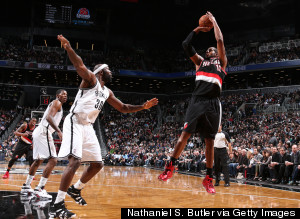 With his sweet shooting touch, Aldridge is averaging a career-high 24 points per game. (Getty Images)
History offers some pretty clear lessons on how and why offenses sometimes struggle in the playoffs. The game slows down because defenses are more talented, more sophisticated and designed to keep the game in the half-court. To win in the postseason requires a team both to defend and to score in the paint. Those that favor the jump-shot tend to struggle, as it becomes harder to shoot 3-pointers in transition and because it's exhausting when you need all 24 seconds on the clock to take a shot.
So while a team like Portland loves the 3-pointer, what makes them supremely difficult to defend is that they have a quintet of marksmen who excel at getting looks. Aldridge has already noticed the difference in how teams guard him, telling the Associated Press, "Last year I was getting doubled a lot. There's a lot more one-on-one play now."
The postseason comes down to matchups: How can a team exploit the lack of size in an opponent's backcourt? Which big can't guard screen-and-roll? Who fails to rotate to the corner shooter? Because Portland can win matchups all over the floor, they should pose an immense challenge through a prolonged playoff series.
And if the Blazers are connecting from long range, that helps, too.
Email me at jordan.schultz@huffingtonpost.com or ask me questions about anything sports-related at @Schultz_Report and follow me on Instagram @Schultz_Report. Also, be sure and catch my NBC Sports Radio show, Kup and Schultz, which airs Sunday mornings from 9-12 ET, right here.
REAL LIFE. REAL NEWS. REAL VOICES.
Help us tell more of the stories that matter from voices that too often remain unheard.