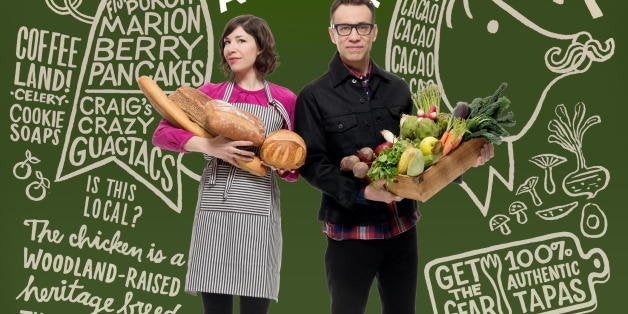 To say "Portlandia" stars Carrie Brownstein and Fred Armisen are multi-talented would be a gross understatement. In addition to being co-creators, co-writers and co-stars of the Emmy award-winning "Portlandia," both Brownstein and Armisen are talented musicians: Brownstein best known for her rock band Sleater-Kinney and Armisen for many musical and comedic roles, most recently on "Late Night With Seth Meyers." Now the renaissance duo can add cookbook authors to their list of accolades. The Portlandia Cookbook: Cook Like A Local came out on October 28, and it's everything we hoped for and more.
Brownstein and Armisen wrote the book with "Portlandia" director Jonathan Krisel, and it features recipes inspired by the show. The recipes come from a collection of chefs, home cooks and Portland-based restaurants, coffee shops and bed and breakfasts. There's the recipe for the chicken that inspired one of the show's most famous scenes, when Fred and Carrie order at a farm-to-table restaurant in Portland and ask a million questions about how the chicken was raised. The chicken's name is Colin. There's a recipe for Spaghetti And Meatballs, inspired by carb-obsessed characters Peter and Nance who went on a no-carb diet in one episode. "Well, I'm back on the Spaghetti Wagon!" Peter declares to introduce the recipe. There's also a recipe for "100 percent authentic" Paella Valencia, from gear-buffs and travel aficionados Kath and Dave.
"Portlandia" is one of those TV show that just hits the nail on the head, and the cookbook follows suit. In a media landscape bloated with dumb hipster jabs (guilty as charged), "Portlandia" manages to deliver original, nuanced content season after season. With any perfect show, however, comes the worry that it will lose its luster with too many seasons and unnecessary product launches, and end up ruining the magic that once was. So far, "Portlandia" has thankfully escaped this fate entirely, and the Portlandia Cookbook is only a testament to that. If you heard about it and didn't feel like you needed to rush out and buy another cookbook, one look at what's inside Cook Like A Local will convince you otherwise. It's as witty and entertaining as the show, and can sit on your coffee table for instant inspiration and laughs. We can think of no better way to get ready for "Portlandia's" fifth season, which comes out in January, than getting down with this new cookbook. What other cookbook could make us laugh equally hard as it inspires us to get in the kitchen?
Here are three recipes from the cookbook that's as brilliant as the show.
The following recipes are excerpts from "The Portlandia Cookbook: Cook Like A Local," by Fred Armisen, Carrie Brownstein and Jonathan Krisel/Clarkson Potter 2014.
For your ultimate locavore dinner party, characters Clair and Doug bring you:
Roasted Wild Mushrooms With Foraged Greens and Hazelnut Vinaigrette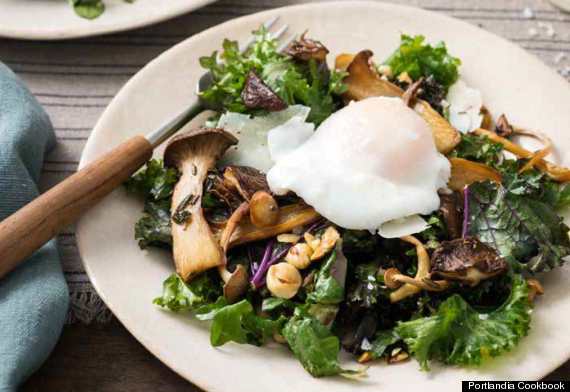 Serves: 4
Active: 30
Total: 50
1 pound mixed wild mushrooms, such as chanterelles, shiitake, matsutake, oyster, king oyster, shimeji, or lobster mushrooms, sliced, quartered, or whole if small
1/2 teaspoon chopped fresh thyme
1/2 teaspoon chopped fresh rosemary
2 tablespoons unsalted butter, melted
2 tablespoons plus 3 tablespoons extra-virgin olive oil
Kosher salt and freshly ground black pepper
1/2 cup hazelnuts
1 tablespoon plus 1 teaspoon hazelnut oil
4 large eggs
1 tablespoon red wine vinegar
1 small garlic clove, grated on a microplane
5 ounces mixed baby wild greens, such as baby kale, watercress, dandelion, arugula
2 ounces shaved hard cheese, such as Sardinian Pecorino, Manchego, dry Jack
1. Preheat the oven to 450°F. Line a large baking sheet with parchment paper.
2. In a bowl, combine the mushrooms, thyme, rosemary, butter, and 2 tablespoons of the oil and toss to coat. Spread on the baking sheet and roast until browned and tender, about 20 minutes, stirring once or twice. Season with salt and pepper to taste and let cool.

3. Spread the hazelnuts on a pie plate and toast until fragrant and the skins blister, about 8 minutes. Transfer the nuts to a kitchen towel and rub off the skins. Coarsely chop the nuts and toss with 1 teaspoon of the hazelnut oil. Season with salt to taste and set aside.
4. In a large bowl, whisk the vinegar with the garlic, the remaining 3 tablespoons of olive oil, and the remaining 1 tablespoon of hazelnut oil. Season with salt and pepper to taste.
5. Add the mushrooms, greens, cheese, and hazelnuts and toss to combine.
6. Prepare the eggs. Crack the eggs into individual ramekins, being careful not to break the yolks. Bring a deep skillet of water to a boil and season with salt. Reduce the heat to low and one by one pour each egg into the simmering water, leaving space between the eggs. Poach the eggs until the whites are set but the yolks are still runny, about 3 minutes. Using a slotted spoon, transfer the eggs to a paper towel–lined plate and gently pat dry.
7. To serve, transfer the salad to plates and top each with a poached egg.
Make ahead: The mushrooms and dressing can be refrigerated separately for up to 3 days.
From the "gutterpunks" who can tell you how to eat well for one dollar:
Smokey Bacon Pizza Bianca With Wild Greens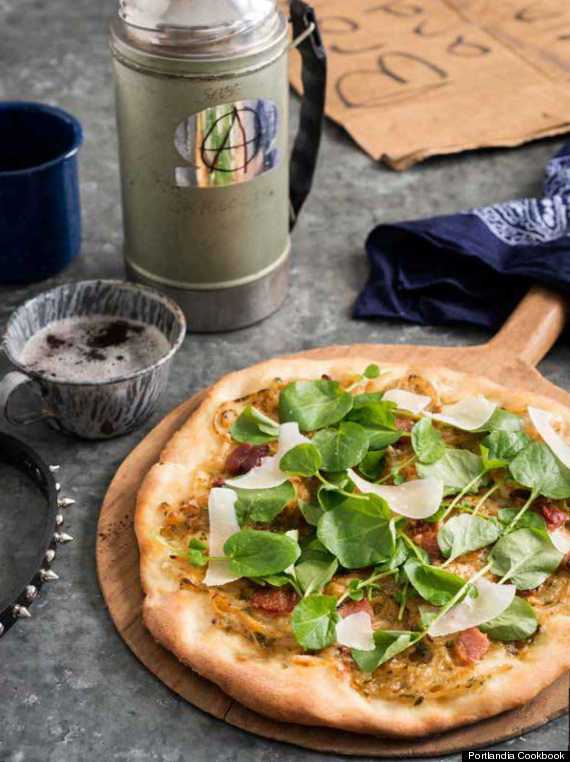 Makes: 2 large pizzas
Active: 30 minutes
Total: 2 hours
Dough
1 teaspoon active dry yeast
Pinch of sugar
3/4 cup plus 2 tablespoons warm water (90°F)
2 cups all-purpose flour, plus more for kneading
1 teaspoon kosher salt
Oil for the bowl
Topping
4 ounces thick-cut bacon, cut into 1/2-inch pieces
1 large onion, thinly sliced
1 large garlic clove, thinly sliced
2 tablespoons dry vermouth
1/2 cup heavy cream
1 sprig of fresh thyme
Kosher salt and freshly ground black pepper
1 tablespoon chopped fresh flat-leaf parsley
4 ounces shredded fontina
4 ounces wild greens, such as arugula, watercress (thick stems discarded), nettles, or purslane (thick stems discarded)
1 tablespoon freshly squeezed lemon juice
1 tablespoon extra-virgin olive oil
1/2 cup shaved Parmigiano-Reggiano
Olive oil
1. Make the dough: In a large bowl, combine the yeast and sugar. Add the 2 tablespoons of warm water and let sit until the yeast is foamy, about 3 minutes. Add the remaining ¾ cup of water and the flour and salt and stir until a soft dough forms. Turn the dough out onto a floured surface and knead until smooth, adding more flour as necessary.
2. Lightly oil the bowl and return the dough to it. Cover the bowl and let the dough sit in a warm place until doubled in volume, about 1 hour, or refrigerate overnight. Punch down the dough in the bowl, transfer to a cutting board dusted with flour, and cut the dough into 2 equal pieces. Cover with a piece of oiled plastic wrap and let sit at room temperature for 15 minutes.
3. Set a pizza stone in the upper third of the oven and preheat the oven to 500°F, allowing at least 30 minutes for the stone to preheat.
4. Make the topping: In a large saucepan, cook the bacon over medium heat, stirring occasionally, until crisp, about 5 minutes. Using a slotted spoon, transfer the bacon to a paper towel–lined plate and pour off all but 1 tablespoon of the fat from the pan.
5. Add the onion and garlic to the pan, cover, and cook over moderate heat, stirring occasionally, until browned and softened, about 5 minutes.
6. Add the vermouth and cook uncovered, until the vermouth has evaporated. Add the cream and thyme and simmer, uncovered, until the liquid is very thick and the mixture is reduced to ¾ cup, about 5 minutes. Discard the thyme and season with salt and pepper to taste. Stir in the parsley.
7. Working with 1 ball of dough at a time, press or roll it out to a 12-inch circle on a floured surface. Slide it onto a lightly floured pizza peel or an inverted baking sheet. Spoon the cream mixture on top, followed by the fontina cheese and bacon. Slide the pizza onto the stone and bake until browned and blistered in spots, 6 to 8 minutes.
8. Meanwhile, in a large bowl, toss the greens with the lemon juice and olive oil, and season with salt and pepper to taste. When the first pizza comes out of the oven, mound half the dressed greens on the pizza and garnish with the shaved Parmesan. Cut into wedges and serve right away while the second pizza is cooking.
9. Mound the remaining half of the dressed greens on top of the second pizza when it is done baking, cut into wedges, and serve.
Make ahead: The dough can be refrigerated for up to 3 days; in fact, it takes on a slightly sourdough-like flavor and chewy texture. Return to room temperature before punching down and dividing. The creamy onion topping can also be refrigerated for up to 3 days.
Finally, since "brunch is a weekly ritual" for which Portlanders will stand in long lines every Sunday, the cookbook would be remiss without its own brunch section. Here's one of the many brunch recipes:
Bird In Grilled Cheese Nest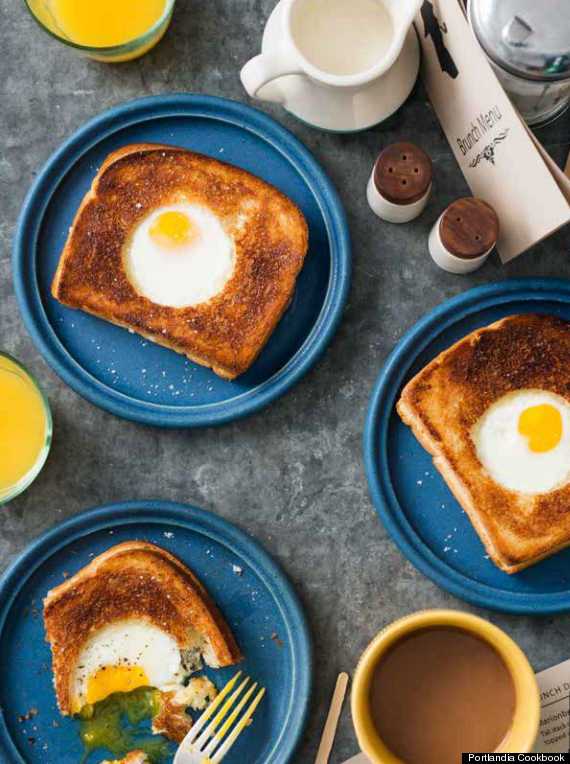 Makes: 2 sandwiches
Total: 25 minutes
4 slices best-quality packaged sandwich bread
2 tablespoons mayonnaise (not reduced fat)
2 tablespoons freshly grated Parmigiano Reggiano
3 ounces (about one cup) coarsely shredded cheese, such as fontina, Asiago, or unaged Gouda
1 scallion, thinly sliced
Unsalted butter, for the pan
2 large eggs
Truffle salt (optional)
1. Preheat the broiler, setting the rack 6 inches from the heat.
2. Arrange the bread on a work surface and spread 1 side only with the mayonnaise, evenly and to the edges. Sprinkle the Parmesan over the mayonnaise and press lightly to make it adhere. Flip the bread and add the coarsely shredded cheese and the scallions to 2 of the slices. Close the sandwiches, with the Parmesan-encrusted sides out.
3. Heat an ovenproof griddle or skillet over medium heat and lightly grease with butter. Add the sandwiches and cook over moderate heat until lightly browned on the bottom, 1 to 1½ minutes.
4. Transfer the sandwiches to a cutting board. Using a biscuit cutter or the rim of a glass, cut out a 2-inch hole in
the center of each sandwich. Return the sandwiches and cutouts to the griddle, browned side up, and melt a sliver of butter in the holes. Crack an egg into each hole and cook over medium heat for about 30 seconds. Transfer the griddle to the broiler and cook until the top is browned and the egg whites are just set but the yolk is still runny, about 2 minutes. The tops and bottoms should be perfectly golden, but be careful not to over toast the bread.
5. Sprinkle the eggs with truffle salt, if using, and serve immediately, with the cutouts of bread on the side.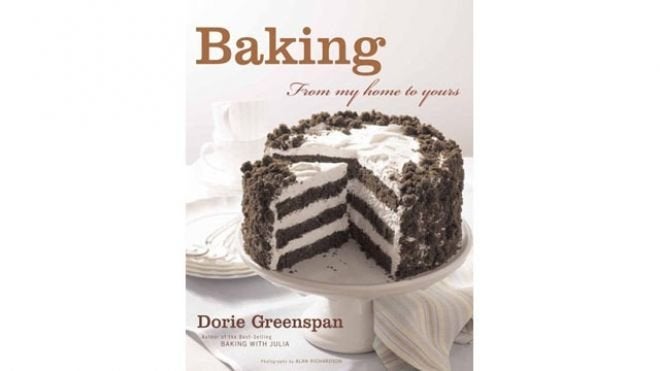 The Best, Most Useful Cookbooks Ever