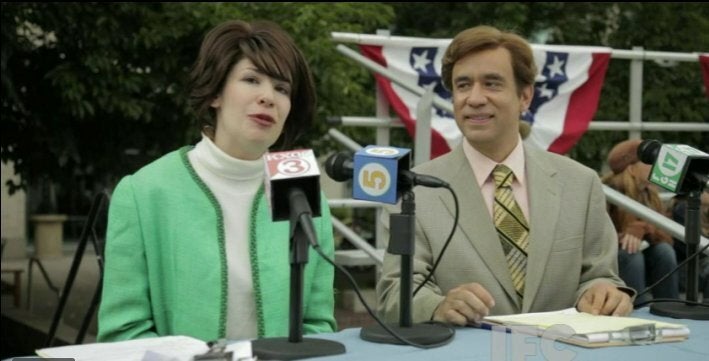 Like the first season of "Portlandia," the second will skewer the absurdities of a certain subsection of the American creative class -- the tattooed, fixed-gear bike riding, organic food eating, politically correct, craft-making inhabitants of cities like Brooklyn, Austin, and, yes, Portland. If any of the above describes you or your friends, get ready to get ribbed a little bit too accurately.
The second season, which begins on January 6 on IFC, will feature many of the same near-caricatures introduced to the audience in the first. Then, we met a pair of militant feminist bookstore owners, overzealous sustainable foodies, bird-obsessed interior directors, cool-hunting gauge-eared punks and more, with guest stars including Steve Buscemi, Aubrey Plaza, Jason Sudeikis, Kyle McLachlan and Sarah McLachlan. This season will bring Johnny Marr of the Smiths, Eddie Vedder, Andy Samberg, Kirsten Wiig, Joanna Newsom, Jack McBrayer and others.
"I don't think we think of it as specifically spoofing Portland," Carrie Brownstein told The Huffington Post. "Portland exists in every city, like Brooklyn or LA -- that mentality exists everywhere. Portland itself has been very supportive of the show. I feel very cheered on there, like we're running a marathon and being cheered on by the city."
That's a good thing, considering how much the city gets sent up in Season Two. In one bit, Carrie and Fred go shopping for a housewarming present and end up in Jeff Goldblum's artisanal knot shop.
"We tried to think about something that'd be impossible to run a business on, " said Fred Armisen. "What's something there's no way they could pay the rent in retail? Knots are a kind of curated speciality. It's not completely frivolous."
We're reintroduced to some Portlandians, like the aforementioned feminist bookstore owners, though new denizens have also come to dwell. In one episode, "One Moore Episode," fans of "Battlestar Galactica" are the target. But that target also describes Fred, Carrie and the entire "Portlandia" crew. Edward James Olmos, James Callis (Admiral Adama and Gauis Baltar) and the real Ronald D. Moore make an appearance.
"Life imitated art, because we shot the first half a few weeks before the second, where Doug and Claire [the characters] get obsessed," said Brownstein. "A lot of our crew who hadn't seen 'Battlestar Galactica' started watching it, and so by the time they showed up, we were a fanatical group of people."
Even Brownstein and Armisen were not immune.
"We flipped out when those three actors showed up on set," said Armisen. "Because of what I get to do, you don't get as starstruck with people. I was fully starstruck. We tried to keep it cool, and we were not cool."
But the hardest scene to shoot may have been one that appears only as a fantasy in the minds of two mild-mannered, middle-aged Portlandians. The couple, standing around their new fire pit, planning a dinner party, end up imagining the flame-fueled orgy they fear would ensue should they light the pit.
"Usually when we shoot stuff, Carrie and I are just talking and coming up with jokes," said Armisen. "But this time it was more like, 'Scream as loud as you can, then scream again -- no really, really scream.' It's really scary with those trees around. It was really, really hot. We'd do these scenes, screaming, and as soon as we did them, we'd have to step away."
"We had all these people dressed up in this crazy S&M gear and we had to step into this hot, fiery world with them, and it was definitely bizarre," Brownstein said. "And they really were from circuses and stuff -- fire eaters and flame throwers and jugglers."
Despite the occasional exaggerations, many of these sketches are based in reality.
"Some of it's like people we know, some of it's people we've seen from afar, like, 'What is that? Who are these dads who used to play in bands?'" said Armisen. "Some of it is just in our heads from nowhere."
Maybe not exactly nowhere: Brownstein admits that much of the show's ethos is drawn from her and Armisen's own history within such communities.
"Fred and I have both come from communities, specifically indie music and punk, who've embraced that unyielding idealism and optimism and progressiveness for a long time," she said. "Especially growing up on the West Coast, the lifestyle and the beliefs are not new, they've just permeated mainstream culture a lot more. People are living conscientiously, and it's gotten to the point where people are trying to question it."
"If we talk to someone in Berkeley in 1969, I'm sure people would have something to say about those communities that existed back then," said Armisen. "I bet it goes back even further."
One city that gets the "Portlandia" treatment this season is Los Angeles. Two Portlandians hop a car headed south and end up in the city full of sunlight, multiethnic chain restaurants and laser-filled shot bars, much to their shock and disapproval.
"I feel like I am very adverse to the sun, I don't like the sun at all," said Armisen. "When I go to LA -- I like LA, by the way -- I love being in the car, I don't like being in the sun. Man, that sun is bright."
"Fred and I both like to layer," said Brownstein. "I don't know what to do if I'm not wearing three versions of a shirt, sweater, jacket. In the summer you have to be in the least amount of clothing ever. It's hysterically uncomfortable."
"I like shoes," Fred added. "Real footwear. LA is like: Converse or sandals."
Brownstein and Armisen credit this kind of attention to detail for the show's success among a broader demographic.
"You have to draw a specificity, and ironically it seems to make the appeal broader," Brownstein said. "The more specific you are, the more somebody in some other city can grasp onto the meat of it."
Watch a preview behind the scenes of "Portlandia" Season 2 below:
Popular in the Community