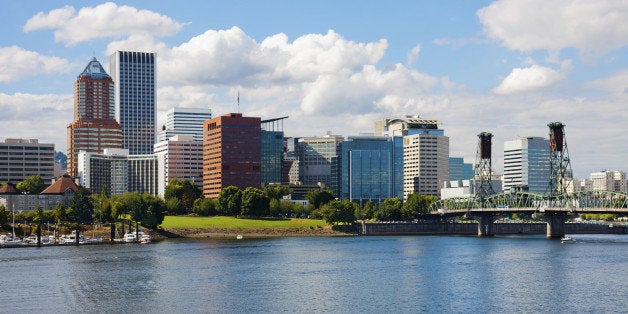 What does bike-riding, climate-championing, granola-crunching, weird and wacky Portland, Oregon, have in common with the bleak, smouldering, poisonous mines of Alberta's tar sands? Well, depending on decisions to be made by Portland's Sustainability Commission, soon they might share in common an economic interest in exporting fossil fuels from the tar sands to Asian markets.
A proposal to build a $500 million propane export terminal in Portland is being pushed through by the largest pipeline company in the Canadian tar sands region, Pembina Pipeline Corporation, without appropriate citizen input and government oversight. And Portlanders are outraged. A cadre of faith, labor and environmental justice groups, bike riders, "Raging Grannies," and other protesters say the terminal would threaten Portland's reputation as an environmental leader and should be rejected.
"Using scarce port lands to facilitate a $6 billion-a-year foreign company's exports of a greenhouse gas pollutant originating in the tar sands in order to help China be more competitive in production of plastics and unhealthy food additives could not be further from Portland's recently achieved title of 'climate champion,'" said Dr. John Talberth, President and Senior Economist with the Center for Sustainable Economy (CSE). "Portland does not do economic development by whim and land use policy by exemption and amendment to accommodate every corporate snake-oil salesman with a rap about jobs and tax revenues. Instead, we need to stick to the commitments made in the context of the visionary economic development, land use, and sustainability plans that have earned the City its reputation as a leader."
The International Longshore and Warehouse Union Local 8, which represents 500 longshore men and women at the Port of Portland, publicly announced its opposition to the pipeline project. Mike Stanton, ILWU Local 8 president, testified to the board, "Propane exports squander the port's potential by squeezing out rail capacity for other cargoes, including Oregon agricultural projects, containers and more. Pembina's promise of jobs -- other than a short initial construction burst -- is simply false."
The propane is likely to be sourced from "fracked" gas and Alberta's tar sands, one of the bleakest scenes of man-made destruction, and the target of international protests due to the impact tar sands extraction is having on First Nations peoples and the environment. The world's most prominent climate scientist, Dr. James Hansen, has called full exploitation of the tar sands "game over" for the planet, given that existing conventional oil and gas is likely to continue to be burned as well. Fracking has been banned in several states due to its serious health and environmental impacts and recent studies suggest fracked gas can be more climate-destabilizing than coal due to inevitable fugitive methane emissions.
The Pembina project would require the Portland Sustainability Commission to amend its environmental code, thereby undermining a fragile estuary home to endangered salmon and birds, and opening the door to similar projects elsewhere in the city of Portland.
"I urge you to say no to the zone change requested, so that Portland and Oregon may continue our leadership on climate change, our most crucial environmental issue." said Rev. Marilyn Sewall, Minister Emerita at the First Unitarian Church Portland.
"This export terminal will have a significant negative impact on greenhouse gas emissions both locally and globally at a time when 80 percent of known fossil fuels need to remain in the ground to avert a climate catastrophe," said Adriana Voss-Andreae, Chair of 350PDX. "Mayor Hales and the City of Portland need to decide if they are climate heroes that live up to our core values of a safe, healthy and sustainable city -or- hypocrites willing to contribute to the wrecking of our city, and planet, for the promise of short-term profit."
Related
Popular in the Community