Anyone who says they know with certainty who Mitt Romney's choice for the Republican vice-presidential nominee will be is either lying or delusional. A source "close to the Romney camp" told me that a decision "has yet to be reached" (this was confirmed by Ann Romney earlier this week), though he also learned that Ohio Senator Rob Portman had gone through "the complete vetting process," indicating that Portman was among the finalists for Romney's selection.
Given the battering Romney has taken in recent weeks -- over his role in Bain Capital, his failure to release tax returns, his overseas investments -- my source also said it's possible that the VP announcement will be moved up to as early as next week in order to break the negative Romney narrative that has been dominating news cycles.
There is one thing of which you can be certain: As the author of The Lies of Sarah Palin -- which contains the most extensive account anywhere of Palin's haphazard selection process overseen by McCain's uber-lobbyist Rick Davis -- I can assure you that the Romney campaign has conducted a thorough and detailed vet of all finalists considered. For all his faults -- and Romney, indeed, has many as a candidate -- the former Massachusetts governor is not prone to the erratic, spontaneous and, indeed, irresponsible behavior that led McCain to his disastrous selection of Palin four years ago.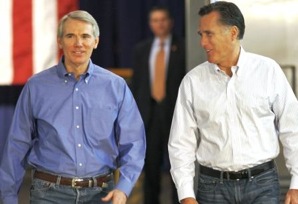 And make no mistake about it: virtually everyone in the Republican Party save for McCain -- from Mitt Romney to Karl Rove and Dick Cheney on down -- now realizes that Palin was an absolute catastrophe for the 2008 ticket. There will be nothing like a selection of Palin this time around. Not a chance.
That said, like the McCain camp in the summer of 2008, Romney's senior advisors (most notably, Beth Meyers, a longtime Romney confidante who is in charge of the selection process) are clearly assessing the dynamics of the 2012 race and engaged in a political calculus as to which VP candidate will best help Romney on Election Day. The trending for this presidential race has been both close and surprisingly static. No one in the Romney campaign, according to my source, envisions a "desperate" Hail Mary selection that will have a so-called "game-changing" impact on the race.
In fact, my source added, members of the candidate's inner-circle view Romney as the "brand" that can beat Obama in November, and they don't want to select anyone that will in any way "impact the Romney image." They are also concerned about separate political ambitions beyond the Romney presidential bid in 2012. Those in the McCain circles quickly realized that Palin was positioning herself for a run for the presidency during the 2008 campaign. Rogue ambitions are anathema to the Romney team.
Based on first-hand tidbits I have gleaned from those in touch with the Romney campaign, along with some informed speculation on their part, the top two candidates at this moment are former Minnesota governor Tim Pawlenty and Ohio senator Rob Portman, with Florida senator Marco Rubio also having an outside shot. Other names still being bandied about in the press include former Secretary of State Condoleezza Rice; Louisiana Governor Bobby Jindal; and New Jersey Governor Chris Christie.
Let's take a look at each candidate's prospects in reverse order of favorability.
Rice: It's been important for Romney to have a woman's name being floated as a contender (New Hampshire Senator Kelly Ayotte also has also been mentioned), and Rice would be an attractive selection: She's bright, articulate, well-educated and profoundly informed on foreign policy issues -- precisely everything that Sarah Palin was not. But the fact of the matter is that her close association with George W. Bush, along with her now well-documented feuds inside the White House with Dick Cheney and Donald Rumsfeld, make her an unlikely selection. Too much of that Bush-era detritus would be brought to the surface during the campaign. She's also pro-choice. Final kiss of death to her chances: Palin's recent blabberings on Rice's behalf. Odds: 20 to 1.
Christie: I've been told that Christie was the VP frontrunner leading into the first furlough. He's clearly well-liked by Romney, but his shoot-from-the-hip, hot-headed persona goes counter to the Romney brand. Plus he doesn't bring any real estate to the deal; New Jersey is painted blue. The recent leak coming out of the Romney camp that Christie will be giving the keynote speech in Tampa adds further fuel to the fire that he's out of the running. Christie is going to be Romney's political hit man during the campaign, but he's not riding shotgun. He also has his eye on 2016 (another Romney no-no). Odds: 15 to 1.
Rubio: Only a few months ago, Rubio was viewed as the most likely selection. He's young, he's charismatic and ambitious. (Probably, too ambitious.) He also appeals to the conservative base of the party -- an important consideration for the Romney team. Like Palin, however, he also has the capacity to overshadow the top of the ticket -- something that Romney's crew will avoid at all costs. Plus, there's some baggage in Rubio's family narrative that would certainly come up in the campaign. While Florida is a critical state in the Republican electoral strategy, polls indicate that Rubio isn't the asset in the Sunshine State that one might expect. He also lacks the type of political seasoning that Romney values. He'll certainly be a great asset to the Romney ticket on the hustings and a very likely cabinet appointee in the event of a Romney win. But his VP selection? Karl Rove is pushing him, but is that enough? Only if Team Romney is feeling the need for a gamble when it comes time to make the call. Odds: 6 to 1.
Pawlenty: Few people realize how close Pawlenty was to being McCain's selection. Had Palin not passed her last-minute "vet" during a meeting with McCain at his retreat in Sedona, Pawlenty would have received the call. The two had a long history together dating back to Pawlenty's twenties. His Sam's Club Republicanism would have been an attractive addition to the McCain campaign in 2008. But McCain's senior advisors panicked and went with the Thrilla from Wasilla. If there were no Portman this time around, Pawlenty would be the odds-on favorite. He's quiet, low-key and he's loyal Romney. But he brings no real estate and very little pizzazz. I think he's being used yet again as a decoy. His poor showing in the 2008 GOP primaries highlighted his lack of charisma on the stump. I'm afraid it's always the bridesmaid and never the bride for Pawlenty. Odds: 3 to 1.
Portman: The fact that my source heard that Portman had gone through a "complete vetting process" leads me to believe that his name was being floated inside the campaign as a very serious contender. If Romney is to win in the critical Rust Bowl states -- most notably Ohio and Pennsylvania -- then Portman would provide a crucial link to those electoral votes. Portman is solid on the hustings and has also served as an effective stand-in for Romney. He's very popular across the Buckeye State, soft-spoken, a small business owner and down-to-earth. Unlike Pawlenty, he'd be fresh off the rack without having been through the national wash cycle. Most significantly, he's the anti-Palin pick. Odds: 2 to 1.
As for the other names that have been floated during recent weeks, none of them are likely to receive the Romney phone call. Paul Ryan? He may be on Romney's short list, but it's all for show; a serious long shot. Bobby Jindal? He supported Rick Perry in the primaries; not this time around. Susanna Martinez, Nikki Haley or Ayotte? The Palin debacle made sure that's not going to happen in 2012. John Thune or Mitch Daniells? Close, but no cigar. It's coming down to a choice between Pawlenty and Portman, with Rubio hovering on the outside. Romney's not going off the reservation, as McCain did in 2008. My gut -- along with a whiff of inside information -- says Portman.

REAL LIFE. REAL NEWS. REAL VOICES.
Help us tell more of the stories that matter from voices that too often remain unheard.