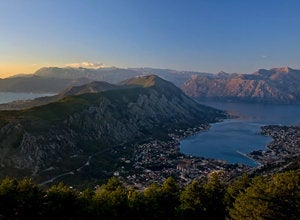 Cannes. Monaco. Porto Montenegro? If multi-millionaire gold miner Peter Munk has his way, this former Communist-era naval base in Montenegro's Bay of Kotor might soon become the most important new European super yacht hub, according to CNN.
If all goes as planned, the bay will have luxury penthouses, hotels, upmarket shopping and a 600 yacht capacity.
"I never thought I'd have the opportunity to put all this into practice," Munk, who is CEO of Barrik Gold, the world's largest gold mining company, told CNN. "Where would I get the chance to create the perfect port in Europe, somewhere that's large and protected, where the water is deep and where the government is co-operating? It would be a chance in a million."
The harbor was once home to the Tivat naval base, the Yugoslav navy headquarters. Just south of Portof Montenegro lies Aman Resorts' Sveti Stefan, which opened this year, several world heritage sites and some of the oldest towns on the Adriatic. Which all goes to say that while the area is quickly being developed as a new Adriatic hotspot, this yacht club might push it to the next level.
Munk told CNN: "We're not taking a dollar out. We're putting in an infrastructure, we're educating, we're attracting other investors. We're creating roads, buildings, pure water, an image."