It's meatless Monday along with Monday Night Football and I'm ready for the perfect tailgate! I love to host friends and family at our house and food is always at the center of our gatherings. This time is no different. However, we are sidelining the meat for this tailgate and proving that there are such things as winning meatless recipes.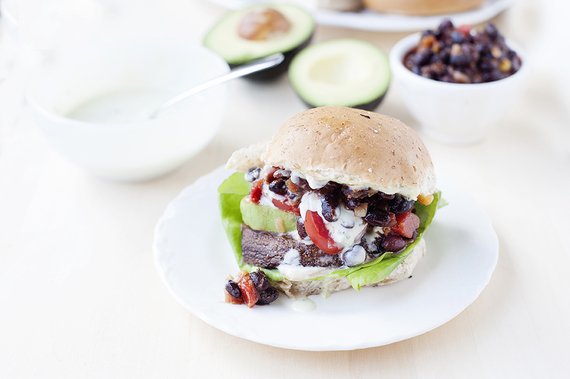 A typical tailgate with my family and friends usually includes all things meat like burgers, cajun sausage, stuffed peppers, chicken wraps, along with dips and sides that include a lot of cheese. Sounds delicious, I know! My mouth is watering as I write this. But, having friends and family that are both vegetarians and very sensitive to dairy, had me rethinking the typical menu (we do a pot-luck of sorts in our gatherings). I wanted to make sure they had a main dish they would enjoy as well as blowing away my other guests' palates.
When my friend Susan suggested I make portobello mushroom burgers, I was a bit skeptical. Would my other guests miss the meat? What could I add that would make the portobello burger a hit with my other guests? A sauce!
Since I already use almond and cashew milk in my house to accommodate for my son's dairy-free needs, I knew right away this would be something I would incorporate into our tailgate so my friends who eat a plant-based diet had something delicious to eat as well.
The solution: a Southwest Avocado Ranch to elevate the flavors of the grilled portobello burger. Check out how easy this recipe is to make:
Wanting to keep it with our traditional grilling theme, I knew if I picked something "burger" they would love it. I have to admit, I wasn't a huge fan of portobello mushrooms, but I love this Southwestern Avocado Ranch Recipe, and together it was delicious! Once you try it you'll want to make a thinner version and drizzle it over all your salads, use inside sandwiches, wraps, and much more!
Southwest Avocado Ranch:
1/2 cup unsweetened, original Cashew Milk
2 avocados, peeled and pit removed
1 small jalapeño, halved and seeded
1 lime, juiced, about 2-3 tablespoons
2 tablespoons fresh cilantro, chopped
1/2 teaspoon garlic powder
1/2 teaspoon onion powder
1/2 teaspoon dried dill
1/2 teaspoon sea salt
1/4 cup olive oil
Place all ingredients inside your blender or food processor and process until smooth and creamy.
For a dip like consistency, keep as is; for a dressing, add additional Silk Cashew Milk until you reach your desired consistency.
Portobello Mushroom Burgers
4 portobello mushroom caps
1 tablespoon olive oil
salt
1/3 cup fresh black bean and corn salsa
1 avocado, sliced
Lettuce
4 whole grain buns
Preheat charcoal or gas grill to medium-high heat (about 350-375F).
On a flat surface, brush Portobello mushroom caps with olive oil and sprinkle with salt both sides.
Grill, for 3-4 minutes per side. Remove from grill and assemble burger, spreading Avocado ranch on both the bottom and top buns, layering lettuce, grilled Portobello, avocado slices, salsa, and additional avocado ranch dressing.
*if you can't find bean and corn salsa, mix salsa with corn kernels (frozen or canned) and cooked black beans to your desired consistency.