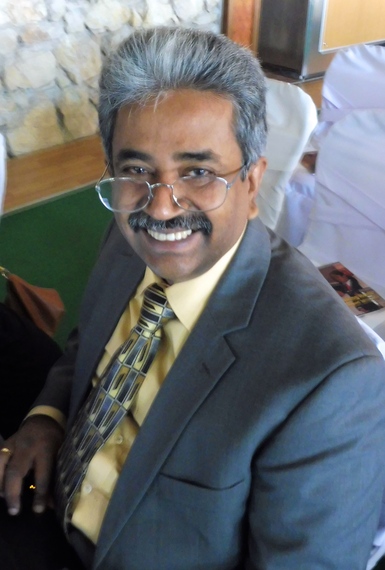 Dr. Vinya Ariyaratne leads one of the world's most admired development initiatives: the Sarvodaya Shramadana Sangamaya movement. Inspired by Buddhist principles and founded (in Sri Lanka) by his father in 1958, Sarvodaya has pioneered village level development for 57 years. Many ideas that Sarvodaya advanced decades ago, like participatory engagement of communities, were looked at askance as revolutionary and impractical, but today are accepted as central premises of sound development work. Dr. Ariyaratne is in demand in many quarters - as a public health specialist, physician, strategic leader, advocate for children, and finance specialist. But when we spoke recently he was most passionate about his work to heal the wounds of Sri Lanka's bitter conflict.
Mahatma Gandhi coined the word sarvodaya, describing a social order very different from the capitalist and communist systems of that time. It means, literally, the welfare of all or, with a Buddhist interpretation, the awakening of all. But most important is the sense that we live an interconnected and interdependent process of awakening the individual and the society. The Sarvodaya movement is deeply imbued with this philosophy, whether in listening to the priorities of villagers or in microfinance programs. The Sarvodaya principles involve above all a wonder at and respect for the richness, talents, and energy of people in the villages.
Another striking feature of the Sarvodaya movement is its capacity to evolve and grow. Sri Lanka today is a middle income country where the government is well equipped to provide basic services; that was not true 50 years ago. So Sarvodaya no longer sees its role as running services directly but aspires to be a lean, nimble organization that focuses on village governance and on national reform. Its action meets spiritual and cultural needs that the government cannot and should not be involved with.
What first drew Vinya Ariyaratne to focus on peacebuilding was his experience as a resident physician in a rural hospital. When he was first assigned there, a brief ceasefire held between the Liberation Tigers of Tamil Eelam (LTTE) and the government. But soon thereafter the ceasefire broke and hostilities started again. The hospital was one that received all casualties, military and civilian. The full brutality of the war and the suffering of the civilians, especially children, left an indelible effect and Dr. Ariyaratne saw the urgent need for health services to communities affected by the war. But the experience also drew him to reflect on at the determinants and dynamics of conflict, conflict resolution, and peacebuilding.
Sarvodaya initially approached peacebuilding through a massive campaign grounded in a spiritual approach, mainly peace marches and peace meditation. He realized that this approach was very important, but that it was vital to go beyond them to understand other dynamics, especially political dynamics related to governance. As a people's movement Sarvodaya needed to work on those issues as well as just those related to consciousness. The combination of spiritual and pragmatic approaches have become a hallmark of Sarvodaya, where a central theme is supporting villagers in holding the government to account to deliver what they are supposed to deliver. Sarvodaya took a leading role after the 2004 tsunami, both supporting village rebuilding and helping to formulate disaster preparedness plans and approaches.
Dr. Ariyaratne became increasingly involved in national conflict transformation efforts involving government politicians and civil society leaders, engaging at a political level. He was one of the neutral facilitators for national and district level dialogue between the political parties, the Tamils, and Singhalese. After 2006, a new, nationalistic government appealed to the LTTE for a peaceful solution but made clear that if they did not accept, they would go all out to crush them militarily. And that is exactly what happened. After three years of military confrontations the LTTE was militarily defeated and the war came to an end in May 2009.
Since then, the entire political, social, and economic landscape in Sri Lanka has changed, with many new challenges. The end of the war was a huge relief for all people. Sri Lanka is one of the few conflicts where war ended militarily, with the comprehensive crushing of a separatist group. That leaves, however, many unanswered questions, including allegations of war crimes, violations of international humanitarian law, and human rights by all involved.
Meanwhile religious extremism and nationalism have increased in Sri Lanka, in part because the state has used fervent nationalism to gain political ground, fueling extremist groups, including in certain sections of the Buddhist clergy. As an organization that founded its development model on Buddhist teachings, but has successfully implemented that model in a very secular manner, bringing all communities together, Sarvodaya feels great responsibility to address these issues. The situation needs to be handled carefully, not compromising principles, so that Sarvodaya is not branded as siding with one side or another, for example in relation to religious minority communities, which have a lot of faith in Sarvodaya.
Dr. Ariyaratne is confident that with Sarvodaya's tremendous work, the respect of people for the movement, and its recognition across the spectrum and internationally, Sarvodaya is well positioned to address Sri Lanka's challenges.
Popular in the Community