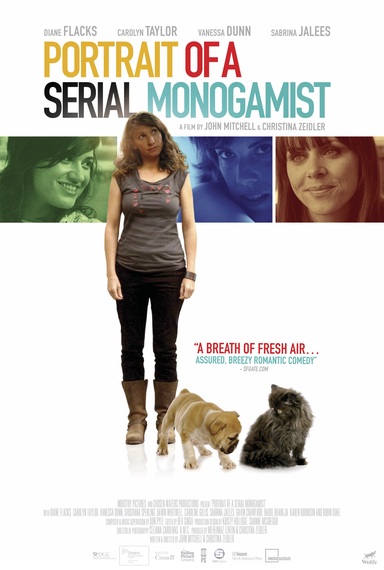 If you are fortyish lesbian living in Toronto who's been to bed with every other fortyish lesbian living in Toronto, some of whom reside with cats, you can finally experience yourself on screen thanks to the efforts of Christina Zeidler and John Mitchell with Portrait of a Serial Monogamist (POSM).
Self-described as a "fresh coming-of-middle-age rom-com," POSM is indeed a straightforward tale of a self-involved female Lothario that shovels out all of the well-worn woman-on-woman clichés with an enervated panache. Just imagine Trainwrecked without Amy Schumer, without the sexcapades, and without any riotous hahas.
The film begins with Elsie Flacks (Diane Flacks), a Jewish, cultural TV producer, breaking the fourth wall while frying bacon: "It sucks to be dumped. That's why there are so many songs about heartbreak. But how come there aren't more songs from the point of view like 'Time to Call It a Day'?"
She then explains why she became such a shady, backstabbing Lothario. When she was a mere lass, she notes, her best girlfriend played kissing games with her. Well, one day the pecking games stopped, and a crushed Elsie decided no other woman in her life would ever again have the upper hand.
Immediately after that reminiscence, Elsie dumps Robyn (an engaging Carolyn Taylor), her latest live-in lover. Yes, the gal's ready to move on because this current romance has experienced some rough patches after five years. No Dr. Phil for her. If something needs fixing, why bother when a new model is available. But as Elsie quickly learns, being over 40 has its challenges. The Internet is for teens, and she's outgrown bars. What's a single gal to do? Dog walkers in the park are a good possibility if they are walking the right kind of canine. Forget Labradors. Or how about having sex without commitment? Or having no dalliances at all for five months to clean out her palate?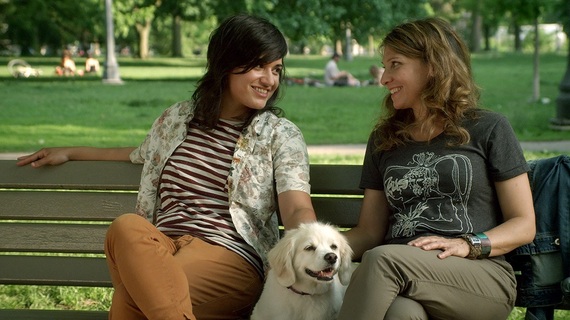 Sarah (Sabrina Jalees) advises Elsie on which dog walker to cruise.
(Courtesy of Wolfe Video).

But then the attractive, ununsettled, hetero-flexible Lolli (Vanessa Dunn), a DJ/barista, wins over our heroine's heart, but does Lolli even want that heart?
What follows are several conversations with Elsie's friends, ex-lovers, and her mom, who describes herself as "just a nice Jewish girl from Montreal."
Ma: "I don't understand your behavior. In my day, if a woman your age was single, we'd call her an old maid."
Elsie: "Which is just a euphemism for a lesbian."
Ma: "Well, I don't know what you call it. I just don't want you to be alone for the rest of your life."
Amidst these chit-chat encounters, there are scenic shots of Elsie bicycling around Toronto, Elsie walking about town with Lolli, coffee-shop rituals, an art-gallery opening, a memorial service for a pet, and so forth. As the moments tick by, our heroine nears the revelation that "in order to feel love, you have to be open to heartbreak." Even Neil Sedaka's paean to uncoupling misery, "Breaking Up Is Hard to Do," is saluted verbally. Inclusion of the actual tune, of course, would have been financially prohibitive. Instead, we get some rather appropriately titled songs such as Summer Eves's "Let's Quit While We're Still Ahead," Light Fires's "Let's Get Divorced," and Rae Spoon's "When I Said There Was an End to Love I Was Lying."
Never less than pleasant, it's hard not to imagine that if POSM had been released in the early 1990s, it might have been greeted as daring and filling an abyss that a film such as Rose Troche's Go Fish (1994) did back then. But in a year with Todd Hayne's Carol, the gals in Transparent going at it, and with Chantal Akerman's recent departure to remind us of her groundbreaking love scene in Je Tu Il Elle (1974), a pleasant comedy without any teeth doesn't seem to be enough anymore.
(Portrait of a Serial Monogamist was released on DVD/VOD last week.)
Popular in the Community