It was at the end of a long day, the first of two we would spend together, that Allan Jones, the pioneer of the $40-billion-a-year payday industry, shared with me his views on race.
His town, Jones told me, has just enough blacks to put together a decent basketball team -- but not so many the good people of Cleveland, Tennessee need to worry about crime.
"That's why I can leave my keys in the car with the door unlocked," he explained while driving me around Cleveland. I started to muster a response but he cut me off. "You don't like what I'm saying," he said, "but I'm just telling you the way it is."
The next day we met as planned at the offices of Check Into Cash, a chain of 1,200 payday lending stores that earns Jones more than $20 million in after-tax profits each year. I was only sorry that I didn't visit on a Thursday. That's when a black man named Randy Jarrett, who does odd jobs for Jones's various companies, shows up to shine the shoes of the company's top people.
"Everyone else acted as if it were completely normal for the male managers to take their shoes off every Thursday afternoon," a former employee told me. Making the scene even more degrading was the offensive nickname some of the executives had given Jarrett. "They'd stand out in the hall while their 'Little Chocolate Man' shined their shoes."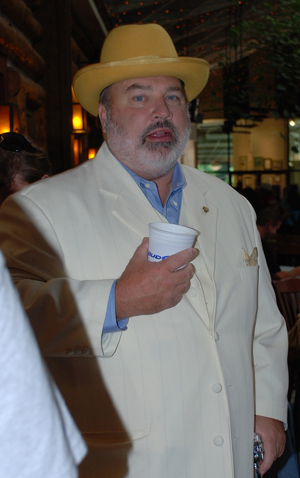 I'm not sure of the importance of Jones's benighted views on race. As the first to spot (in 1993) the huge fortune that could be made making high-priced, small-denomination loans to the working poor, he's the closest thing the industry has to a founder. And there are those, including the people at the Center for Responsible Lending, who believe the payday lenders target black and Latino communities -- a business version of racial profiling.
But, me, I'm of the school that says that payday lenders are no different from a Great White Shark: they'll feast on any shade of fish they can catch. How is it that there are as many payday stores in the country as there are McDonald's and Burger Kings? Part of the answer is that they have become ubiquitous wherever there's a concentration of people barely scraping by, whether they reside in an aging first-ring suburb or live in a rural community that has seen its economic base crumble.
Similarly, hanging around inside Jones's world even for a couple of days gave me a glimpse of his views on gender. More women than men use payday loans (all those single moms living on the economic edge, among other reasons) but how relevant is it that a sidekick of Jones's, who everyone calls Doughball (friends since childhood, on the Jones payroll for nearly as long), hardly wins himself a Gloria Steinem Award for his solution to the small financial bath Jones was taking at the local barbershop he owned.
Jones had tried giving the place the old time feel of Floyd's on The Andy Griffith Show, his all-time favorite TV program, but it was at a post-work drinking session that Doughball diagnosed the problem for the big boss.
"I said to him, 'Forget all this theme-ing stuff, just hire female barbers with big titties.'" With a laugh, Doughball added that because Jones listened to him, "it's made a nice little profit ever since." If nothing else, the story reveals Jones to be a CEO willing to push ethical boundaries, at least if it means more money in his pocket.
There's no doubting the relevancy of Jones's views on money. Prior to arriving in Cleveland, I wondered how this small-town debt collector who barely made it through high school had turned a clever idea into a small empire that has rewarded him with hundreds of millions of dollars in profits, I had my answer after listening to his constant bellyaching about his supposed money woes.
It was over lunch on our second day that I asked Jones how much would be enough. He responded by telling me how much critics of payday have hurt his bottom line in recent years. Losing Ohio after a particularly bruising ballot initiative fight at the end of 2008 would cost him at least $1 million in profits, he complained -- and that didn't include the other store closures he had endured following recent political defeats in Oregon and New Hampshire.
"People get the wrong idea of how much money we make in this industry," Jones said. He was especially worried given hard economic times. "Defaults are definitely up," he told me during those two days we spent together in early 2009 -- and that would cost him more profits still.
But Jones is not a man to stand idly by while there are revenue leaks sprouting all over his payday empire. He has added check cashing services at his stores and they are now also offering money-wiring services through Western Union. He even started offering what are called auto title loans, despite the moral misgivings he had expressed about these loans that use a person's car as collateral.
"The fact you'd take a man's car if he can't pay you back, that's not right," he told me back then.
By the time Jones added the auto title loan to his money-making repertoire, at least in those states where it was legal, Jones was no longer returning my emails or phone calls. But in a way I already had his explanation in my notes. That he was now resorting to offering auto title loans was the fault of all those consumer advocates who were fighting to cap the rates payday lenders could charge.
"What do you expect us to do," he had asked in Cleveland, "when you take away a man's right to make a living?"
Related
Popular in the Community