If you need evidence that the pallid economy is regaining its color, just ask mural artist Doug Coggeshall. Last week, I caught up with Coggeshall for coffee between estimate meetings with clients. After 25 years, he considers his custom mural business serving metro-Chicago's most prominent residents "a canary in a coalmine" for the economy. Coggeshall felt the impact well before we reached the frothy tip of the credit bubble.
In 2008, the recession kept Coggeshall's business on a near-starvation diet. "You begin to wonder what cat food might taste like," he jokes. Despite his many devotees, Coggeshall admits that, "I'm selling a luxury. The society benefits from having art; it helps us understand who we are. But you don't NEED it." It was also the end of an era fueled by a consumer culture obsessed with lavish home decorating.
Lately, his phone's been ringing again.
The downturn forced him to innovate and expand his palette of projects. For example, he's painted sacred spaces and has been brought in to cut costs by camouflaging architectural flaws to save the expense of remodeling. For instance, when a client couldn't locate rare tiles to complete a backsplash, Coggeshall hand-painted an entire wall to look like detailed tile work at half the cost.
Despite the ups and downs, Coggeshall lights up when I ask him to describe the best thing about his small business: "When I stand inside the full surround of a very large piece and get lost in it. It makes me dizzy with pleasure."
Given the volatile nature of the economy, I ask if he's ever been tempted to throw in the "trowel". He shakes his head resolutely. "I painted my first mural as a little boy. I have to paint. It's not a hobby. It's a career."
Now that business is picking up, all from referrals, Coggeshall claims that the recession made him "feel stronger, more powerful" for having gotten through it.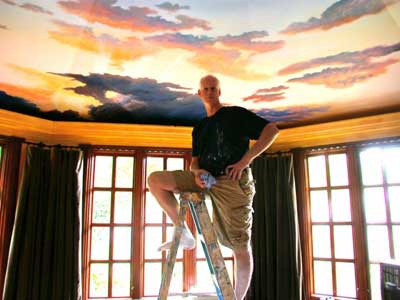 One artist's story only renders a thumbnail sketch of a larger economic landscape, but artisan businesses are not a stray indicator. Consider also that Sotheby's and Christie's both report sizzling markets for art in China, according to China Daily. When people have the means and are freed from debt, they return to art.
With his mural business on the rebound, Coggeshall is feeling good about the future. "I love my work. I will paint until I drop." Smiling broadly, he shakes my hand and breezes out the door to get back to the business of making spaces beautiful.
Calling all HuffPost superfans!
Sign up for membership to become a founding member and help shape HuffPost's next chapter