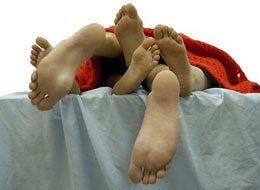 More than two years ago, I wrote "Portrait of an Open Marriage" for Tango magazine. It was reprinted here and in Cosmopolitan (Germany). It got a number of comments on Huffington Post and continues to get comments to this day at tangomag.com.
But a lot of those comments are irrelevant now because my situation has changed so drastically. Readers of my new book, Open: Love, Sex, and Life in an Open Marriage will have the opportunity to get the whole story. In the meantime, Tango magazine has commissioned me to write an update on the process of opening up my marriage and becoming polyamorous. Here's a peek...

Excerpt from "Portrait of an Open Marriage. Take Two":
"I want you to kiss me," she said. Funny she should use those words when they so closely echoed mine more than ten years ago. "I want to kiss you," I had said to my then best friend Sophie Anne. "Me too," Sophie Anne had said to me then. "Are you sure?" was what I said to Jemma, the girl who was now requesting that I do something that I imagined could change a lot of things for a lot of people. Of course, I never could have known then just how much change it would mean.
I met Jemma at an art gallery. She was curating a show that I was reviewing for the paper. "Can I help you?" she asked. I was standing in front of a massive canvas, taking notes as I took in the colors, textures, and designs. I introduced myself and told her why I was there. "Let me get you a catalog," she said. When she came back she invited me to the official opening and lecture that night. That was the first of many outings we would go on together. As friends, of course.
She had told me she was straight. "Very straight. I don't have a problem with it. I just can't imagine ever being with a girl," she said when I told her one day that I identified as bisexual. Between that and the fact that she was eleven years my junior, a work contact, and not my type, I never gave a moment's thought to us ever being more than friends. But after about six months of spending time together, we went away on a weekend trip. I do some travel writing and sometimes can take someone along. It was on that trip that she asked me to kiss her...