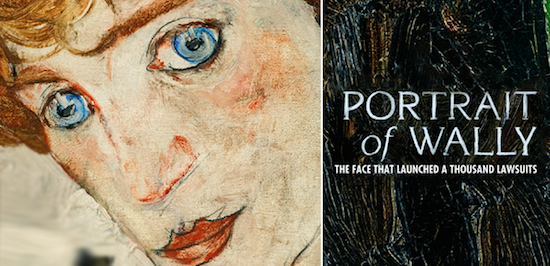 I never imagined that a film about a painting, a portrait of a woman with haunting eyes and copper hair, would be as full of life, love, passion and betrayal as Andrew Shea's Portrait of Wally turned out to be. Shea's film made me rethink what I choose to watch and why, by simply and honestly making a cinematic masterwork about a painted masterpiece.
For the daughter of a former paintings conservator at the Getty Museum and the granddaughter of a German writer who pointed his critical finger at Hitler, the film is the perfect combination of art, intrigue and dramatic twists and turns. The Nazi angle reminded me how proud I am of my grandfather Hans Rothe, whose famous translation of Shakespeare's Coriolanus prompted the SS in-house magazine, Das Schwarze Korps, to observe that, quoted out of context, his writing "should be enough for a one-way ticket to the nearest concentration camp." The stolen painting angle of the story appealed instead to my insider's knowledge of the shady dealings of Jiri Frel, the disgraced, and now defunct antiquities curator who bought for the Getty at the start of my dad's career there.
But the greatest appeal of Portrait of Wally is its no-holds barred story of endurance, of rightfulness and the human love we sometimes feel for the inanimate things that help create a familiar bond to our life here on earth.
At the center of the film is Lea Bondi's love for a painting by early Austrian expressionist painter Egon Schiele. Despite his outrageously short life -- the artist died of the Spanish flu at age 28 -- Schiele has inspired great passion in those who know his art and today his paintings and drawings can fetch prices in the millions of dollars. Yet in 1930s Vienna, Bondi's favorite portrait of Schiele's mistress Walburga Neuzil, was hardly worth a couple of hundreds. "Portrait of Wally" was half of a pair whose complementary other included Schiele's self portrait, painted after the artist's stint in jail -- "a kind of avowal of mutual commitment" to Wally, as Jane Kallir points out in her book Egon Schiele: The Complete Works.
In 1939, the painting was seized from Bondi's home by a Nazi, shortly before the Jewish gallery owner fled Austria for her life. But throughout the years, Bondi never stopped looking for Schiele's piece, probably her only connection to a country that she could no longer call home.
Then in 1997, "Portrait of Wally" resurfaced, as part of the Leopold Museum collection on loan at the Museum of Modern Art in NYC. And that's where the true thriller of Portrait of Wally the film begins, with a cast of characters that include former Manhattan DA Robert Morgenthau, beauty empire heir Ronald Lauder -- a Schiele collector, MoMA chairman and founder of the Commission for Art Recovery -- collector Rudolf Leopold, his wife and various members of the Bondi family.
I watched Portrait of Wally at this year's Tribeca Film Festival, where I was also witness to an insightful panel discussion as part of their "Tribeca Talks: After the Movie" program. On the stage sat filmmaker Andrew Shea, co-producer David D'Arcy (who initially brought the story to Shea's attention), gallery director and art historian Jane Kallir, art restitution advocate Willi Korte, SDNY Asset Forfeiture Chief Sharen Cohen Levin and as moderator, Christie's SVP Monica Dugot. The panel of experts pointed out that Wally's prolonged court action -- the painting was held by U.S. authorities for 13 years, before a decision was made -- definitely opened the gates for later cases by Holocaust survivor Maria Altmann, who recovered five Klimt paintings once belonging to her family, and a recent Romanino seized from the Brogan Museum of Arts and Sciences in Tallahassee.
André Bondi, a nephew of Lea Bondi, delivered from the audience an emotional speech dedicated to the filmmakers, saying "this film was really painful to watch and really, really strong stuff" then continued "you reminded me that I often felt like Papageno, in The Magic Flute, and had to be silent while walking through the fire."
Ultimately, Portrait of Wally made me understand what Dr. Martin Luther King Jr meant when he spoke his powerful words: "Injustice anywhere is a threat to justice everywhere." While some may think that concentrating on a few paintings seems like a moot point in light of the atrocities that were committed by the Nazis in WWII, I believe that without acceptance of responsibility at the most basic level we can never move on, nor can any of us get past the pain and the blame needed to grow. That the initials to the painting, as well as the film's title, spell "P.O.W." -- "prisoner of war" -- is just a hair-raising coincidence.
Portrait of Wally opens at the Quad in NYC on May 11, followed by a national release. It is distributed by Seventh Art Releasing.
Top image courtesy of P.O.W. Productions, used with permission
REAL LIFE. REAL NEWS. REAL VOICES.
Help us tell more of the stories that matter from voices that too often remain unheard.