A Native American mom hopes her breastfeeding photos will empower women and educate the world about motherhood in her culture.
Enedina Banks is a member of the Prairie Band Potawatomi Nation in Mayetta, Kansas. When photographer Vanessa Simmons stopped in Oklahoma City as part of her "Normalize Breastfeeding" tour, Banks traveled to the area to pose for photos in traditional Native garb while nursing her son, Nico.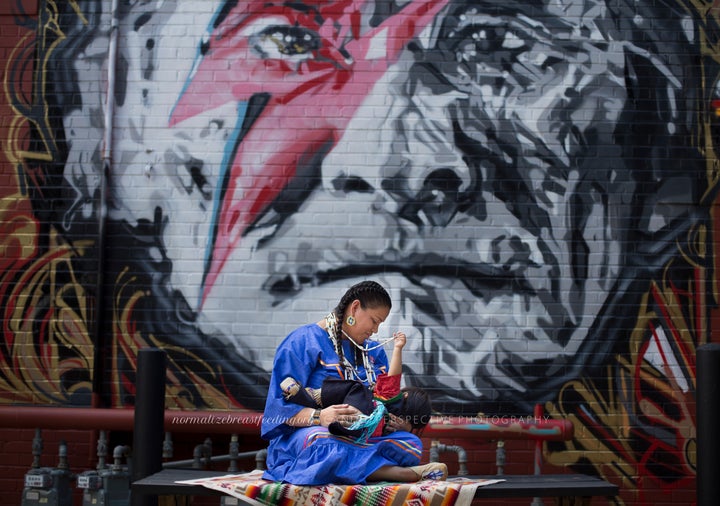 Banks told The Huffington Post she is passionate about breastfeeding as a very "natural" part of motherhood. "It's what our ancestors did," the mom said. "Keeping with tradition in this modernized world can be difficult at times. Everyone is always on the go or in a hurry, and breastfeeding becomes cumbersome."
But the benefits can outweigh the burden, she added, noting that breastfeeding strengthens the mother-baby bond, helps moms "slow down" and is a wonderful opportunity to cuddle.
Banks said her commitment to breastfeeding stems in part from an old Polaroid picture of her late mother, Dorothy Lucille Wahwasuck-Cervantes, nursing her as a baby. "Seeing how beautiful my mother was and how happy she looked in the photo impacted me as a young girl," she said. "I knew when I grew up I wanted that glow, that connection with my children."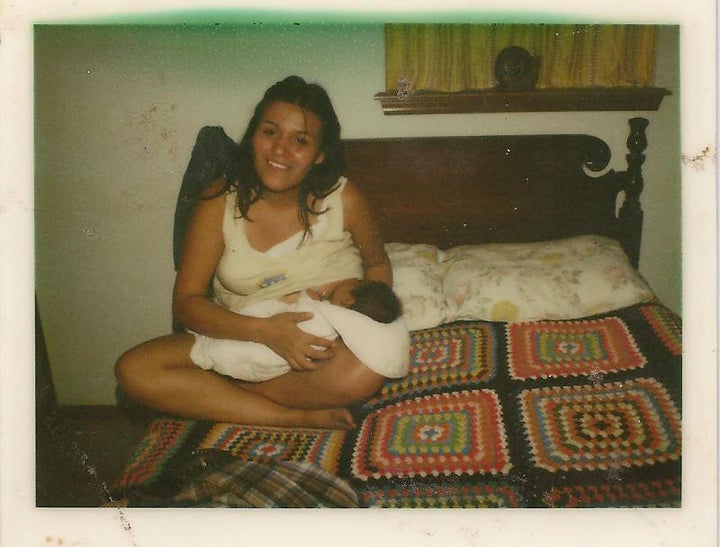 A breastfeeding advocate and cultural preservationist, Banks works for the Citizen Band Potawatomi in Oklahoma to help with revitalization efforts in preserving their Native language. She started following Simmons' breastfeeding art and advocacy when she came across her photo series of military moms breastfeeding in D.C. When the mom saw that Simmons would be photographing moms in Oklahoma City, Banks asked if she could participate and incorporate her Native culture in the shoot.
The photographer happily obliged. The photo shoot took place by a set of murals near the headquarters for Thrive Mama Collective, a local group that offers birth and parenting resources and other support.
On the day of the shoot, Banks selected a mural of a Native man to serve as the backdrop. "I thought, how cool would it be to be dressed in Native dress in front of graffiti to show the contrast of my idea of keeping with tradition in a modern world," she said.
"When I see that elder behind me looking over me speaks volumes to me as we believe our ancestors watch over us and my goal in life is to carry on our traditions and to make them proud," she added.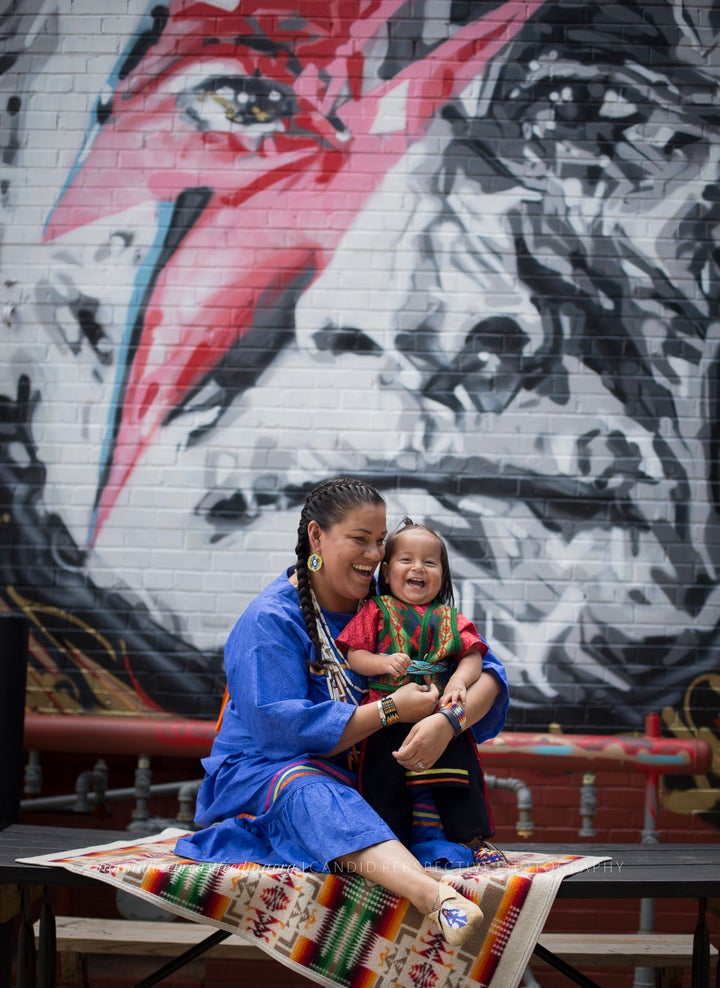 Banks told HuffPost that she has never encountered any sort of "discrimination or awkwardness" in Native communities about her decision to breastfeed. In fact, many tribe elders have offered kind words and encouragement. "Breastfeeding is not as prevalent as it once was in our communities, but we are trying and implementing programs that help normalize breastfeeding again," the mom explained.
Nico is her youngest of four children, all of whom were breastfed. Each experience was different, however, Banks said. Her oldest child was born with a cleft lip and gum line, which posed challenges, and Nico is her first child to attend daycare, forcing her to learn to pump and freeze breast milk. Despite the obstacles, it was "all worth it," the mom added.
Banks has channeled her passion for breastfeeding into advocacy. "I want young mothers to know our bodies are sacred," she said. "We create life and we can sustain life postpartum and it strengthens that bond. We have always known these sacred things and science is now proving it."
"Pregnancy or childbearing used to be seen as a sacred time, and all the women would gather around and really support the mother and give teachings to help her," the mom continued. "Within my culture there used to be that high regard and respect for women because we are the life givers, and we need to get back to those teachings to heal our communities, who do suffer from historical trauma."
Because breastfeeding offers a sense of comfort and emotional benefits to both the baby and mother, Banks believes it may help teach Native children to deal with stress and lower the epidemic of suicide among Native youth.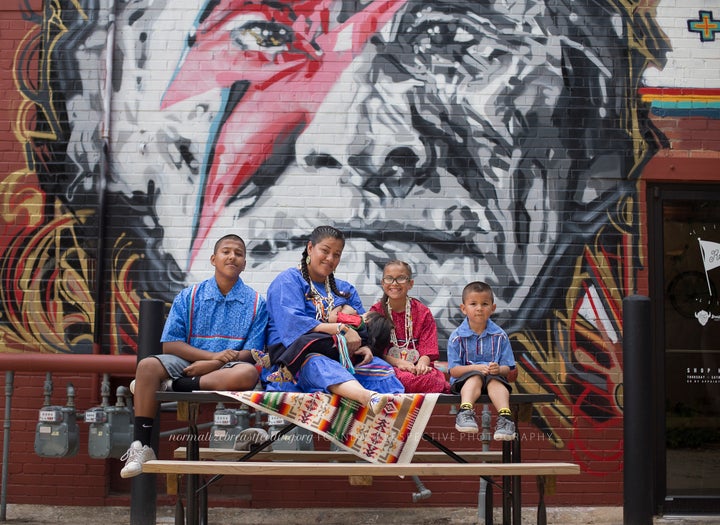 As for Simmons, she told HuffPost that she hopes viewers will see "the beauty of the Prairie Band Potawatomi culture."
"Native and indigenous cultures, such as where my own parents come from -- Accra, Ghana -- are shaping and influencing this generation of mothers," Simmons explained. "When the next generation of girls growing up become mothers, there is no doubt in my mind that our efforts will have been for nothing, yet they will look upon a nursing mother and child with understanding and respect, instead of judgement and disgust as we have all seen recently."
"I did this photo shoot the with the intentions and thought that if I can help one person then it was worth it and meant to be," Banks added. "I hope my photos will be that photo that sticks in a persons mind, like my mother's was to me, that will normalize breastfeeding for them ... I hope people look at the photo and say, 'Wow, you can tread in both worlds of being traditional and modern and it's beautiful.'"
"I want people to know we Neshnabe (Native people) are still here and we are trying everyday to keep our cultures and languages alive," she continued. "It all starts from the womb to infancy, adolescence then adulthood. Food is sacred so why not start with the best?"
Related
Before You Go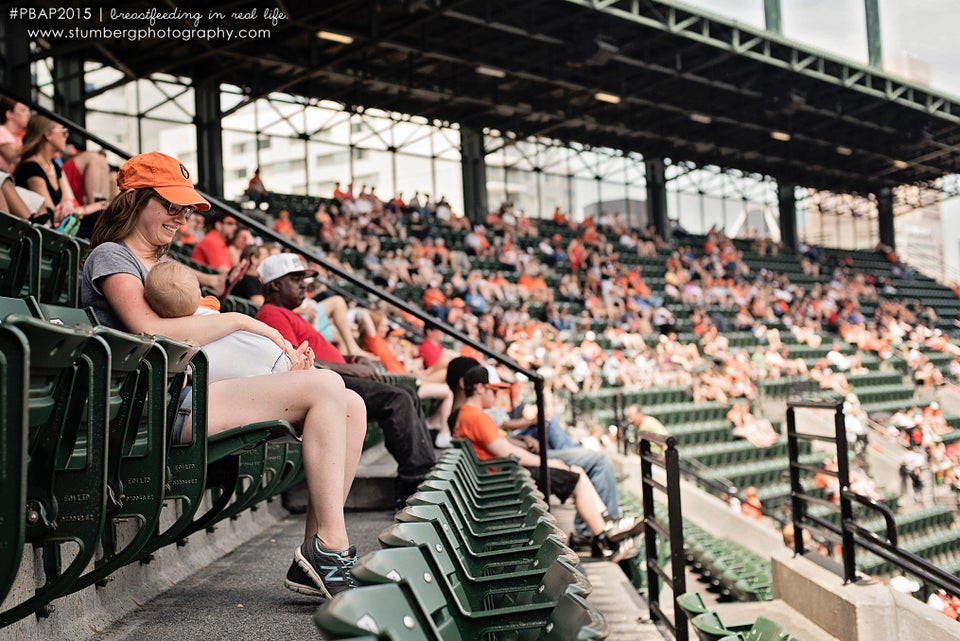 Candid Photos Of Moms Breastfeeding In Public