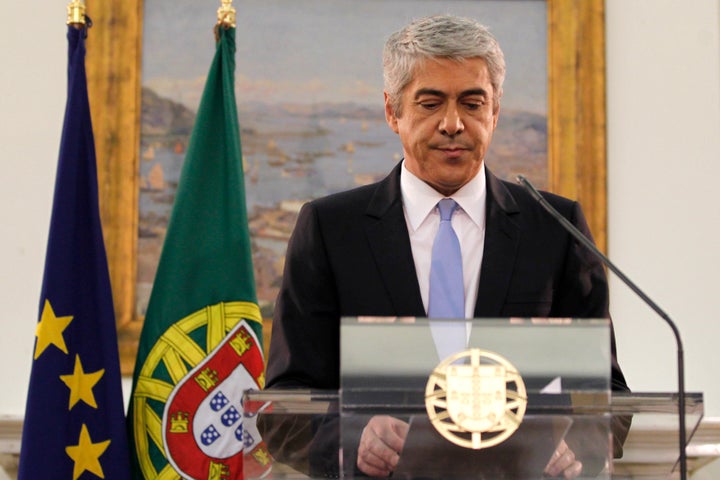 LISBON/BRUSSELS - The resignation of Portugal's prime minister will dominate a summit of EU leaders on the European economy on Thursday and Friday, with pressure intense on Lisbon to seek a bailout package.
Prime Minister Jose Socrates resigned on Wednesday after parliament rejected his government's latest austerity measures aimed at avoiding EU financial assistance. But he said he would still attend the two-day summit in a caretaker capacity.
Socrates remains adamantly opposed to requesting EU/IMF aid and has made it clear he intends to hold that line, at least until a new Portuguese government is formed in the weeks ahead.
That leaves Portugal in limbo, but the likelihood remains that a bailout will have to be taken in the end.
Asked if Socrates would ask for aid at the summit, a senior EU official said: "I would be surprised. There is a doubt on whether he has any mandate right now to do so ... But I would not rule out."
Lisbon needs to refinance 4.5 billion euros of sovereign debt in April, which may prove a trigger for finally making the request for aid.
One problem complicating Portugal's situation is that any bailout request would have to be approved by parliament and the majority is opposed to asking for help.
"I have always warned of the profoundly negative consequences of seeking foreign aid," Socrates said as he resigned, vowing to continue to do everything to avoid it.
If aid were to be requested -- and EU officials have made clear they stand ready to provide one -- it is estimated that Lisbon would need 60-80 billion euros.
Portuguese benchmark 10-year bond yields rose further on Thursday, climbing to 7.90 percent, far above the 7.0 percent that is regarded as long-term sustainable.
The euro weakened to $1.4070 from $1.4117.
China, which has offered to buy Portuguese government debt in the past, said it saw continued risks from the euro zone debt crisis but added that it had increased its holdings of European government bonds to help the region.
The summit, which was originally expected to sign off on a "comprehensive package" of measures that EU leaders thought would help resolve their year-long debt problems, is now not expected to take any firm decisions on central issues.
"We think that no agreement at the EU summit on the bailout facilities should erode euro support further in the near term," said Valentin Marinov, currency analyst at CitiFX.
Draft conclusions drawn up ahead of the summit showed that a decision on how to increase the effective lending capacity of the current bailout fund, the European Financial Stability Facility, would not now be taken until mid-year, probably ahead of a summit in late June.
While a technical issue -- it centers on whether euro zone member states will provide capital or guarantees to raise the effective capacity of the EFSF from 250 billion euros to the full 440 billion -- it risks further undermining market confidence in EU policymakers' ability to resolve the crisis.
Finland is one of the main obstacles to a decision, since it has dissolved parliament ahead of elections on April 17 and cannot therefore sign off on a deal. Helsinki opposes using more guarantees to increase the effective size of the EFSF.
A new Finnish government is only likely to be formed by May at the earliest, and that government may include the euroskeptic True Finns party, which opposes some of the EU's proposed crisis steps, further complicating the outlook.
Over the last few months, EU leaders have made considerable progress in putting together the crisis package.
They have decided in principle to expand the EFSF, agreed to create a permanent crisis fund -- the European Stability Mechanism -- to replace the EFSF from 2013, and agreed to strengthen economic coordination and increase productivity.
But as well as being unable to agree on exactly how the EFSF's capacity should be increased, there are doubts about how they will finance the 500 billion euro ESM using paid-in capital, callable capital and guarantees.
A German official said on Wednesday that Berlin now wanted this week's summit to alter a timetable agreed by EU finance ministers on Monday for injecting cash into the ESM.
While this is another nitty-gritty issue, it contributes to a sense in financial markets that EU member states are endlessly at odds over how best to handle the debt crisis, and that everything could yet unravel.
The summit is also unlikely to make progress on reducing the interest rate on bailout loans extended to Ireland.
Dublin says the rate is so high that it cripples the Irish economy, but agreement on cutting it has been held up by Dublin's refusal to give in to German and French pressure for Ireland to raise its low corporate tax rate.
"There is almost certainly not going to be a resolution of the Irish issues tomorrow or Friday," an EU diplomat said on Wednesday.
"The feeling is that the outstanding issues for Ireland, which are not just the interest rate but the banking question, that they are better dealt with as a package."
Dublin and the EU are only expected to start detailed talks on how to rescue the Irish banking system after the central bank publishes its assessment of Irish commercial banks on March 31.
(Editing by Mike Peacock)
REAL LIFE. REAL NEWS. REAL VOICES.
Help us tell more of the stories that matter from voices that too often remain unheard.