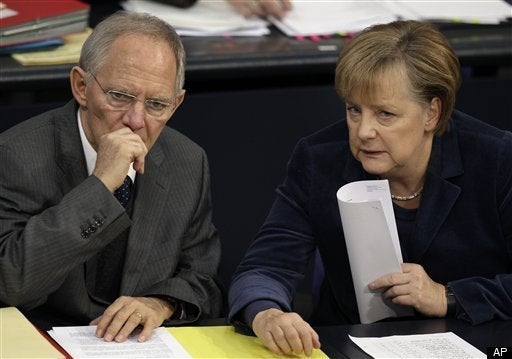 BERLIN/LISBON: European officials denied "absolutely false" reports Portugal was under pressure to seek a bailout and Spain ruled out on Friday needing help to manage its finances, despite fears of a spreading euro debt crisis.
The Financial Times Deutschland quoted unidentified sources as saying some euro zone states wanted Portugal to seek aid in order to avoid Spain, the fifth largest EU economy, from having to follow suit.
"If Portugal were to use the fund, it would be good for Spain, because the country is heavily exposed to Portugal," the paper quoted a source in Germany's finance ministry as saying.
EU Commission President Jose Manuel Barroso dismissed the FT report, echoing a vehement denial by Portugal.
"I can tell you that it's absolutely false, completely false," Barroso said, adding that an aid plan for Portugal had neither been requested nor suggested.
A German government spokesman said Berlin was not pressuring anyone to request financial help and said it expected Portugal's austerity measures -- due to be passed later on Friday -- to work.
A Spanish government source told Reuters that neither was Madrid pushing Lisbon to seek help.
Ireland, which agreed to seek an EU/IMF rescue under heavy pressure from European partners keen to stem the contagion risk, will likely agree terms on aid deal on Sunday, euro zone sources told Reuters.
The rapid public denials of the FT report suggested some alarm among euro area leaders at the prospect of the debt crisis engulfing ever more of its members.
A Reuters poll this week showed 34 out of 50 analysts surveyed believe Portugal will be forced to ask for help although only four thought Madrid would seek aid.
The cost of borrowing rose again on Friday for Ireland, Portugal and Spain as markets demanded a premium for holding their debt.
Spain has already passed its own austerity budget and Spanish Prime Minister Jose Luis Rodriguez Zapatero "absolutely" ruled out that Madrid would have to follow Ireland and Greece and seek financial assistance.
"Those who are taking short positions against Spain are going to be mistaken," he told RAC1 radio.
A rescue aimed at meeting Spain's financing needs for 2-1/2 years would cost 420 billion euros ($557 billion) according to a Capital Economics estimate, the lion's share of the 440 billion euro European Financial Stability Facility (EFSF) reserve set up by the euro zone after the Greece bailout.
But two separate EU funds, augmented with International Monetary Fund backing, could provide loans worth 750 billion euros in total.
German Bundesbank chief Axel Weber, a powerful member of the European Central Bank's governing council, said this week that the EFSF and other EU rescue funds had enough money, if needed, to cover the borrowing needs of stretched euro zone members Greece, Ireland, Portugal and Spain.
But he added: "If that is not enough, I am convinced euro zone states will do what is necessary to protect the euro."
German Finance Minister Wolfgang Schaeuble dismissed calls for the rescue fund to be topped up.
"I hope the necessary decisions in the case of Ireland will be made next week so that calm returns to the markets and these completely exaggerated speculations are ended," Schaeuble said.
Markets are concerned the 16-nation group is split on how to handle the debt and deficit crisis that has seen the euro fall sharply against the dollar since May.
They remain acutely worried by the threat of debt crises in Greece and Ireland spreading further and have pushed the borrowing costs of Portugal and Spain to record highs.
"I think Portugal has already crossed the point of no return. Its bond yield has gone beyond a sustainable level. The market is now watching whether Spain will need a rescue," said a Japanese bank foreign exchange trader.
NO EURO ZONE BREAKUP RISK
On Thursday, top EU officials stressed that there was no risk of the euro zone breaking up after Ireland caved into pressure and requested a bailout.
German Chancellor Angela Merkel, who unsettled markets by her comment this week that the euro was in an "exceptionally serious" situation, said she was confident the euro area would emerge stronger from the crisis.
And Klaus Regling, chief of the euro's financial safety net, said: "There is zero danger. It is inconceivable that the euro fails."
Merkel agreed with French President Nicolas Sarkozy late on Thursday that the mechanism set up to protect the euro should not be changed before it expires in mid-2013 -- another attempt to convince spooked investors they would not be made to share the cost of any sovereign default before then.
German proposals for so-called "haircuts" for bond holders have raised peripheral euro zone states' borrowing costs yet higher.
In another effort to shore up confidence, ECB policymakers on Thursday brushed off the flare-up in debt market turmoil and said the bank's plans to scale back its crisis support remained on track.
The Irish government said it was confident it would be able to pass the toughest budget in the country's history next month to meet the terms of an 85 billion euro EU/IMF rescue which euro zone sources told Reuters was likely would be announced on Sunday.
However, results on Friday are expected to show Prime Minister Brian Cowen will lose a by-election, further weakening his ability to pass an austerity budget of 15 billion euros in spending cuts and tax increases on which the bailout depends.
(Additional reporting by Jan Strupczewski in Brussels; Axel Bugge in Lisbon; Writing by Jon Boyle, editing by Mike Peacock)
Calling all HuffPost superfans!
Sign up for membership to become a founding member and help shape HuffPost's next chapter