I drink my morning coffee from a beautiful Hermes mug; the bright crimson pattern, reminiscent of wrought iron ornamentation, is called Balcon du Guadalquivir. As I sip, I dream about sitting on a balcony overlooking the Guadalquivir River that runs through the Spanish province of Andalusia. Was signing up for a yoga retreat in southern Portugal this fall merely a pretext to visit Andalusia afterwards, to sit on a real Guadalquivir balcony, gazing out over Seville, taking in its flamenco soul?
Downward Facing Cachorro
The yoga retreat, held at Quinta Mimosa, a compound of renovated Portuguese farmhouses a few miles from the sea in an unspoiled rural landscape, was put together by one of my favorite Los Angeles Iyengar yoga teachers, Vladimir Jandov, who holds retreats in various exotic locales a couple of times a year; I had traveled to Brazil with him the year before. Quinta Mimosa boasts an Iyengar studio complete with a rope wall and hosts retreats with teachers from around the world. Individual accommodations (from a studio room to a whole farmhouse) are also available; it's the perfect place from which to wander and explore the still-relatively-pristine Algarve region of southern Portugal. Every afternoon we did just that, after two hours of morning yoga and a gorgeous alfresco brunch.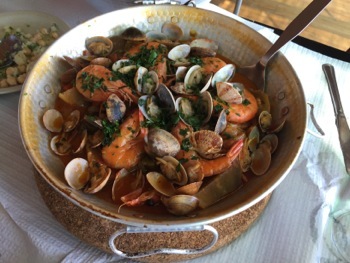 credit: Andrea R. Vaucher

My favorite destination was the surprisingly sophisticated waterfront town of Tavira, close to the Spanish border, where we spent an afternoon at La Fabrica, a bistro on a fishermen's beach, indulging in the local steamed seafood specialty, the Cataplana. Also, loved the stuck-in-time mountain towns of Alte and Querenca. A beautiful region.
Miami: The Vacation Before the Vacation
Sometimes, when traveling to a foreign country, I'll choose the national airline if it offers a better business class deal than the big carriers. I flew from Miami to Portugal via TAP Portugal, which had excellent business class service and had recently won the World Travel Award for Europe's Leading Airline to Africa and S. America. Flying TAP meant I had to get to Florida from L.A., but I also got to spend 24 hours in Miami Beach, where a friend picked me up at the airport and whisked me to Ola - still one of my favorite SoBe restaurants -- for a ceviche and Latin American tapas dinner. Got a great night's sleep at the Hotel Croydon, a chic Collins Avenue property that won't break the bank.
The next morning, after a quick swim in the warm Miami surf, I grabbed a tasty lunch (more ceviche, agnolotti with walnut pesto, snapper) at celeb chef Michelle Bernstein's Floridian and Caribbean-inspired brasserie, Seagrape at the Thompson.
Flamenco Puro
After the yoga retreat, I hit the road in my rented stick-shift Fiat Punto, the Maps app on my iPhone leading the way, pronouncing all the Portuguese and Spanish city and street names with a heavy American accent. I had been driving in Portugal for a week and felt like an old pro on the highway where it is an immense pleasure to share the road with zippy drivers who always signal and drive on the right except to pass. A "Welcome to Andalusia" sign and a (school of) Calatrava bridge were the only indications I was crossing the border between Portugal and Spain.
First stop in Spain: Jerez de la Frontera, the city where Flamenco is said to have originated. It's also the world capital of sherry wine production and export, and where the Carthusian Horse, a famous Andalusian equine breeding line, originated in 1475. Jerez is home to the Royal Andalusian School of Equestrian Art, comparable to the Spanish Riding School in Vienna. I hit the trifecta: for $59/night, I rented a spotless modern casita in a renovated sherry bodega from a young Belgian student at the Equestrian School who pointed me in the direction of a dive bar where I spent the evening immersed in Flamenco. Since the show didn't get started until almost midnight, I had time to hit a couple of tapas bars. At La Cruz Blanca, a Jerez institution, the piece-de-la-resistance was a raw ahi masterpiece. And at El Rincon de Santiago, overlooking the beautifully lit Santiago Church, I ate bocarones, perfectly fried anchovies, heads and all.
The Flamenco joint, Bar Antiguo Canalejas is right down the street from the church. at Ancha, 18. No tourists here, no fancy costumes nor castanets, no cover charge, just a slightly raised wooden platform where Luis Vargas and his family and friends gather nightly and improvise foot-stomping, hands-clapping, guitar-playing Flamenco song and dance that penetrates straight to the soul. In the wee hours, elated and clapping my hands to a Flamenco beat, I strolled back to the sherry bodega through the dimly lit cobblestone streets of the old city.
On a Clear Day You Can See Tangiers
From Jerez, I headed further south to Vejer de la Frontera, said to be the most beautiful of the Andalusian pueblos blancos, towns of whitewashed houses, which sit perched on mountains like Moorish outposts, their labyrinthine cobblestone streets clinging to the land and offering vistas often as far as one can see. From my friend Debra Berger's rooftop terrace, you can see Tangiers. Debra, an American, who has lived in Spain for years, has created an art-filled life here, taking ancient homes -- often in ruin and sometimes sharing walls with the old city fortification --- and using her skills as an interior architect, designer and mosaic artist; turns them into breathtaking palaces that she rents out to visitors.
The next day, Debra and I drove south to the Costa de la Luz to visit Tarifa, a beach town known as a world-class windsurfing spot and for it's views of Morocco across the Straits of Gibralter. Debra's mosaic magic is splashed across the town, where she renovated and reimagined a trio of hotels. At a casual beachside bar/restaurant, she turned a fireplace hearth into a multi-color mosaic windsurfing sail.
Balcon de Guadalquivir
From Vejer, I headed north to Seville for a final Spanish sojourn. I had done my homework and located the hotel room with the balcony that had the most jaw-dripping view of the Guadalquivir River.
The Hotel Ribera de Triana was also easy to access by car, had an underground parking garage and was located in Triana, the old "gypsy" quarter, heavy on Flamenco bars, light on tourists. The hotel is a delightful walk - along the river and over one of the old bridges - to the city's historial district, Santa Cruz, where tourists tend to congregate, waiting on long lines to visit sites like the Alcazar, the oldest European royal residence still in use, and the Seville Cathedral, where a monument marks the final resting place of Christopher Columbus.
I had my last tapas in Seville at the Antigua Abaceria de San Lorenzo. It's the kind of place you'd copy if you were recreating a tapas/Spanish grocery set for a Hollywood movie: Iberian hams hanging from the ceiling, cheeses, wines, a dark wood interior, an elegant, friendly owner. Later that evening, after I watched the sun set over the Guadalquivir, I walked to Casa Anselma, a bar where the eponymous owner soulfully sings along with the Flamenco musicians. The next morning, I lingered over coffee on my Balcon de Guadalquivir; even without my Hermes cup, I was in heaven. Then I headed over to the Hotel Alfonso XIII, Seville's grandest hotel, built in 1929 in a Moorish/Andalusian style with sweeping arches, breathtaking wrought iron, tile and brick work. An impeccably served lunch in the courtyard restaurant perfectly capped a memorable exploration of a region to which I will certainly return.