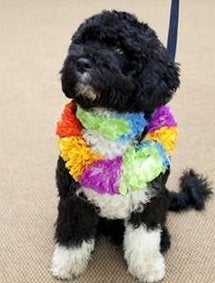 UPDATE 4/12: The Obama family's dog, a Portuguese water dog from Sen. Ted Kennedy named Bo, has finally arrived.
The selection was one of the White House's most tightly kept secrets.

President Barack Obama's daughters, 10-year-old Malia and 7-year-old Sasha, picked a black and white pup, a White House official speaking on the condition of anonymity told The Associated Press Saturday night.

"We couldn't be happier to see the joy that Bo is bringing to Malia and Sasha," Kennedy said in a statement. "We love our Portuguese water dogs and know that the girls -- and their parents -- will love theirs, too."
UPDATE 4/10: TMZ is reporting that the Obama family dog will arrive at the White House on Tuesday. TMZ also has some interesting details about where the dog is from and its connection to the Kennedys. Read more here.
The First Lady's press secretary Katie McCormick Lelyveld says "definitely not this week," when asked for guidance on the arrival of the Obama's family dog.

President Obama has said the First Family would get the dog "after I get back from the G20 summit."

He has said the family had already selected the dog it wants.
UPDATE 2/25: People magazine reports that the First Family has picked their puppy: a Portuguese water dog.
And what kind of dog will soon be frolicking on the South Lawn? Mrs. Obama says the family is looking for a rescue Portuguese Water dog who is "old enough" and a "match" for the family dynamic.

"Temperamentally they're supposed to be pretty good," she says of the breed that Sen. Ted Kennedy has also lobbied for (he has two Water dogs of his own). "From the size perspective, they're sort of middle of the road - it's not small, but it's not a huge dog. And the folks that we know who own them have raved about them. So that's where we're leaning."
The first couple and their daughters have been going back and forth on possible names. Among the two Mrs. Obama mentioned -- and nixed -- were Frank and Moose.
"I'm like, no. Come on. Let's work with the names a little bit," she told People. They will get the dog in April. "So Sasha says 'April 1st.' I said, 'April.' She says, 'April 1st.' It's like, April!" said Mrs. Obama.
President-elect Barack Obama said on ABC's "This Week" that he had narrowed down the puppy he was getting his daughters to two breeds: a Labradoodle and a Portuguese water dog.
According to the Portuguese Water Dog Club of America, the dogs are "great with children." The dogs date back to pre-Christian times; the first written description of a Portuguese Water Dog is a 1297 monk's report of a dying sailor brought out of the sea by a dog with a "black coat of rough hair, cut to the first rib and with a tuft on the tip of his tail." Long popular in Portugal, they were first imported to the U.S. in 1968.
The American Kennel Club describes the Portuguese Water Dog as "a loyal companion and alert guard. This highly intelligent utilitarian breed is distinguished by two coat types, either curly or wavy; an impressive head of considerable breadth and well proportioned mass; a ruggedly built, well-knit body; and a powerful, thickly based tail, carried gallantly or used purposefully as a rudder. The Portuguese Water Dog provides an indelible impression of strength, spirit, and soundness."
Calling all HuffPost superfans!
Sign up for membership to become a founding member and help shape HuffPost's next chapter