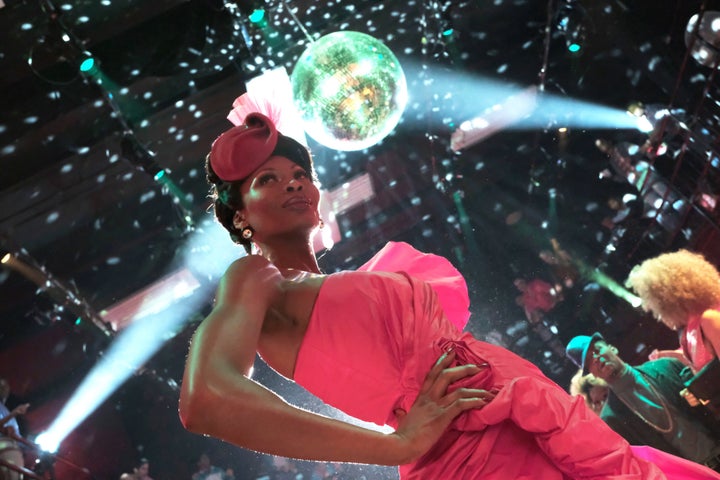 Oh, how the mighty rise and fall and (sometimes) rise again in "Pose," the dazzling but spotty FX melodrama that concluded its first season Sunday.
Eight episodes ago, the show opened with a close-up of Elektra Abundance (Dominique Jackson), a domineering mother hen whose shimmery lip gloss announced her authority. "It is time we remind the world who we are," the contraction-agnostic Elektra told her underlings, a small tribe of catwalkers embedded in New York's queer ball scene in 1987.
But in "Pose," reminding the world of your true self comes with as much risk as it does reward. The balls, where transgender and gay outcasts form factions known as "houses" in a bid to out-fabulous one another, offer trophies and a sense of belonging, if you can get them. But the moment these sanctuary seekers leave the dance hall, the spotlight fades. The real world grants no prizes for their breed of authenticity.
Hence why Elektra's tumble is especially graceless. Aided by the privilege of passing as a "complete woman" ― read: her feminine features let people assume she's cisgender ― Elektra brags that no one looks as good or maintains a house as well as she does. She'd be right, if she weren't so vicious. But her pride is shattered when the married paramour (Christopher Meloni) bankrolling her life tosses her aside when she surgically removes the penis he's attracted to, and it's shattered again when her attendants turn on her because she can no longer afford their apartment's rent. ("If you were to ever part from me, I would destroy you," this mother tells her so-called children.)
By the season's end, the queen's crown has been stolen in the exact spaces she once considered safe. It's on her to reclaim it, or else what is she left with? Even outcasts have a pecking order, and Elektra's monarchy is essential to her quest for fulfillment. The most self-assured need to feel wanted too.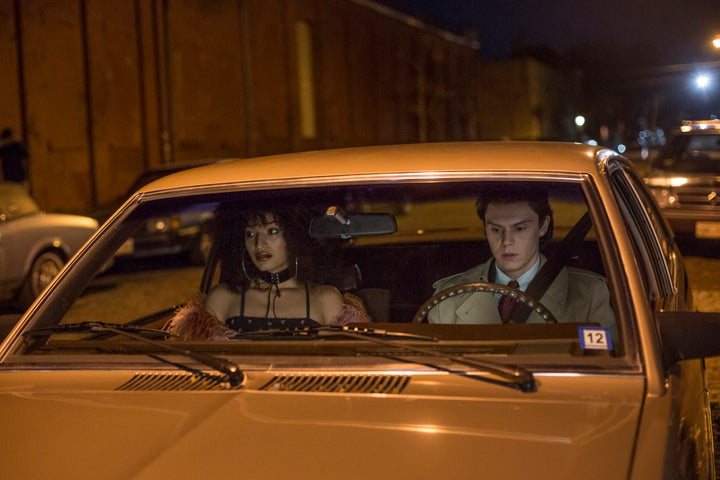 As it turns out, "Pose" is a show about desire ― the desire to find comfort and a voice, to look and to be seen. Elektra, a tall black woman with sky-high cheekbones, knows that journey as intimately as Stan Bowes (Evan Peters), a plain white man striving to scale the ladder at the Trump Organization. (Who ever thought, in the year of our Lord 2018, that we'd see Dawson Leery aka James Van Der Beek, who plays his sleazy boss, snort cocaine in a corporate office on television? They grow up so fast!)
Despite his homey wife (Kate Mara) and their two kids, Stan springs to life in the arms of Angel (Indya Moore, MVP), a trans sex worker and ball artiste who arouses in him a sexual and romantic passion that feels forbidden. Is she his fetish, merely an escape from domestic tedium? Or, in her cautious embrace, has he finally found a sense of home he didn't realize was missing? Probably a bit of both. In "Pose," everything is gray except the neon haze of the runway.
Indeed, when a character in "Pose" satiates his or her desire, it reads as a moment of catharsis, a victory in a world smothered by labels, binaries, categories. The irony is that Elektra has achieved a self-actualization that Stan cannot, even though he has an easier time fitting in with the supposed mainstream. She is, in a sense, freer because she isn't beholden to society's rulebook.
Still, despite their disparate appearances and biographies, Stan's hunt for fulfillment parallels Elektra's, in turn elevating both stories, as well as those with which they intersect. When Angel flees Elektra's House of Abundance to join the scrappy House of Evangelista, run by the far less commanding Blanca (Mj Rodriguez), agony and ecstasy follow her. She's found a more pleasant home ― and as anyone seeking refuge in the ball scene knows, home is everything ― but her friends live under the threat of AIDS and the travesty of discrimination. As Blanca and ball emcee Pray Tell (Billy Porter) contract HIV, the desire for longevity is rendered unreliable. Even the untouchable can fall.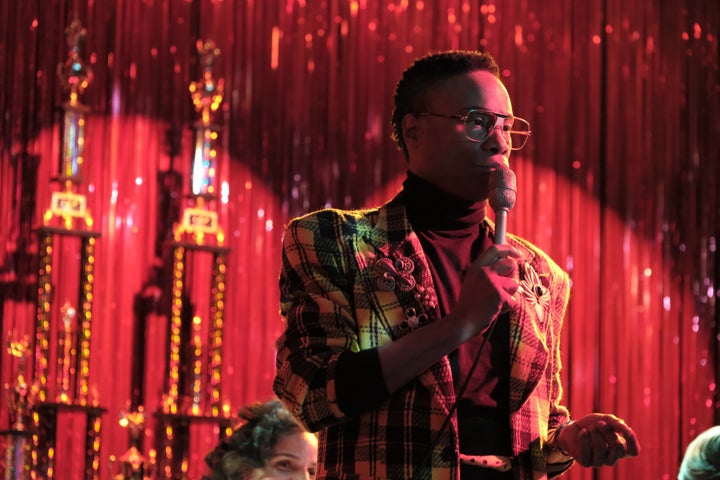 "Pose" weaves these, and other, intersecting storylines together deftly, interspersing them with vignettes of the lavish Harlem balls where the queers convene for competitions. Loyalty runs deep, but rivalries among houses run even deeper. Just because these are chosen families doesn't mean they're always stable ― and sometimes that's OK. True to real ball culture, it's fight or flight all the way, with '80s-era LGBTQ history infused throughout.
That's both a feature and a bug. The prolific Ryan Murphy, who created the series with his producing partner Brad Falchuck and newcomer Steven Canals, has a habit of drenching his period pieces in conflict by way of cheesy didacticism. "Pose" is a show crawling with overlong episodes and overlong monologues, sometimes so heavy-handed you can't help but wince. It's a disservice to the actors, especially those unexperienced in Murphy-speak, who over-enunciate their lumbering dialogue.
This marks Murphy's second gritty queer digest of the year. Compared to the fantastic and nuanced "The Assassination of Gianni Versace: American Crime Story," "Pose" has a lot to teach its audience, from ball vernacular and trans civil rights to Reagan-era economics and the politicization of AIDS. Just as they did on last year's "Feud: Bette and Joan," Murphy and his writers can't avoid gravitating to sermons that end on broad observations worthy of pithy refrigerator magnets. There's nothing subtle about the ball scene, so maybe it makes sense that nothing else is subtle either. But the character dynamics are so electric that it's a shame to weigh them down with messaging that's both too long and too literal.
(A note to all showrunners: In the age of Peak TV, if your episode clocks in at 90 damn minutes, it had better be spotless.)
That's why the show's undercurrent about desire feels so fresh: When narrativizing the more intimate peaks and valleys of otherness (both within and outside of oneself), it feels lived-in instead of preachy. Both Elektra and Stan are rejected by their lovers, but only Elektra can really pick herself up. Sometimes inventing an identity is more prosperous than living with the one assigned to you. It's a necessary humbling for her and a necessary sorrow for him, both telegraphed through an actor's sharpest tool: their eyes.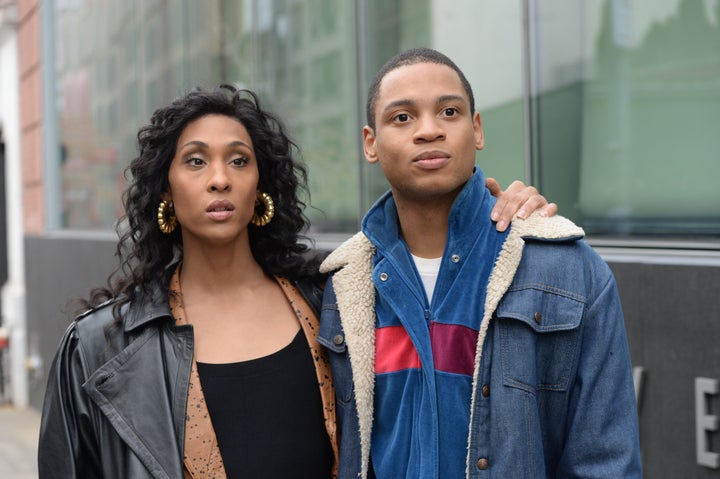 Even if "Pose" is flawed, it is fierce and formidable. The team of exclusively queer writers and directors, including Janet Mock and Silas Howard, create compelling arcs by reflecting and refracting the struggles of one character in those of another ― for example, Elektra and Stan. When the House of Evangelista enjoys a celebratory meal in the season's final scene, having proven that underdogs can come out on top, we dine with them in spirit, knowing how many heartbreaking moments they've shared at the dinner table. No dialogue necessary ― only cheers and the R&B barnstormer "Love Is a House," joining a buoyant soundtrack that includes Tina Turner's "Private Dancer," Teena Marie's "Lovergirl" and Kate Bush's "Running Up That Hill."
The smiles that abound as the tribe breaks bread ― from Pray Tell and Blanca, from Elektra and Angel, from optimistic dancer Damon (Ryan Jamaal Swain) and reformed drug dealer Lil Papi (Angel Bismark Curiel) ― are a balm. Actions, after all, are more salient than words.
Overall, "Pose" isn't as bittersweet as "Paris Is Burning" or as angry as "Angels in America" or as pat as "Philadelphia." Instead, it feels like a culmination of all those things, situated on the ever-evolving continuum of queer pop culture. Here, everyone is cycling through decisions about how to define themselves, physically, emotionally and sexually, through the messy but enlivening dynamics of community and hierarchy. Only Stan, left without a family or a lover, is unable to find a place for himself; he doesn't have Elektra's chutzpah.
There is much to love about "Pose." Now that the exposition is out of the way, its second season can serve up the drama without the doctrine.
Support HuffPost
The Stakes Have Never Been Higher
Popular in the Community