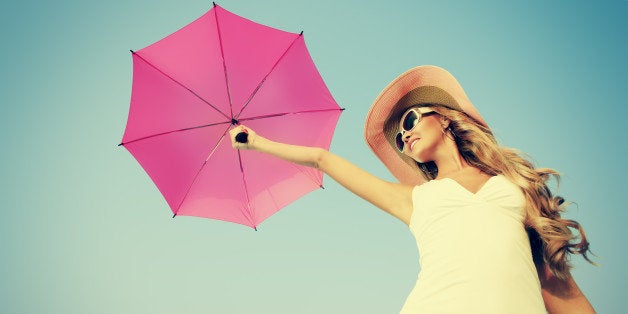 Tonight I somewhat spontaneously attended a Broadway musical with my dear friend Jordan. After entering the theatre and gawking at our amazing seats I ventured to the concession stand for my traditional purchase of snacks. I returned to row __ with soda (in a lovely plastic cup decorated by show's emblem) and a snack bag of candy. That was when I noticed the adorable 3-year-old sitting next to me, eyes ablaze, honing in on my candy.
"Does he want some? I'd be more than happy to share" I said to his mother.
I then swiveled back to Jordan, "It says Sharing Size! This is perfect!"
Adorable boy's mother responded: "Sure, he can have a few if you don't mind." Cutie-pie opened his hand for me to pour some candies and smiled broadly.
"Just think of it this way" his mother said cheerfully. "Fewer calories for you!"
I smiled brusquely as my body language conveyed my sudden discomfort and displeasure. This was not the first time a woman has commented about "saving calories" and the joy this should bring me.
I'll make this short and simple: Life is for living, not counting. True happiness is not reflected by the calories we save or the fat we burn. It isn't about the hours we exercise or that new diet everyone's talking about.
I spent endless hours counting calories, over-exercising, and over-thinking everything I put into my mouth. When I suffered from anorexia, my entire day was judged as "successful" depending on the amount of food I ate. My life was essentially devoid of meaning as my weight and appearance took precedence over relationships, happiness and well, just that -- life.
As a recovered young woman who now works in the eating disorder field I suppose you can say I'm hyper-sensitive to body shaming and the "thin-ideal."
It should not be normal for this woman to have commented on my caloric intake. It seems as if she felt I should be happy to hear her realization. Is it because I'm a woman and women should diet and watch their figures?
It is time to stop perpetuating this cycle. This cycle of men and women being considered "normal" and "praised" for unhealthy relationships with food.
I spent too many years planning and suffering. In the past, a Broadway show would have not meant sodas and fun, but would have provoked fear and discomfort.
I will do all I can to respectfully stop others from provoking the "thin ideal" and body comparisons and judgment. It's time to speak up, and eat the candy.
The following is my pledge -- a pledge I hope you'll take on yourself:
I aim to lead a full, healthy life. One involving love, challenges, health, achievements, joy, and sorrow. I intend to focus on bringing happiness to my life and to the life of others. I will work hard on growing and evolving and not waste superfluous time on something as futile as my appearance.
I appreciate my body and will take good care of it. I will proudly walk with my head held high. I will feel beautiful not simply based on my appearance, but based on my character. I will live my life in colors, not in numbers and welcome the spectrum of possibilities.
Repost and share this pledge to show others that it's time to make a change.
If you're struggling with an eating disorder, call the National Eating Disorder Association hotline at 1-800-931-2237.