This past month marked nine enrolled Appalachian State University student deaths since the beginning of the academic year since September 2014. Some have been determined as suicides, others involved automobile wrecks and more are awaiting causes. Students and faculty alike have voiced their concerns on how to handle the tragedies as a university. Nonetheless, the university has said the Appalachian State community will stay strong as a family.
The university has increased its counseling services and offers on-call support for all students, but some students are taking a different approach to find comfort. Sophomore Samantha Bender -- a university ambassador, orientation leader and cheerleader -- was impacted when a fellow student, whom she saw daily, took her life last September. Bender wondered if she would have made a difference by telling the student she was beautiful and loved, thus the idea to spread positivity on campus emerged.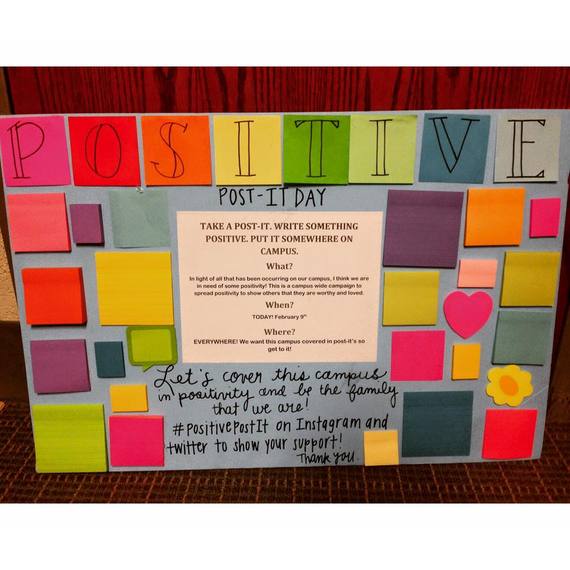 In an effort to ignite positivity campus-wide Bender created an event on Feb. 9 entitled "Positive Post-It Note Day," in which anyone on campus can "write something encouraging on a post-it note and stick it somewhere on campus to remind other they are worthy and loved."
What began as a simple idea turned into a campus-wide event almost overnight.
Thousands of vibrant colored notes were posted across campus -- some included funny pick-me-ups, others encouraging words of motivation, while more featured memorable quotes. Bender described it as "a blur of colorful optimism." All with one collective purpose: to [hopefully] change someone's life.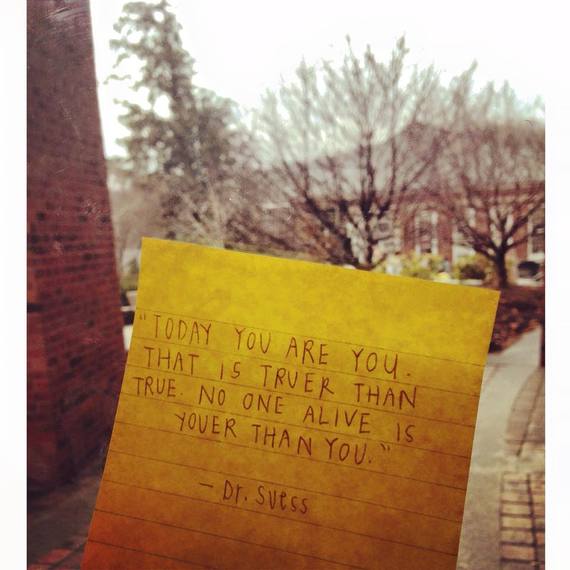 "Certainly what we have gone through this year as a student body, as a family, has been something that no one should ever have to go through," says junior and student director of orientation, Amanda Torrence. "However, the constant support we get from each other, the growing support we're receiving from the administration, and the way we've all come together through events like Positive Post-It Day shows that we are a strong, united family that can and will continue to grow closer."
Torrence says it is necessary for everyone in the Appalachian family to lift each other up in dark times, such as the community has done through this event.
The Facebook Event had more than one thousand attendees with hundreds of photos posted on social media sites to display the post-its students found or posted in buildings on campus. People who could not physically post a post-it on campus shared photos of their notes online.
"It was almost overwhelming how much support we received from students, faculty, Alumni living 100 or more miles away and even our surrounding elementary schools," says Bender.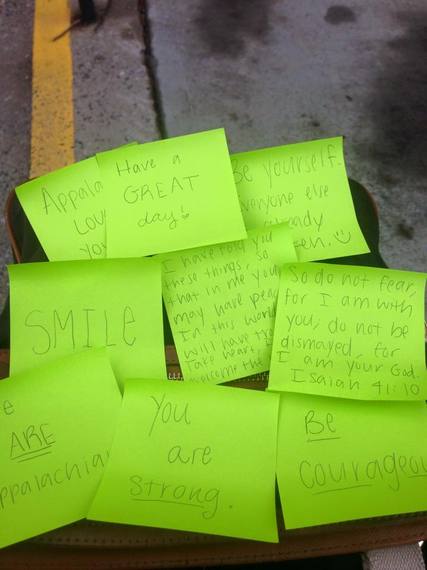 The hashtag #PostitivePostIt took over Appalachian State student's Instagram and Twitter accounts, as well as some organizational accounts, such as The Student Government Association and Alumni Association.
This day was an incredible testament to our university -- our ability to retaliate and come together as a family in times of adversity. But even more, I hope that those students who may have been feeling gloomy on this rainy Monday in Boone, NC were moved by the blur of color representing positivity on our campus today. I hope that it lasts forever.
Popular in the Community