Every day of the week, The Pollination Project (www.thepollinationproject.org) provides $1,000 in seed funding to an individual who is working to make the world -- or just their own community -- a better, more peaceful and more sustainable place.
This week, we funded projects in Kenya, Uganda, Morocco, India, and the U.S. (To see a map of where our grantees are located, click here.) Here are the extraordinary people and ideas changing the world this week: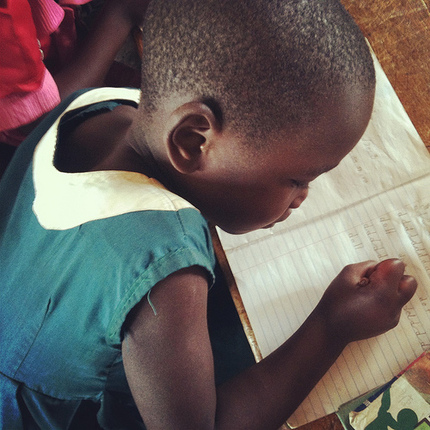 Lantana Hoke is a Peace Corps volunteer in rural Uganda. Lantana has created a Library and Positive Behavior Reward Field Trip program to encourage literacy and use of the new school library, to reward good behavior as an alternative to corporal punishment for negative behavior, and instill a love of learning in the students. Children are rewarded with movie nights, game nights, and a field trip to the capital, Kampala.
Narasimha Hegde has worked in conservation and natural resource management for nearly 20 years, and is passionate about protecting tropical wetlands in Western Ghats, India. Since some of these ecologically critical freshwater swamps are considered sacred, Narasimha hopes to unite faith with conservation to restore and defend these swamps, which are being highly fragmented due to human interference.
Renda Nazzal, along with Arlo Malmberg and Haley Blake, are working with a female-owned and operated cooperative in southwestern Morocco to bring culinary argan oil to market. The Argan Project helps local women, who are often subject to restrictive social norms, gender discrimination, and violence, gain skills and participate in their local economy, a domain traditionally dominated by men. Thanks to the support of this sustainable cooperative and extra income, rural women are increasingly able to pay for health care, electricity, and home repairs; compensate for their husbands' unemployment; and send their daughters to school alongside their sons.
Pamellah Dio, a conservation officer in Taita Taveta County, Kenya, heads Environmental Education in Schools, a program in ten schools promoting environmental and wildlife conservation. Pamellah believes creating a network of youth mentors will help the long-term vision of creating an environmental resource center for the surrounding community, where deforestation in the region has depleted all the surrounding water resources.
Sitawa Wafula has struggled with trauma-induced mental health issues and is developing a ten-week community mental health program covering awareness, advocacy, creating narratives, income generation and support systems in Nairobi, Kenya. The my mind, my funk project encourages participants to tell their stories through writing therapy and digital storytelling, as well as learn the signs, causes, myths, facts, prevention, care and human rights issues surrounding mental health challenges.
Dennis Okoyo has spent 20 years in environmental management and education in Kenya and is a champion for sustainable land use, sustainable fuel, promoting indigenous tree species and food crops. Dennis is working with young women in the Mumias Sugar Belt region to start a nursery for production of avocados, passion fruit, paw-paws and more, plus education and training in tree seedling development, record keeping, and basic business management.
Congratulations to our grantees this week for their outstanding work.
These are just a few examples of what a little seed money can do when put in the hands of someone with a vision and a plan to change the world.
The Pollination Project makes $1,000 grants every day, 365 days a year to individual changemakers. Please go to our website at www.thepollinationproject.org for funding guidelines and application.
Calling all HuffPost superfans!
Sign up for membership to become a founding member and help shape HuffPost's next chapter