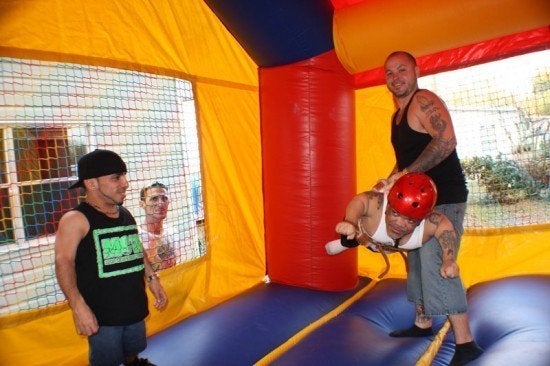 In a time when reality TV contestants eat live insects and otherwise degrade themselves for 15 minutes of fame, some little people say they have the same rights as average-sized people to exploit themselves.
A Florida state legislator is currently is calling for a repeal to the ban on a bar activity known as "dwarf tossing," a spectacle in which people of short stature are thrown for distance, while crowds in the bar cheer.
Advocates for the law, such as Little People of America, say it's both a matter of safety and respect. It's as repugnant to them as "Jew Tossing" or "Woman Tossing" might be, if such activities were to be held.
However, entertainers such as 3-foot-2 inch radio personality "Dave the Dwarf," say its his right to do what he wants with his body.
"If I was 7-foot-tall, I'd be playing basketball," he told HuffPost Weird News. "Being short gives me an advantage in dwarf tossing. I'm just playing the hand that's been dealt me."
Flood is a regular on Tampa's MJ Morning Show, a Florida-based syndicated radio program, and is part of a segment called "What Would The Dwarf Do?" where listeners ask him to do stunts such as chase a chicken, bowl ("It's hard when you're 3-feet," he said), and even jump out of a plane.
He also emcees at various events, including amateur night at a local strip club.
But one thing he can't do -- legally, anyway -- is participate in dwarf tossing, a bar attraction in which little people wearing special padded clothing or Velcro costumes are thrown onto mattresses or at Velcro-coated walls.
He tried it once, and admits it took some adjustment at first.
"Those first couple of tosses were scary, because I'm not a wrestler," he said. "However, I prefer it to jumping out of an airplane. The thing is, I'm doing well now, but if I didn't have a job, yeah, I'd be tossed."
The State of Florida has prohibited dwarf tossing since 1989, under the guise that it is dangerous for little people.
The original law that Workman is working to repeal prohibits anyone who sells alcohol on premises from permitting any recreational activity "involving exploitation endangering the health, safety and welfare of any person with dwarfism."
The advocacy group Little People of America supports the existing the law, saying it is needed because dwarf tossing is a very dangerous activity, and because there are orthopedic and neurological complications associated with many forms of dwarfism, the person being tossed is at high risk of back and neck injury.
However, Flood disagrees with the organization on this issue and feels he has the right to make up his own mind about whether he should be tossed.
"Look, dwarf tossing is an event," he said. "It's not like they just toss you. I'm 100 pounds so I don't know how many people are strong enough to just lift me and toss me."
Flood says the current law treats little people like children who can't make their own decisions about what is and isn't safe.
"The original reason the law was enacted back in the day was because a dwarf who was intoxicated hit his head at one of the dwarf tossing events and ended up bleeding to death," he said. "That's not a good idea and they wouldn't allow a basketball player who was drunk to play either."
Little People of America spokesman Gary Arnold doesn't know whether the group would have time to research and comment on the repeal, but told TheFloridaCurrent.com that if it threatens to undo the protection afforded people with dwarfism against dwarf tossing, the group would be against the legislation.
"The ban on dwarf tossing protects the entire dwarf community," he said.
Meanwhile, while Flood is excited that his efforts of 10 years ago might finally bear fruit, he admits he's not going to automatically approve of Workman's repeal until he can do his due diligence.
"I want to talk with the guy to see why he's doing it," he said. "He's not a dwarf so I wonder why he's doing it."
HuffPost Weird News contacted Workman's office to ask him that question, but he was unavailable for comment.
Related
Popular in the Community