A string of murders in Florida is sparking fears that a serial killer is targeting Tampa residents.
According to police, three people have been shot and killed this month, apparently at random. The victims have no known connections to each other and were all bus riders who were killed within a 1-mile radius of each other in central Tampa's Seminole Heights neighborhood.
"When you look at the time frame, the proximity, that there is no apparent motive, that they are alone ― the victims are a lot of the time ― it's clear to me that they're all linked," interim Tampa Police Chief Brian Dugan said at a Friday press conference.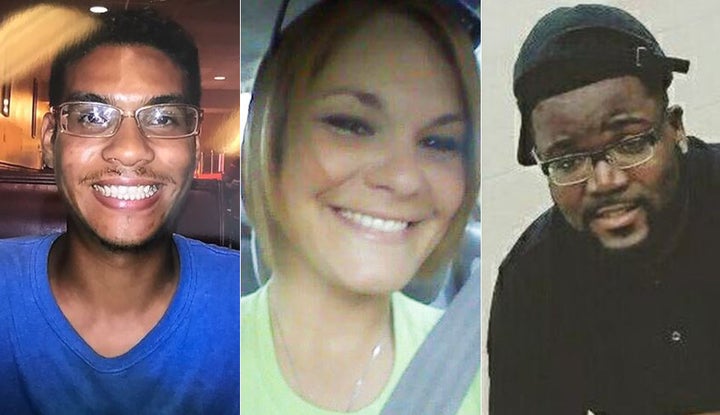 The victims have been identified as Benjamin Mitchell, 22; Monica Hoffa, 32; and Anthony Naiboa, 20.
Mitchell, the first victim, was shot and killed on Oct. 9, while waiting at a bus stop near the intersection of North 15th Street and East Frierson Avenue.
On Oct. 13, Hoffa's body was found in a field near the intersection of East New Orleans Avenue and North 10th Street. Police said she may have been shot one or two days before.
Naiboa, the latest victim, was killed Thursday night. Authorities said the man, who is autistic, had accidentally taken the wrong bus when returning home from work. His body was found on North 15th Street, roughly 200 yards from where he'd exited the bus.
"This is very frustrating," Dugan said. "We have someone terrorizing the neighborhood [and] it's just difficult to see this happening."
Authorities have declined to reveal whether the same weapon or ammunition has been used in each of the killings.
Investigators have released surveillance video, which shows a possible person of interest walking in the area on the night of Hoffa's shooting.
"We need somebody to tell us who that person is, or we need that person to come forward so we can eliminate them as a suspect," said Dugan.
Asked by a reporter if the individual responsible for the slayings is a serial killer, the police chief replied, "We can call it what we want. If that brings attention to it, that's fine."
The FBI used to define a serial killer as someone who killed three or more individuals, with a "cooling off period" of more than a month between each slaying. However, the FBI in recent years redefined the criteria. A serial killer is now defined as the "unlawful killing of two or more victims by the same offender(s), in separate events."
Under the new definition, the individual responsible for the Tampa slayings would be considered a serial killer.
Dugan is urging people who live in the area of the shootings to turn on lights in their neighborhoods and report suspicious activity.
"We're not going to be held hostage by whoever is doing this," Dugan said. "We need everyone to come out of their homes at night, turn on their porch lights and just not tolerate this type of terrorism."
Crime Stoppers of Tampa is offering a $25,000 reward for information leading to an arrest and conviction in the case. Anyone with information is asked to contact Tampa police at 813-6130 or Crime Stoppers at 800-873-TIPS.
CORRECTION: A previous version of this article misstated the dates two of the victims were discovered. Mitchell was found shot on Oct. 9, and Hoffa's body was found Oct. 13.

Calling all HuffPost superfans!
Sign up for membership to become a founding member and help shape HuffPost's next chapter
BEFORE YOU GO
PHOTO GALLERY
Infamous Serial Killers