 I thought I had a pretty good read on the public perception of libraries after nearly two decades as a librarian, library trainer, and part of the Gates Foundation's team working to support libraries and their role in communities.
But my jaw dropped when I read the findings of a new report, "Libraries in the Digital Age" from the Pew Research Center's Internet and American Life project.
Pew found that 91 percent of Americans (16 or older) say that public libraries are important to their communities, and 76 percent say libraries are important to them and their families.
I can't think of another idea, place, or issue that 91 percent of Americans support. I also think this puts to rest once and for all the notion that public libraries are not needed in a world where information is available predominately online and in electronic formats. Americans continue to see the value of libraries and this report shows that Americans now believe the availability of computers and Internet services is as fundamental to libraries as books and reference help.
But this does not mean that it is easy for libraries to meet the demands of their communities in our increasingly digital information environment.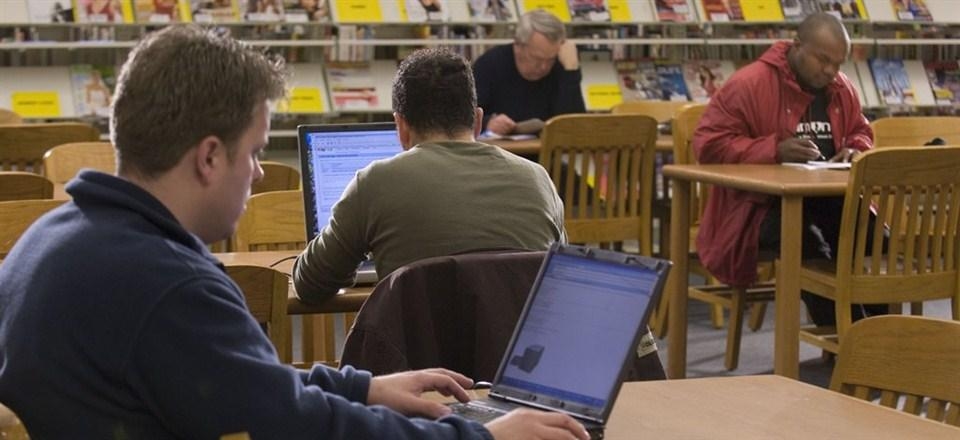 Patrons working and studying in Chicago's North Branch Library. Photo: Bill & Melinda Gates Foundation @2013
Library users have new expectations and needs: around a third of Americans say they would be very likely to use services like online reference chats with librarians, programs that allowed them to try new digital devices and learn new digital skills, and app-based access to library materials and services.
How librarians embrace new tools and technology and adjust to meet user expectations, especially under the constraints of limited budgets, is paramount to the very future, not just of libraries across our nation, but to the communities they serve as well.
Libraries and librarians need your help. You can do this by contributing to the ongoing national conversation about the role of 'Libraries in the Digital Age.' Librarians have started this conversation with the question: What kind of information does my community need and how am I helping libraries to make sure my community's information needs are met?
Please share your thoughts in the comments below and your insights may help inform upcoming blog posts on how libraries are rising to meet the challenge of our evolving information needs.
This post was written by Jessica Door. Jessica Dorr is Deputy Director of the Global Libraries program at the Bill & Melinda Gates Foundation.
Support HuffPost
The Stakes Have Never Been Higher
Related
Popular in the Community