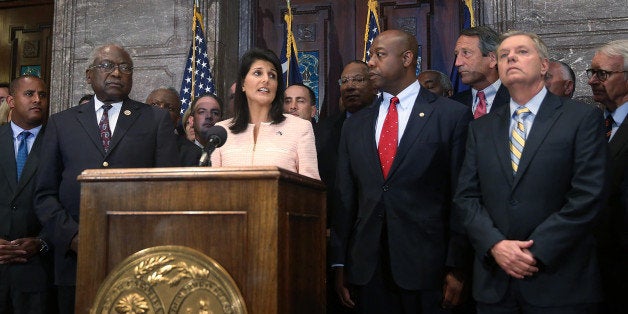 NEW YORK -- On Monday morning, 16 reporters at the Charleston-based Post and Courier newspaper began an ambitious assignment: Get all 170 state lawmakers to say whether they believe the Confederate flag should be removed from South Carolina's statehouse grounds.
The long-simmering flag debate gained traction after nine people were killed Wednesday night in a racially motivated shooting inside the city's Emanuel A.M.E. Church. Still, many South Carolina lawmakers -- not to mention Republican presidential hopefuls -- appeared hesitant in the days that followed to voice a strong opinion on the flag debate, presumably out of concern that their stand could have political consequences. The reporters' calls and emails, along with a real-time interactive tally of where each politician stood, likely added pressure to finally weigh in.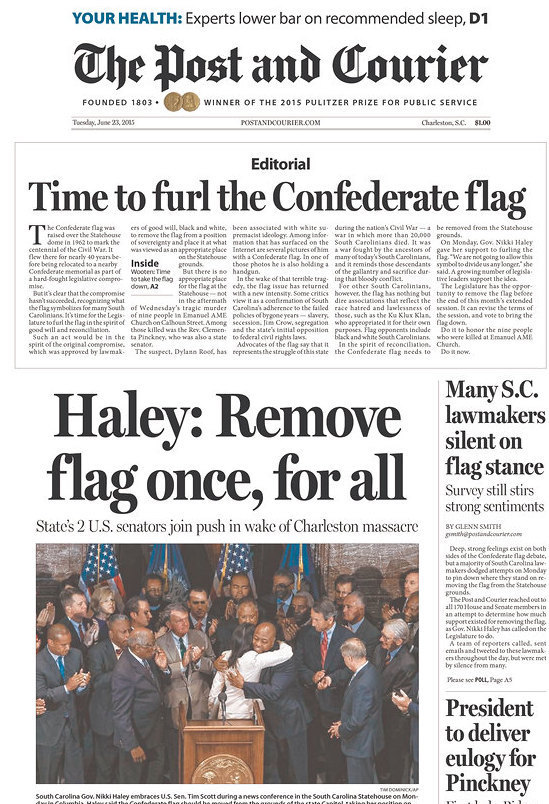 The Post and Courier's front page on Tuesday.
While the Post and Courier's editorial board argued on Tuesday's front page for the flag's removal, executive editor Mitch Pugh told The Huffington Post the newsroom wasn't advocating a position by launching the effort to get each of South Carolina's legislators on the record. The motivation, he said, stemmed from the belief that "lawmakers have an obligation to tell their constituents how they intend to vote or how they feel about this issue."
Regional newspapers have long played a key role in holding local political leaders accountable, a responsibility many fear could be lost amid industry contraction and downsized newsrooms. The Post and Courier kept up that tradition Monday, but also looked outside the newsroom by tapping into social media to aid the reporting effort.
Pugh said that early on, editors decided not to wait until Tuesday morning's print edition to reveal the paper's findings. Jason Emory Parker, the paper's interactive editor, created a chart that kept a running tally of legislators for and against the flag's removal, along with those who didn't respond or refused to. The result was a real-time window into the debate, indicating who was taking a clear stand and who was hanging back. Pugh said he thinks the interactive chart, which included lawmakers' Twitter handles and was widely circulated among journalists, helped convince some to answer the question.

"In this day and age, people are less likely to sit down and write a letter and make a phone call to their legislator," he said. "But they're certainly not afraid to tweet at them. We felt like that was our best bet in terms of folks engaging with this story and making their voices heard one way or another."
About seven hours after The Post and Courier began contacting lawmakers, South Carolina Gov. Nikki Haley, flanked by Democrat and Republican leaders, called for the flag's removal. Pugh said he'd love for the paper to claim credit for Haley announcing her views, but mentioned the paper's reporters learned late last week that the Republican governor was having discussions on the issue.
Still, The Post and Courier has gotten national recognition for its efforts, with the paper's running count of lawmaker stances mentioned Tuesday morning on CNN, MSNBC and C-SPAN. Roughly half of South Carolina's legislators have now weighed in, with 86 either undecided, having refused to answer or not responded at all by early Tuesday afternoon. Those providing opinions tended to be in favor of removing the flag. The House tally by early Tuesday afternoon was 51-8 in favor, with the Senate tally at 21-1.
But even before Monday's chart hit social media, The Post and Courier was drawing raves for its comprehensive coverage of the tragedy and its aftermath, which has included stories ranging from a moving account inside the church on Wednesday night to breaking the news of President Barack Obama's upcoming visit.
Mother Jones' James West wrote Friday that the Charleston-based paper is "dominating breaking national coverage" and putting cable news to shame. ESPN's Don Van Natta tweeted Saturday that the paper is "doing monumental, Pulitzer-worthy work."
Though a local paper with a circulation around 82,000, the Post and Courier has competed with the big boys before when it comes to journalism prizes and breaking national news. The paper won a Pulitzer in April for a series on domestic violence. That same month, the Charleston paper, along with ABC News and The New York Times, published video of the police shooting of Walter Scott, an unarmed man shot while running away.
Pugh said the paper's editors haven't been focused on a national audience following its coverage of the church shooting, but rather covering every angle for local readers.
"It happened here in our town, so it's deeply affecting our readership and our customers and our community, and we didn't want to let them down," he said. "We needed to be on this thing aggressively."
Pugh said everybody in the paper's 80-person newsroom has touched the story in some way, with around 15 to 25 journalists exclusively focused on it. He acknowledged similarities between covering Scott's killing and the church shooting, given that both were "horrific" events. But Pugh suggested the killing of nine churchgoers has been more all-consuming, and difficult, for staff.

"A lot of folks in here live near that church, know people who go to that church, knew people who were in the church and killed," Pugh said. "It's tough. We've had people in here choking back tears as they write."
"But," he said, pausing, "that's what we do."
Related
Popular in the Community