The thing is -- when you go to a film festival world premier, you know that you may find you're in a film that isn't exactly your style or taste. Part of the fun of a festival screening is the adventure of finding something new, a break out talent or a film that is going to make waves when it makes its way out of the festival circuit and to a mainstream audience.
Simply put -- you give the festival programmers your trust they they're going to find gems early.
So -- with that in mind, I took a risk on a director i didn't know -- but a topic and genre that I like. I'm a fan of sci fi generally, and I'm certainly ok with a post-apocalyptic dystopian future.
So Jackrabbit, was promised as the techno thriller -- set in a world after the "reset" when computers with Tetris and old fashioned modems and text driven screens bring 80's computing back to the future. Taking place in City 6, writer-director Carleton Ranney is clearly enjoying the flash-back nature of a future that looks like a low-tech past.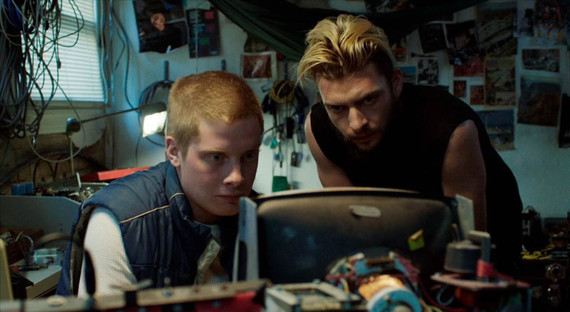 It's a sexy premise, and the images on the screen are compelling. But after giving the film more than a fair chance, I have to say -- the actually plot and storyline made no narrative sense to me.
And Filmpulse isn't any kinder. "Uneven pacing and the ultimately lackluster storyline keep this thriller from truly achieving its potential" writes Adam Patterson. "There are so many plot threads in Jackrabbit, and each is meant to further the story, enrich this world and develop the characters, but it never fully coalesces into the ambitious narrative it wants to be."
That's kind. For me, it became harder and harder to care about the characters. Ranney doesn't seem to mind having random characters enter and exit the plot -- with little explanation or resolution. Yes, the soundtrack is thumping - with GMT's Will Berman providing the retro-futuristic backdrop. And the aesthetic is appealing - - up to a point.
But as indie sci-fi goes, this one is a bust. And it makes me wonder what Tribeca saw in it. Certainly programing a festival is no easy task, but given my love the genre and willingness to go to unusual places, I can't help but wonder why Tribeca couldn't have done better.
Calling all HuffPost superfans!
Sign up for membership to become a founding member and help shape HuffPost's next chapter