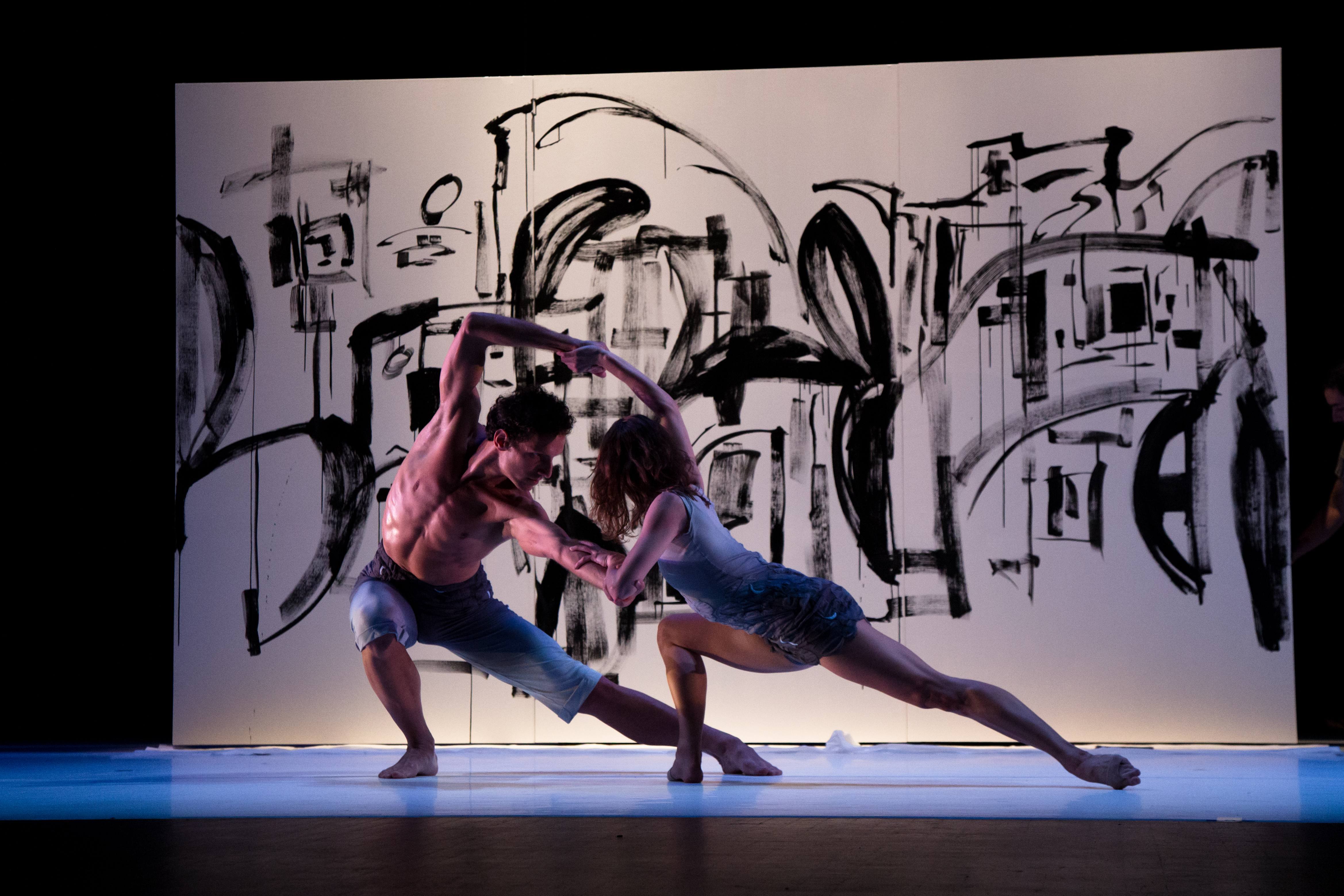 Post:Ballet's Ashley Flaner and Domenico Luciano in Robert Dekkers' Colouring (Photo: Tricia Cronin)
Post:Ballet's new, San Francisco season at Yerba Buena Center for the Arts' Lam Research Theater is entitled "Four Plays", a double entendre that suggests we are in for an evening of lighthearted, sexy escapades. On one level that is what we got on opening night. But choreographer Robert Dekkers' mind is like a bullet train, and as we race to keep up with him we realize his dances are not just landscapes of streamlined bodies making pretty shapes, but also witty social commentary.
Of the four works on offer, three are updated revivals. In Colouring, artist Enrique Quintero paints a mural onstage, while dancers Ashley Flaner and Domenico Luciano -- responding to muted directions and hand signals from the choreographer in one corner, and serenaded by Daniel Berkman on electric cello in another -- come together in a series of lightning-fast speed dates. With each encounter, they repeat a previous partnering move -- a bold upside-down lift, a tight embrace, a turn and balance in forced arch -- occasionally adding a twist or new element.
The audience is drawn to these attempts at romance: are these two doomed to repeat the same essential pattern forever, thereby ensuring that they never get beyond a first date?
In between the dancers' abbreviated couplings, Quintero adds detail to the abstract cityscape behind them with bold brushstrokes in black and white -- like zooming in on Google Earth. From the audience, photographer, Natalia Perez, periodically springs up to catch a photo of the dancers against the increasingly elaborate painting.
When Quintero finally adds a touch of blue to the stark composition, he breaks some kind of spell. The mural splinters into a triptych, each panel floating off in a different direction (one sails up into the rafters). The couple unites in a passionate, more protracted duet. Everyone exits, then we are confronted with a series of Perez' vivid photographs -- many in close-up, omitting the dancers' faces -- projected in rapid succession on the backdrop. A brilliantly engineered metaphor for the creative process -- and for the gritty urban romance thrillingly danced by Flaner and Luciano -- this pas de deux à quatre also comments on the nature of intimacy and modern-day voyeurism.
Sixes and Seven, a mesmerizing solo set to the final episode from Philip Glass' epic Einstein on the Beach, was originally choreographed for a male dancer but on Thursday night was performed by Jessica Collado. With the stage stripped bare into the wings, surrounded only by stage lighting rigs, the dancer looks very small and vulnerable, practically naked in a skin-toned leotard. Crouching, twisting, sliding and darting across the floor, mostly in a self-protective, turned-in stance reminiscent of Nijinsky's Faune, she explores this intimidating space with increasing boldness, accompanied by the carefully orchestrated anarchy of Glass' score: fragments of a banal love story, a choir reciting numbers, a moody violin solo. Displaying admirable control and a luminous fragility, Collado is never short of stunning in this piece.
(Although Ballet To The People does have a prejudice against the use of socks in modern ballet -- akin to showing up to a ball in pajamas, and unnecessary given the footwear alternatives available to dancers today.)
A tight ensemble piece driven by the spoken word, When in Doubt illuminates the chasm between what we say and what we do. It opens with a recording of the shaky, but magisterial voice of an aging Bertrand Russell preaching charity and tolerance. The dancers' movements are expansive, quirky, eloquent, punctuated by stillness, in counterpoint to the cadences of Russell's voice. The rest of Jacob Wolkenhauer's hypnotic score is an overlay of electric guitar and percussion with recordings of the dancers' voices -- incoherent and stumbling at first, then gradually more comprehensible. Fragments of the dancers' conversations seem to be taken deliberately out of context, and while the language they speak betrays insecurity ("I don't know that I'm sure about anything, really,") and uncertainty ("It sort of doesn't matter how you get from A to B,") the language they dance is precise and fearless, shaped by Dekkers' impeccable phrasing and musicality. Tiny gestures read as boldly as big, sweeping movements; stylized use of the fingers, cupped hands and stabbing pointe work create visual punctuation marks. The dancers break out of the ensemble for brief duets and trios but continually return to the safety of the group. In their minimalist, black costumes by Jan Berletti, against a stark set brilliantly lit by Jack Carpenter, the entire company is at its stylish, provocative best.
The fourth piece is an ambitious new multimedia collaboration with architect Robert Gilson that did not pack the same punch as the other three. Reminiscent of Merce Cunningham's experiments with chance, field the present shifts felt like an uneasy marriage between an ecological treatise and a cerebral obstacle course for the dancers.
The premise -- a conversation between choreographer and architect, modulated by a ravishing composition for five violins by Matthew Pierce and exceptional lighting design by David Robertson -- was intriguing. But the movement itself, guided by a complex roadmap inspired by the life cycle of plants, would have been more satisfying delivered in a lecture-demonstration format in a rehearsal studio, so that we could fully appreciate the split-second decision-making that has to go on in the brains of the dancers, the musicians, and the technical staff involved in the live creation of this piece. Viewed on opening night, the piece was simply too opaque, and the dancers appeared tentative in the movement. The costuming was no help: tangerine unitards with a ruffle around the ribcage, suggestive of an African tulip, bagged unattractively in places and diminished the sensuousness of the movement.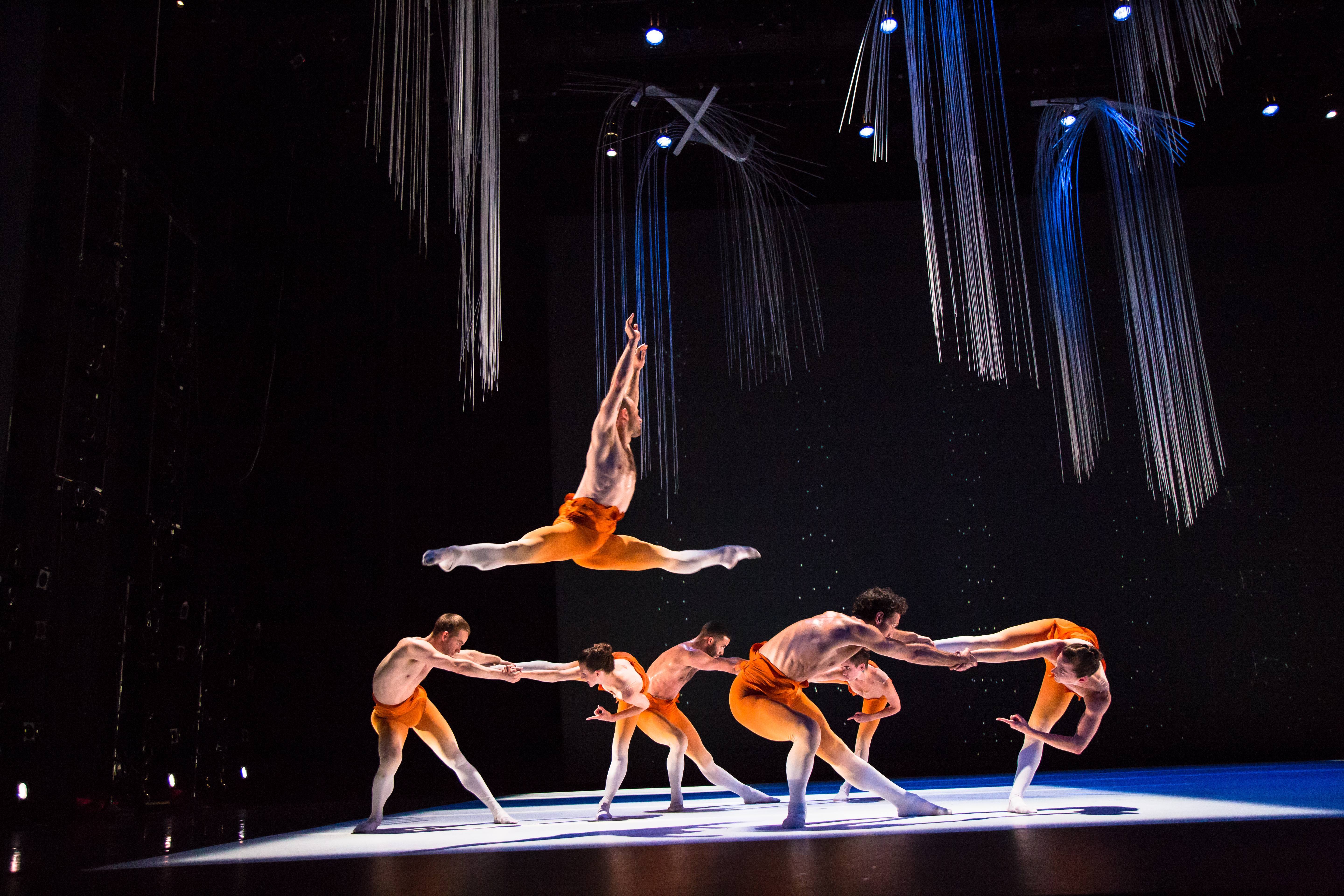 Aidan DeYoung and the Post:Ballet dance artists in Robert Dekkers' Field the Present Shifts (Photo: Tricia Cronin)
The most stunning element of Field the Present Shifts are the six sculptures by Gilson and Catherine Caldwell, bunches of sanded acrylic rods, connected through a resined papier mâché center structure, that hang down from the rafters and are lowered and raised at various points in the dance. They resemble strange fictional birds with extraordinarily long plumage; once they touch the stage floor, the thin translucent rods bend and sway in graceful arcs. At one point, the dancers seek shelter underneath the low-hanging sculptures, which now resemble some abstract futuristic forest. These wondrously poetic Things could be even more imaginatively utilized, should Dekkers decide to tinker with this piece as he has with the others.
Calling all HuffPost superfans!
Sign up for membership to become a founding member and help shape HuffPost's next chapter