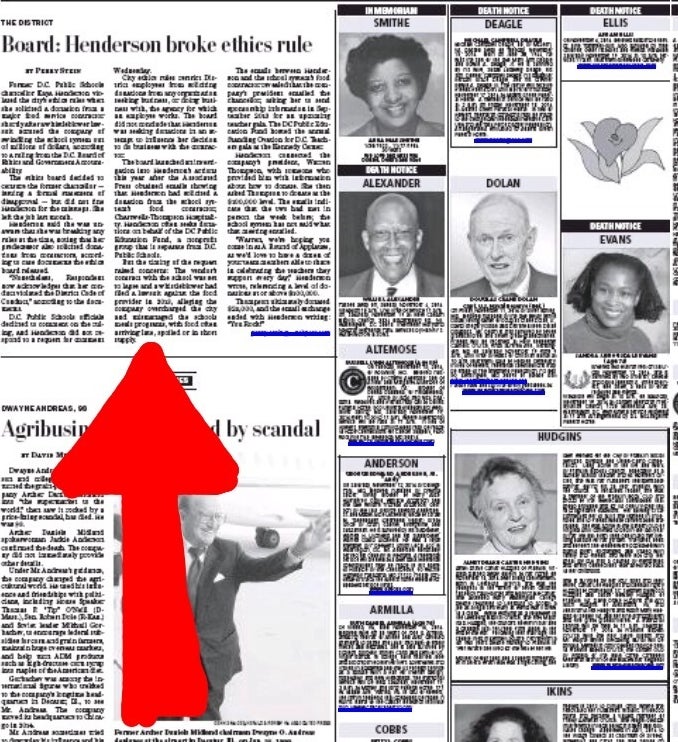 When it comes to covering education the Washington Post is nothing if not consistent.
For nearly a decade, as Michelle Rhee and then her close friend Kaya Henderson headed up D.C. Public Schools, the Post was their cheerleader. And now, even after the anti-union duo has departed, the Post carries on.
The newspaper's latest effort comes on the heels of Henderson being censured for soliciting donations from city contractors, including one accused of serving kids spoiled food and stealing millions. (That contractor, Chartwells, reached a settlement with the District in 2015, agreeing to pay the school system $19.4 million.)
The donations Henderson secured were directed to the DC Public Education Fund, which she controlled. (The Post also contributed to the fund but failed to disclose that.)
AP's Ben Nuckols broke the story in April. The Post then followed up with their story, tucked away on page B4 of the Metro section.
This week's story – on Henderson being censured by D.C.'s ethics board – was even harder to find. "The WP buried the story on the Obituaries Page B6!!!!" former DCPS guidance counselor Sheila Gill-Mebane wrote on Facebook.
7 Google pages and no sign of @WashPostDC on Kaya censure. From B6: "Henderson said she was unaware she was breaking any rules at the time."

— Jeffrey Anderson (@jeffreyanders19) November 17, 2016
Additionally, under Rhee and Henderson, the teachers' union was weakened and DCPS experienced unprecedented instability due to mass teacher firings and separations.
It's not just the Post that celebrates these anti-teacher measures.
Related
Popular in the Community