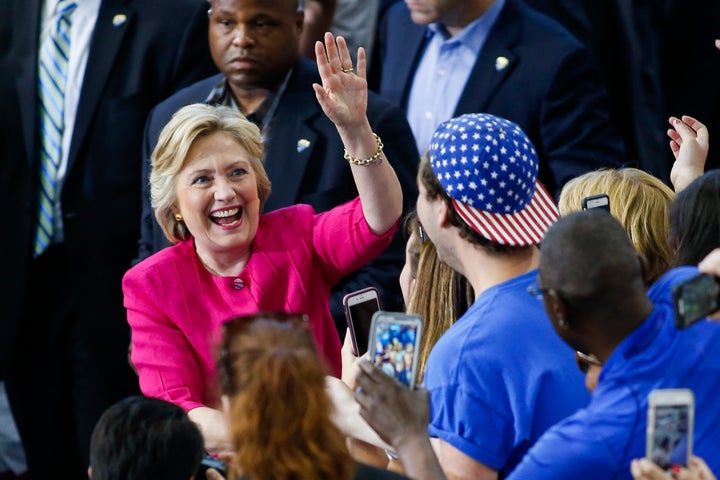 Hillary Clinton's post-convention poll bump is outpacing Donald Trump's.The Republican convention didn't generate positive feelings. And Americans think both candidates are divisive. This is HuffPollster for Tuesday, August 2, 2016.
CLINTON'S LEAD IN THE POLLS IS INCREASING - New polls from CNN, NBC/SurveyMonkey and YouGov/Economist confirm what initial post-convention polls indicated: Clinton is getting a fairly strong post-convention bump. YouGov/Economist has her up 3 points compared to last week, CNN swung from a 3-point Trump lead to a 9-point Clinton lead, and NBC/SurveyMonkey, which didn't show a bounce for Trump at all, shows Clinton jumping from a 1-point lead to an 8-point lead. The HuffPost Pollster chart shows Trump's convention bounce levelling off and Clinton taking an average 6-point lead, 47 percent to Trump's 41 percent. Among polls with Gary Johnson included in the questions, Clinton's average lead is 5 points, 42 percent to Trump's 37 percent.
Clinton's convention bump seems to be bigger than Trump's was - Nate Silver: "Initial polls conducted after the Democratic National Convention suggest that Hillary Clinton has received a convention bounce. In fact, it appears likely that Clinton's bounce will exceed Donald Trump's, which measured at 3 to 4 percentage points….This is good news for Clinton, but we'll need to wait a few weeks to see if she can sustain her bounce before we can conclude that the race has been fundamentally changed….We know that the polls can be pretty wild around the party conventions….Polls just after the 2008 conventions significantly inflated the standing of John McCain and Sarah Palin, who held their convention last. And post-convention polls in 2012 also mildly exaggerated the standing of Barack Obama and Joe Biden, when Democrats held their convention second." [538]
THE REPUBLICAN CONVENTION TURNED MOST AMERICANS OFF OF TRUMP - HuffPollster: "This year's Republican National Convention was the first in at least 30 years to leave the public less likely to support a presidential nominee, according to a Gallup poll released Monday. About half of Americans polled said they're less likely to vote for GOP nominee Donald Trump based on what they saw or read about the RNC. Only 36 percent said they're more likely to vote for Trump. That gives the event an overall net -15 point effect, marking the first time a convention has left a negative impression in a Gallup poll on the subject. By contrast, 41 percent of Americans said the Democratic National Convention made them less likely to support Democratic nominee Hillary Clinton, while 45 percent said it made them more likely to do so, resulting in a net +4 point effect." [HuffPost]
More people watched Trump's speech than Clinton's, but they didn't like it - Philip Bump: "The numbers-obsessed Donald Trump dodged a bullet last week. His early bragging about the ratings for his party's convention was undermined a bit by the fact that the Democratic convention's viewership exceeded it on its first three nights. But on night four, the all-important night when Hillary Clinton and Trump both delivered their acceptance speeches, the Republican emerged victorious….There's only one problem: People liked Clinton's speech way better. Gallup asked people how they felt about the conventions and the candidates' speeches. Forty-four percent of people said they thought Clinton's speech was "excellent" or "good," while 20 percent said it was "poor" or "terrible." Trump's speech was seen positively by 35 percent of people — and negatively by 36 percent….In Gallup's data going back to 1996, Trump's is the only one to be viewed negatively on net. He also had more than double the rate of people calling his speech "poor" or "terrible" than any speech prior to 2016." [WashPost]
AMERICANS DON'T THINK EITHER CANDIDATE CAN UNITE THE COUNTRY - Matt Sedensky: "The survey from The Associated Press-NORC Center for Public Affairs Research found 73 percent of Americans believe Trump will further divide the country, compared with 43 percent saying that about Clinton. While only about one-third of people believe Clinton's election would bring unity, that's still double the figure for Trump — 34 percent compared with 17 percent. Even among Republicans, just 38 percent saw their nominee as generating more national unity. Overall, the poll painted a portrait of a stunningly fractured country. Some 85 percent of people regard the nation as more politically divided than in the past; 80 percent view Americans as being greatly divided on the most important values." [AP]
WE'RE DROPPING LANDLINE-ONLY POLLS FROM OUR CHARTS - HuffPollster: "By the end of last year, 48 percent of American adults didn't have a landline phone. Another 16 percent had a landline but relied mostly on their mobile phone to make and receive calls. That's 64 percent of Americans who are only or primarily reachable via mobile phone. The numbers go even higher for those under age 45 and for minorities....HuffPost Pollster has always sought to base our charts on as many sound polls as possible. As long as a pollster makes a good-faith professional effort to obtain a representative sample of the population, we include the survey's results. In our opinion, polls that call only landlines with no attempt to sample the other half of the population no longer fit that description. So from now on, we will no longer include the results from landline-only telephone polls in our charts." [HuffPost]
HUFFPOLLSTER VIA EMAIL! - You can receive this daily update every weekday morning via email! Just click here, enter your email address, and click "sign up." That's all there is to it (and you can unsubscribe anytime).
TUESDAY'S 'OUTLIERS' - Links to the best of news at the intersection of polling, politics and political data:
-Nearly half of white Americans think life was better in the 1950s and 1960s for people like them.  [YouGov]
-Sean McElwee believes Donald Trump's rhetoric will turn away moderate white voters. [Salon]
-Poll bounces are not really be caused by people changing their minds. [Vox]
-Amanda Skuldt explains why it's highly unlikely that a third party candidate could win a US presidential election. [WashPost]  
-The Cook Political Report predicts 17 Senate seats are safe or leaning Republican, 9 seats are safe or leaning Democrat and 8 are tossups. [Cook Political Report]
-Pew Research recommends using "nutrition labels" for polls to determine their quality. [Pew]
CORRECTION: A previous version of this article mistakenly listed the current Senate makeup as the Cook Political Report predicted Senate makeup. 
Calling all HuffPost superfans!
Sign up for membership to become a founding member and help shape HuffPost's next chapter