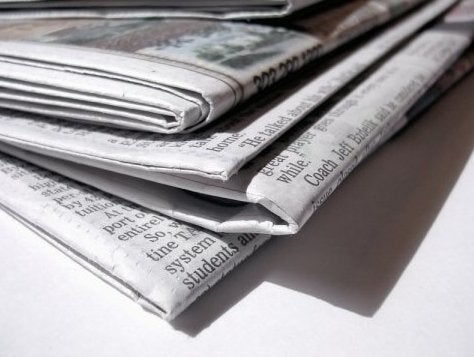 My name is Susan and I'm a recovering newspaper writer.
I'm happy to report that I'm back to work.
The work, now online at the Huffington Post, is about folks who aren't getting ink, as well as some of the political news and social justice issues that otherwise aren't being covered. It'll be much like my former column for the Denver Post -- minus the dead trees and sacred cows.
There's a saying posted in the lobby of the paper's newsroom: "'Tis a privilege to live in Colorado." Likewise, it has been a privilege to have covered our state, worked with some of the West's best journalists and sat next to Mike Littwin.
There's another inscription across the hallway. It reads, "O Justice, when expelled from other habitations, make this thy dwelling place." Editors would be wise to follow that creed.
Two months after leaving the paper, I'm recovering from the joylessness that's all too common in daily print journalism. What once made newspapers great -- challenging authority, giving voice to the community, being bold -- is becoming the exception rather than the rule. The industry has lost its way.
In my own experience, staying true to the Denver Post brand required a certain type of Stockholm syndrome. It meant internalizing what you figure your boss and your boss's boss might deem inconvenient to print, say, before they hop on the train to Frontier Days with a posse of politicians and advertisers.
Their directives were loud and clear. No mas with the undocumented immigrants, one editor told me. Enough already about police brutality and mental illness, winced another. Ixnay the grit, they warned. And for God's sake, they said, give it a rest about the baby Jesus on the steps of City Hall.
My days were numbered after my colleague, reporter Miles Moffeit, accepted a job in Dallas last year. The Post booted him from the building for mentioning the financial troubles of its parent company, MediaNews Group, in a Westword interview about his departure. Management went on to spike my unrelated column about the influences his investigative projects had on people and policies in Colorado.
Later came their refusal to publish a column about unnecessary body searches on female state prison inmates. It was distasteful, apparently, for a family newspaper.
My columns were getting spiked. And readers were being told again and again that I was taking time off.
The disconnect between my immediate boss and the real world was never so clear as the day word came that Tim Masters would walk free. She rolled her eyes at news of Colorado's first DNA murder exoneration and remarked something like, "Great, so he can just go kill somebody else?"
This isn't to say that there aren't plenty of editors and reporters remaining at the Post who want to continue practicing journalism at the highest levels. But I worry for their futures when such a stifling culture has infected the newsroom, as it has many others.
Now more than ever, there are questions to be asked that span beyond the interests of Colorado's paper of record.
Who else might be locked up in prison, innocent, pacing their cell?
What does Gov. John Hickenlooper plan on labor reform?
Why, six months after Marvin Booker's homicide in Denver's jail, is the city still hiding videotapes of deputies shocking him with a Taser?
Where, given the effect of climate change on Colorado River supplies, are we going to glean our water?
When will someone finally stand up and speak out about District Attorney Carol Chambers and her pattern of apparent abuses?
Let's say what we need to say.
Bring on your tips and column ideas. Leak what ought to be leaked and blow your whistles, if need be.
Oh justice, make this your dwelling place. I promise to take notes.
Susan can be reached at greeneindenver@gmail.com
Related
Popular in the Community