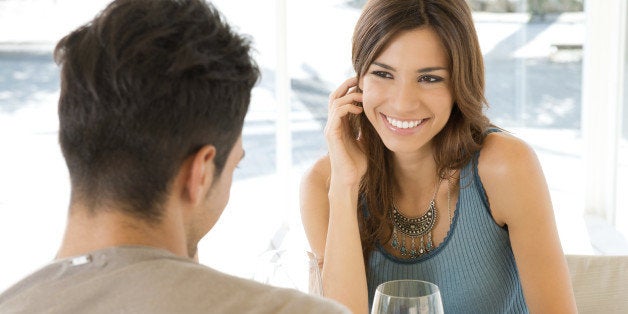 1.) Thou shalt not travel with oversized baggage
Those damn airlines (lack of meals and legroom aside) are onto something with bag fees. Pack every outfit, cosmetic, and pair of shoes for a weekend getaway, and pay the price. Sometimes it's hefty, but for good reason. Many of us don't want to risk dying mid-air because the woman in 4C had to bring her entire closet to LA with her.
Enter the dating world as a divorcee, and the mindset should be similar.
Do I really need seventeen shirts?
Four bottles of Jo Malone perfume?
Is it fair to unload all of my trust insecurities on this poor guy during date number three?
As difficult as it can be sometimes (and especially when one is coming out of a marriage), leaving the past behind us is critical when forging new relationships.
Travel lightly. Leave shit at home.
2.) Thou shalt not run towards the opposite of who thou previously fled
Let's talk about personality traits. The ugly ones.
Arrogance. Dismissiveness. Impatience. Greed. Combinations thereof.
We all have them; some of our flaws only come out to play on special occasions, while others are apparent from day one.
Now let's talk about why marriages end. (Hint: it's not because the sex was so great.)
Everyone who has emerged from divorce can recall, usually at lightning speed, the top three negative qualities in their ex-spouse. And more often than not, those few traits remain at the forefront of our minds when dating -- consciously or not, we narrow our vision based on what we experienced in the past. The last thing we want is to repeat history.
If only it was that easy.
Sprinting towards a carefree, c'est la vie man after fleeing a card carrying member of the OCD club won't necessarily result in a successful relationship. It means one small piece of his personality aligns with your needs.
But what about the rest of him?
3.) Thou shalt work to redefine the meaning of settling
That S-word has become an ugly one in the dating world, most notably amongst those of us who have been divorced. It suggests a certain passivity and contentment with mediocrity.
Some of us can reflect on our past choices and pinpoint when (and where) we realized that our idealized view of our spouse and marriage weren't quite aligning with reality. We made excuses. Ignored certain behavior. Hoped things would change, but ultimately, knew that they wouldn't.
But at the same time, we should take an honest look at what it means to date after divorce. Baggage. Analyzing what we need to do differently next time, and with whom. The constant reminder that perfection does not exist.
I repeat. Perfection does not exist.
So in a roundabout way, we all settle. Of course, to varying degrees (and hopefully not like we did once before), but in every relationship, concessions and compromise exist. The beauty lies in finding someone whose flaws work in harmony with your own.