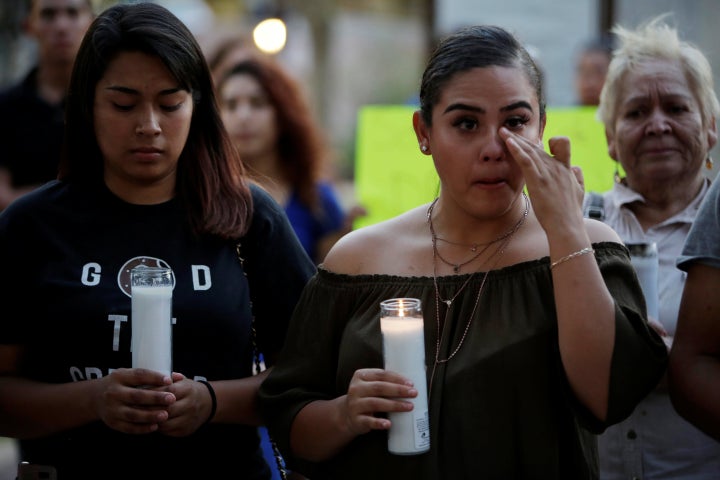 Calling friends and family to see if they made it out alive, clearing debris from flooded homes without insurance, checking if cars still work after water has seeped in, and realizing lost wages from work will put them behind on bills and feeding their children, DACA recipients ― or Dreamers ― in Houston have experienced one the costliest natural disasters in U.S. history: Hurricane Harvey
Over the course of five days, a category 4 storm dropped 50 inches of rain on Houston ― more than any tropical storm recorded in the continental U.S. since 1950. The death toll has risen to 60, among them a DACA recipient, Alonso Guillen, who died saving flood victims by boat. At least $23 billion worth of property has been affected by flooding from Harvey in just two counties in Houston.
On the eve of September 1, Texas Senate Bill 4 was temporarily blocked by a Federal judge who ruled against the state of Texas and halted the controversial state-based immigration enforcement law. This gave immigrants (including DACA recipients) a temporary sigh of relief from an immigrant-hostile state government.
A few days later, they woke up to President Trump's decision, announced by Attorney General Sessions, to rescind DACA based on its "unconstitutionality" and were given a six month grace period, in effect forcing Congress to enact a solution.
As of September 5, 2017, DACA recipients had one month to renew their status to extend it to March 5, 2018, the end of the program. The timing could not have been any worse for DACA recipients or the businesses that depend on them in the fourth largest city in the U.S.  
Since August 15, 2012, 800,000 people have received DACA. Of those, 124,000 live in Texas with approximately 65,000 in the Houston area. At a time when the greater Houston area needs to focus on rebuilding homes, schools, and roads as well as building up the economy, 65,000 employees will be taken out of the market.
DACA was created five years ago by President Obama to give children (now young adults ages 15-36) brought to this country at a young age an opportunity to work, go to school, travel out of the country with permission with fewer consequences, obtain a social security number, build credit lines, and start a future on solid ground. After Hurricane Harvey their homes, lives, cars, and livelihoods were taken. Now their future legal status and hope to remain in this country has a six month expiration date.
Many are in school or of have graduated from college pursuing greater degrees than they would have before the program existed. Research has shown that DACA recipients will contribute $460.3 billion to the U.S. gross domestic product over the next decade.
In five months, the end of DACA will tear apart families and communities."
Approximately 72 percent of the top 25 Fortune 500 companies employ DACA recipients. In fact, Apple CEO Tim Cook has shown public support for his company's 250 DACA employees. Among other business leaders, Facebook CEO, Mark Zuckerberg, and Microsoft Founder, Bill Gates, have condemned the cancellation of DACA. Employers often note that their DACA employees are some of their hardest working with the greatest growth potential.
Employers will lose valuable employees and scramble to hire and train new replacements. Schools will have fewer students. There will be less people to buy houses, cars, and pay for other services. The economic impact will be dire. Young U.S. citizens will watch their parents (Dreamers) drop out of the workforce, be afraid to drive as their driver's licenses expire, and be making plans in case they are deported in this immigrant-hostile climate. In five months, the end of DACA will tear apart families and communities.
President Trump is forcing Congress to act to solve the issue in only six months. Some say he hopes to get the border wall in exchange for the compromise. At this time, Texas and Louisiana are trying to overcome the aftermath of Hurricane Harvey and Florida from Hurricane Irma. Congress returned the same day as DACA's rescission and also must act to stop a government shutdown by the end of the month.
Houston needs DACA beneficiaries or a DREAM Act or its equivalent before the March 5 deadline. Families will be split, and the economy will see the impact in an already disaster-ravaged area.
Without Congressional action, DACA beneficiaries and their families will live in peril. Congress must act quickly. People of all statuses, ages, and political opinions need to contact Congress and ask for a solution to this problem. Informing the White House could prove useful, as President Trump stated in the evening of his DACA rescission announcement that he would revisit the DACA issue if Congress failed to act within the deadline. Use social media to send your message, and ask others to do the same. And finally: don't give up ― keep it up.
Just as Houston will be hit hard by this DACA rescission, so will the rest of the United States. But Harvey has taught Houston that we are #HoustonStrong and can overcome almost anything when we work together and refuse to give up.
BEFORE YOU GO