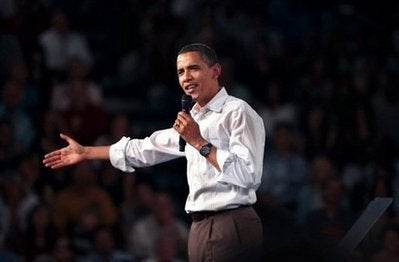 On today's "Wilshire & Washington," we are joined by Rick Klein (@thenote), senior political reporter at ABC News and author of "The Note," a political blog and tipsheet published every weekday at ABCNews.com. The main topic of the day, without fail, is health care, and how President Obama is organizing his massive armies to help pass reform. Or, as it seems, failing miserably. The fall is rearing its ugly head at this point, and the political agenda is unlikely to change anytime soon. Get used to nothing but health care, on every Bat-channel, at every Bat-time!
Obama is taking a beating, yes, but won't all this melodrama be forgotten in a year if reform is passed? The public option (or possible lack thereof) has put Twitter in a tizzy, even though many feel that the public option is itself middle ground for many progressives. Without it, Obama could lose huge numbers (forget those Blue Dogs) of real progressives in the House and Senate, many of whom vowed not to vote for any reform without a viable public option.
A lot of people who helped Obama get elected are going to start to be disappointed, simply because only so much is politically viable. Obama's trying to put together a consensus, but that's not going to happen here. Is there a possibility of the Clintons getting involved in health care? Hillary has her hands full already (not to mention her political baggage), but Bill might prove useful yet. He can negotiate down Kim Jong Il, but can Bill handle Senator Chuck "The Nut" Grassley?
Rick, who hosts the daily political webcast, Top Line, gives us a few thoughts on his approach to digital journalism, Ted gives us the latest updates in the fight over DOMA - the Defense of Marriage Act - and Maegan drops the s-bomb on air in complaining about politicians talking about what they should've done differently in office. At least Dick Cheney never wavers; he was always "right." Right.
Listen to the show here, subscribe to the iTunes podcast, or use the Blog Talk Radio player:
Wilshire & Washington, the weekly Blog Talk Radio program that explores the intersection of politics, entertainment, and new media, features co-hosts Ted Johnson, Managing Editor of Variety; conservative blogger Teresa Valdez Klein (www.teresacentric.com), and liberal blogger Maegan Carberry (www.maegancarberry.com). The show airs every Wednesday at 7:30am PST on BlogTalkRadio.com.