More than 900 bodies have been authorized for cremation in Puerto Rico since Hurricane Maria ravaged the island on Sept. 20, the U.S. territory's Department of Public Safety confirmed to HuffPost Saturday. Medical examiners overseeing the process do not appear to have conducted physical examinations of the bodies.
BuzzFeed News was the first to report on the staggering number of unexamined deaths, noting that because the bodies were burned, no one will ever know how many of those deaths were related to the hurricane.
In a statement sent to HuffPost by Puerto Rico's Department of Public Safety, Secretary Héctor Pesquera said the Institute of Forensic Sciences ― an agency of Puerto Rico's government in charge of certifying deaths related to the hurricane ― has authorized 911 cremations after reviewing medical records.
"The Institute of Forensic Science must, by law, authorize all of the cremations that are solicited by relatives of the deceased," Pesquera explained in a Spanish-language statement, translated by HuffPost, on Saturday. "In this process various documents are analyzed, among them, the death certificate, proof of death, the medical summary or the document that certifies and shows the circumstances of the death."
Based on the documentation, every death was deemed to be related to "natural causes" and none of the cases presented any sort of "suspicion that would stop the solicited process [of cremation]," according to the press statement.
HuffPost asked Karixia Ortiz, spokeswoman for Puerto Rico's Department of Public Safety, if the government is considering interviewing relatives of the deceased to find out if any of the deaths were in fact linked to the hurricane. In response, Ortiz said she "subscribed" to the information given in the press release.
Pesquera noted in the statement that the official number of deaths related to the hurricane stands at 51. But the real number is almost certainly higher.
For a person to be counted in the death toll, the body must be sent to the Institute of Forensic Sciences in San Juan for an autopsy. The government wants to be careful not to jump to conclusions, since people die from a wide range of causes every day, Ortiz told HuffPost earlier this month.
But BuzzFeed reports that the government is now letting funeral directors and crematoriums burn bodies without sending them for examination. Part of the reason appears to be that it's easier and cheaper to do so amid the devastation and the breakdown of infrastructure on the island. There's also widespread confusion and a lack of communication about the right protocol for funeral homes and crematoriums in this situation.
On top of that, people have different views on what exactly counts as a hurricane-related death. Some funeral home and crematorium directors believe that indirectly related deaths — like people on oxygen who died when the power failed — should be counted. Others disagree, saying those are "natural deaths."
911 would not be an unusual number of deaths for a month in Puerto Rico even under normal conditions, The Washington Post calculated. However, that number is not the total number of deaths on the island. It's the known number of bodies cremated without being examined to see if they should be part of the hurricane death toll. And there is evidence that people who died of Hurricane Maria-related causes are not being counted in the official death toll.
An in-depth piece by CNN tells the story of Isabel Rivera, an 80-year-old woman who died waiting for a vital procedure at a hospital where the power had gone out. Rivera's family considers her death a result of the hurricane, but she was reportedly never counted in the official death toll.
BuzzFeed spoke with crematorium staff who said they had burned bodies of people who died from reasons like dialysis and oxygen machines failing when the electricity went out. Their deaths were marked as "natural causes."
As of Saturday night, at least 20 percent of the island still had no access to drinking water and more than 70 percent had no power, according to data from Puerto Rico's government. Last week, Dr. Carmen Deseda, Puerto Rico's state epidemiologist, told HuffPost that conditions on the island could contribute to outbreaks of influenza, dengue or leptospirosis.
Three deaths linked to leptospirosis, an animal-borne bacterial disease, were confirmed on Friday. Still, local doctors told HuffPost they fear leptospirosis deaths have gone underreported or misdiagnosed.
John Mutter, a disaster researcher at Columbia University, told Vox earlier this month that Puerto Rico's current method of tallying the dead is flawed and is likely producing a number that's far too low.
This story has been updated for clarity.
Before You Go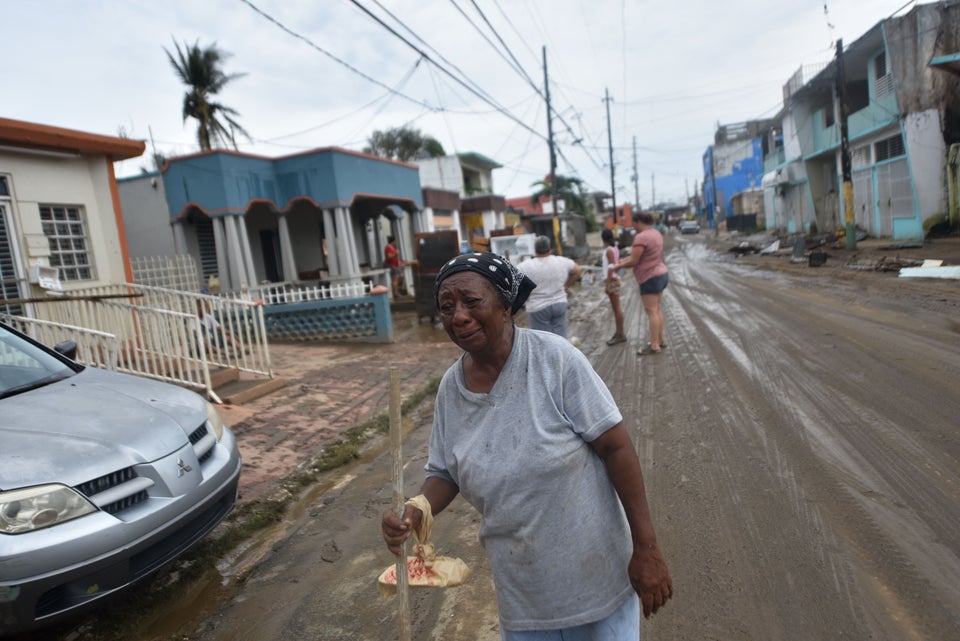 Puerto Rico Reeling After Hurricane Maria
Popular in the Community