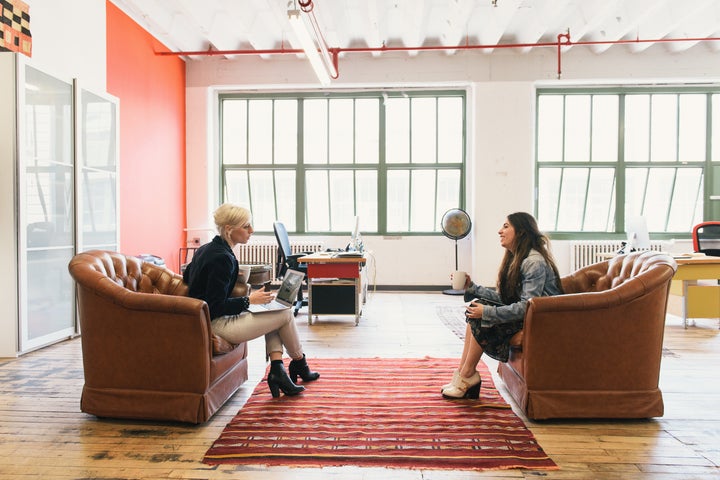 According to a new report released by recruitment software provider CIMS, sending a thank-you note or email after a job interview can help you clinch a job offer ― and may even give you leverage to negotiate a higher salary with your new employer.
Recruiters told CIMS that only 26 percent of entry-level applicants followed up with a thank-you note after a job interview in 2017.
The 74 percent who didn't reach out may have left money on the table: Sixty-three percent of recruiters said they'd be more likely to hire someone who asked for slightly more money and sent a thank-you note than someone who asked for slightly less money but did not send a note.
The survey was conducted among 400 U.S. college seniors and 400 U.S. HR/recruiting professionals.
Clearly, sending a thank-you note leaves a lasting impression, but it's a surprisingly uncommon practice, especially among millennials, said Marissa Peretz, the founder and a recruiting consultant at Silicon Beach Talent.
"My question to millennials is: Why wouldn't you write a thank you?" Peretz said. "It's a simple gesture that takes just a moment and it is a good strategy to put you back on the radar with an employer in a very positive way."
The humble thank-you email works overtime for you, communicating to your potential employer that you're serious about the job, appreciative of their time and ready to engage with them on a peer-to-peer level, Peretz said.
"The simple act of sending a thank-you note creates social equity," she told HuffPost. "It makes someone more likable and makes me more inclined to go to bat for them."
A top candidate knows how to do all the right things, and showing gratitude is part of the package, she said.
"We've had numerous instances over the years in which a hiring manager was really impressed with a candidate during the interview ... until that candidate failed to write a thank you email."
And look at it this way: If you just endured the rigmarole of interview prep and an actual interview, drafting a quick, concise thank-you email should be a piece of cake.
The practice matters doubly if you're applying to a field that's communications-oriented. In that case, your prospective employers need to know you're a savvy communicator who won't drop the ball with clients, said Ken Sundheim, CEO of KAS Placement, a recruitment firm that specializes in sales recruiting and marketing headhunting.
"We've had numerous instances over the years in which a hiring manager was really impressed with a candidate during the interview ... until that candidate failed to write a thank-you email," he said. "They figured that person would have the same poor follow-up skills with important clients."
Of course, there are employers in some fields that put less value on Emily Post-style etiquette, but it never hurts to send a thank-you note.
Now that you're convinced, what are some best practices for writing a thank-you note that won't come across as brown-nosing?
Below, recruitment, HR and etiquette experts offer a few tips.
An email is even better than a handwritten note.
"Plus, email has the added convenience and benefit of being forwarded to others in the company, along with commentary," she said.
Send the email as soon as possible. If you want to be old school and follow up with a thank you card, go for it, but don't wait longer than 24 hours to mail it.
Be specific.
This isn't just a thank-you email; it's an opportunity to show your interviewer that you were actively engaged and interested in the discussion.
To that end, call back to something you said in the interview or send them a link to that new cloud startup you mentioned in the interview that they wanted to know more about.
"Make a point of mentioning something interesting you learned about the company or the role during the interview or draw a connection between your experience and the position you want," said Diane Gottsman, etiquette expert and author of Modern Etiquette for a Better Life. "Find ways to reiterate your interest in the job."

Vary your messages for different people.
Copy and pasting won't cut it here. If you had interviews with multiple managers, be sure to change up the language in your emails, Taylor said.
Proofread.
Keep your thank you short and sweet, and don't press "send" until you've pored over it, scanning for any and all mistakes. Be sure to double-check the spelling of names, too.
"Please get the names right," said Peretz. "You would be surprised how many people misspell names."
Be authentic.
If you're not a sentimental person, don't try to fake it in your email. Bring your most honest, authentic self to the table, just as you (hopefully) did in the interview, said Teresa Marzolph, the founder of Culture Engineered, an HR company in Phoenix.
"Your thank-you note should be a lasting impression of you," she said. "If you're more of a results person, save the senseless chatter and use the thank-you note as an opportunity to highlight some accolades you may have failed to mention before. If you and the people you're interviewing with are authentic during this whole process, everyone benefits."
Support HuffPost
A No-B.S. Guide To Life
Popular in the Community