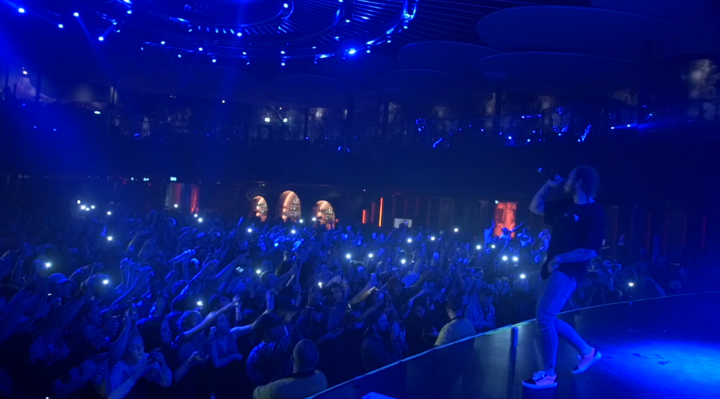 Post Malone's debut album, "Stoney," was released on December 9, 2016. He will be performing at NXNE, June 23–25.
When he was a teenager, Post Malone mastered the highest difficulties of Guitar Hero. One Christmas, his mother bought him a real guitar — a Washburn Lyon. Like many other self-taught guitarists, Post used a combination of ultimate-guitar.com and watching other artists on YouTube learn guitar. He started by teaching himself "Master of Puppets" and "Smoke On the Water."
"It took a long time, because I used to suck. I was really bad," Post said. "You gotta start somewhere. You just gotta stick with it, because a lot of people wanna give up whenever they first start something. They're like, 'I'm not good at this.'"
I ask Post if he ever thought of giving up. Maybe music wasn't for him. He said, "I don't think there's ever really a time for that. Cause f-ck it, right? You've gotta keep on going. There's always gonna be setbacks, there's always gonna be knockdowns, there's always gonna be people telling you, 'Hey, you suck!' If you really love it, keep on going. But if you don't even like it, then don't do it no more. It's you, at the end of the day."
After teaching himself guitar, Post would go on to teach himself how to use software such as Audacity and FL Studios and use that to make his first mixtape. It was out of necessity. He said, "I didn't have any money. I worked at Chicken Express. But it's like, you wanna make music so bad but you don't know how. You don't have the money and it's so out of your reach, it's so out of your grasp. It's just tough to find a way that you can get a medium of yourself out there. I got FL studios, I looked up how to make beats and how to record myself, and then I just started making music from there." While he was teaching himself this, he was also in four different bands simultaneously.
Thinking back, he said, "I would tell him, 'Leave the band. Focus on yourself 'cause they're just holding you back. Don't listen to nobody.' I had a little jewfro, and they would throw gum in my hair and pick on me."
He continued,"'Make music that you love. Don't listen to what nobody says. You're gonna do good. You're gonna be proud of yourself if you just keep on rocking.' There were some times when I just wanted to quit making music. Especially in that region, 'cause of hormones and shit. But I'm glad I stuck with it. But I would tell him to leave your band."
When he was 18, Post decided to leave New York for Los Angeles to stay with a friend until he made it in the music industry. In Los Angeles, he met collaborators, 1st and Rich of FKi. They got in the studio and recorded for a couple of days. Post recalled, "I had the first verse written, so I wrote the first verse. And then I was like, 'I'm going to bed, cause it was 9. I've had enough.
"And then I woke up a couple of days later, and had to finish it, cause I was like, 'I wanted to put this out. This song is dope.' So I sat there and wrote the second verse, and it was getting mastered and all that shit, and nobody wanted me to put that out but I just put it out and went about my life and I woke up the next morning or the day after morning and shit was wild."
That first song would turn out to be his breakthrough hit, "White Iverson." I remember my good friend, Greg, absolutely going wild when he first showed it to me. It has since been certified triple platinum at the time of writing. And most interestingly, it was almost entirely unplanned.
Post said, "Everybody was going to bed, and I was nervous. Are people gonna like this? That's the first time I really ever made a track like that. I just kept my mouth shut and waited till the end of the night, and I was like, 'Hey, can I record myself on your computer?' He taught me how to do it, like a brief crash course. And then he was like, 'No, I'm gonna record this. This is fire.' So, we recorded it early in the morning and it was very spur-of-the-moment type of shit, man."
"I think it has a really cool vibe and I think it's a really important vibe for music. I think we need something like that. There's a lot of recycled bullshit out there. Almost the majority of it is just the same song over and over again. I think it's time for a change. We need to turn up on 'em. Real quick."
His momentum in the world of hip-hop has enabled him to get into the studio with artists like Justin Bieber, Pharrell Williams, and Kanye West. He said about working on "Fade" with West, "We met at his compound thing in L.A., I finished [the song] up, and he was there, and we were drinking Fireball and having fun. And that's when it really came together as a song. I had finished my lyrics, he had finished his lyrics, and they just had the composition of the song. It's a long process. Everybody's busy."
Watching these artists work gave him an idea of how to tweak his own processes. He said, "I used to write all my shit before I got into the booth. But watching them do a scratch take, get the melodies and all that shit right, I think that's when I started developing a sound. You don't have to worry about what you're saying, you can just be drunk and mumbling. And it sounds dope as long as you can get the melodies down. And then you can go back and write words."
Unlike the fun in-studio session videos, Post said the studio could be really tiring. He said, "You can't get tired in the studio. It's really tough. But you just gotta keep on going." He takes a beer bong whenever he gets tired in the studio in order to keep going. "It wakes me up. And I get back in there, 'Fuck it, I'm ready to go.' Wild boy."
The story of "White Iverson" makes it easy to call Post an overnight success. Even he said it felt like a movie story. But attributing "White Iverson" purely to luck and chance would be silly — Post clearly put in a lot of time, energy, and work into his music growing up. He taught himself instruments and persisted. He taught himself very frustrating software (I've tried). And he didn't give up, he loved music too much.
At the end of the day, Post didn't overthink it. He followed his instincts, stayed resourceful, kept on moving, and didn't let up until he broke through. He reflected on his father's advice to him listening to music, which seems to pore into the rest of his approach to life, "Give everything a chance, give it a listen, don't judge it off the bat. Let it rock the whole way through."
Related
Popular in the Community