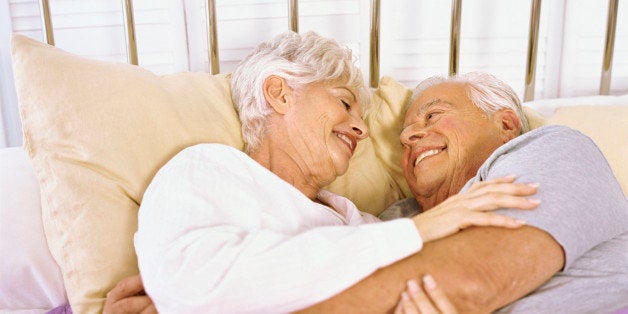 Hot flashes. Night sweats. Mood swings. Trouble sleeping [1]. Many women going through menopause experience these symptoms every day. A lesser-discussed yet common fact of menopause is the negative impact on interest or desire for sex -- your libido -- as well as other aspects of sexual health [1].
While there are both prevention and treatment strategies available, there are still significant improvements that need to be made and barriers that need to be shattered to improve women's sexual health through and beyond menopause. Despite some popular misconceptions, sex has been shown to actually be a priority for women throughout their lifetime [2].
Also, low sexual desire may lower women's health-related quality of life [2,3] and relationship satisfaction [2] both pre and post-menopause. It is important to note, however, that post-menopausal sexual health and satisfaction is complex and varies due to physical health, stress level, relationship status and satisfaction, self-image, and cultural and religious standards [4].
Due to a drop in hormone (estrogen) levels during the menopausal transition, approximately half of women experience a condition known as vulvovaginal atrophy, which is associated with thinning and inflammation of the lining of the vagina along with vaginal dryness. This condition, when left untreated, may lead to pain and vaginal bleeding associated with sexual activity. In addition, women with vulvovaginal atrophy tend to get recurring urinary tract infections and an urgent and frequent need to urinate [5].
Despite these issues and because it has been shown that women retain a desire to engage in sex throughout their lifespan, this should be a hot topic for discussion within the health care community. Instead, both women and their health care providers usually do not start these conversations with each other. Women may be uncomfortable discussing "private" matters or may not be aware that sexual conditions can be treated [2]. Providers may lack the training to deal with these concerns or the time to discuss these issues, or they may think they have no treatments to offer [6,7].
Fortunately, there are steps that women can take for prevention and treatment, including the following:
1) Seek treatment based on your symptoms. It is important to do your research using reliable sources, such as the North American Menopause Society and WomensHealth.Gov. When compared with men, women of all ages do have fewer FDA-approved treatments; however, there are still many options to consider, including regular sexual activity or stimulation to promote blood flow, vaginal lubricants and dilators, and various forms of Food and Drug Administration (FDA) approved non-estrogen and estrogen therapy. Healthy habits such as exercise, eating right and sleeping enough are likely to be useful strategies too [8].
2) Discuss your symptoms and treatment options with your partner and the appropriate health care provider. Bring a list of prepared questions [9], such as:
a. What changes should I expect in my sex life post-menopause? How do these changes compare with those of my partner's?
b. How can I improve intimacy with my partner?
c. Are my symptoms treatable and what are my options? Should I be nervous about taking estrogen therapy?
SWHR will continue to explore new ways to advance research, advocacy and public education on these and other women's health issues. Improving a woman's sexual health will improve both her and her partner's relationship satisfaction and quality of life, as well as her partner's sexual health. After all, it takes two to tango.
For more information about women's health, visit SWHR.org.
By Alana Lerer, SWHR Scientific Programs Administrator
1. "Five Solutions for Menopause Symptoms", North American Menopause Society (NAMS): http://www.menopause.org/for-women/menopauseflashes/five-solutions-for-menopause-symptoms
2. Kingsberg SA. Attitudinal survey of women living with low sexual desire. J Women's Health. 2014; 23(10): 817-823.
3. Biddle AK et al. Hypoactive sexual desire disorder in postmenopausal women: Quality of life and health burden. Value Health. 2009;12:763-772.
4. Sexual Health and Menopause Online: Causes of Sexual Problems, North American Menopause Society (NAMS): http://www.menopause.org/for-women/sexual-health-menopause-online/causes-of-sexual-problems
5. Mac Bride MB et al. Vulvovaginal atrophy. Mayo Clin Proc. 2010;85(1):87-94.
6. Kingsberg SA. Taking a sexual history. Obstet Gynecol Clin N Am. 2006;33:535-547.
7. Gott M, Galena E, Hinchliff S, et al. "Opening a can of worms": GP and practice nurse barriers to talking about sexual health in primary care. Family Practice. 2004;21:528-536.
8. Effective Treatments for Sexual Problems, North American Menopause Society (NAMS): http://www.menopause.org/for-women/sexual-health-menopause-online/effective-treatments-for-sexual-problems
9. Sexual Health and Menopause Online: Frequently Asked Questions, North American Menopause Society (NAMS): http://www.menopause.org/for-women/sexual-health-menopause-online/frequently-asked-questions